Thought Bubble Debut: Something Signed By Alan Moore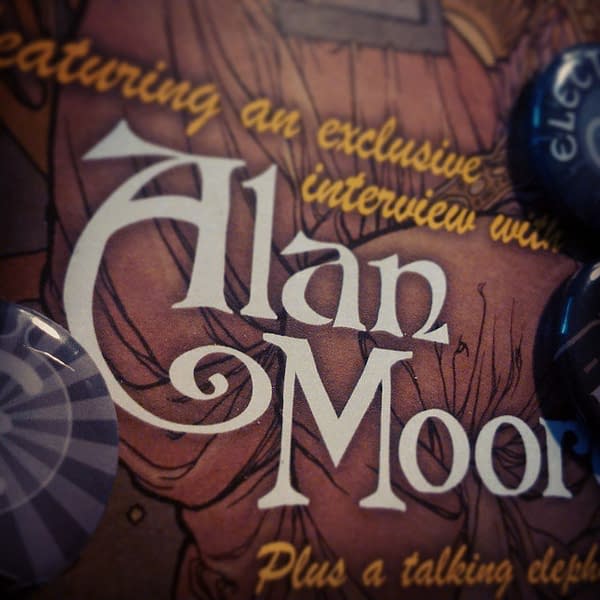 Alan Moore won't be at the Thought Bubble comics art festival at Leeds this weekend, though you may see him wandering around the city centre the evening before, as his Show Pieces movie is paying at Leeds International Film Festival.
But he will be there in signature.
John Reppion-Moore writes,
500 things. Signed by Alan Moore. Available only at Thought Bubble this weekend. Interested? Read on.

Leah and I will be at Britain's bestest comic con – Thought Bubble in Leeds – this coming weekend as part of team Electricomics. Here are the full details of where and when to find us:

We'll be signing 15:00 until 16:30 Sat and Sun in the Royal Armouries Hall, tables 23 and 24. [map]

Exhibiting all weekend in New Dock Hall, table 22 as part of the Electricomics team. [map]

Electricomics: Bright Sparks panel Sat, Royal Armouries Newsroom (4th Floor), 13:30 – 14:20 (free entry with Saturday/Weekend convention pass, all ages)

The Electricomics team shed light on the genesis and aims of their ambitious project, which aims to bring a new and completely self-contained Ecosystem to the world of digital comics.

Mitch Jenkins will talk about 'The Show', the dark film project from he and Alan Moore that spawned Electricomics, and bring a message from the man behind the curtain himself. We'll get a rundown on Digital Comics thus far from Daniel Merlin Goodbrey, and then Pete Hogan, Leah Moore and John Reppion will unburden themselves on storytelling with digital in mind.

With speakers Mitch Jenkins (Director – Orphans of the Storm), Daniel Merlin Goodbrey (Senior lecturer in Interaction Design at The University of Hertfordshire), Leah Moore (Editor/Writer), John Reppion (Writer), and Pete Hogan (Writer).