3,124,461 Thoughts About Marvel's Incoming #1, Out On Thursday (Spoilers)
Next Thursday sees the release of Incoming #1 from Marvel Comics, the connective tissue of a comic book intended to reflect the current realities of Marvel superheroes and look to where they are heading. And it all starts with a dead body. After a quick flick through, here's a look at what you might expect and can probably work out. Spoilers… but not big ones.
1. The Library In The Body
We have a murder of a mysterious soul, with FF and Avengers in attendance, including Valkyrie, Jane Foster as the being who stands between life and death and can see death coming for everyone.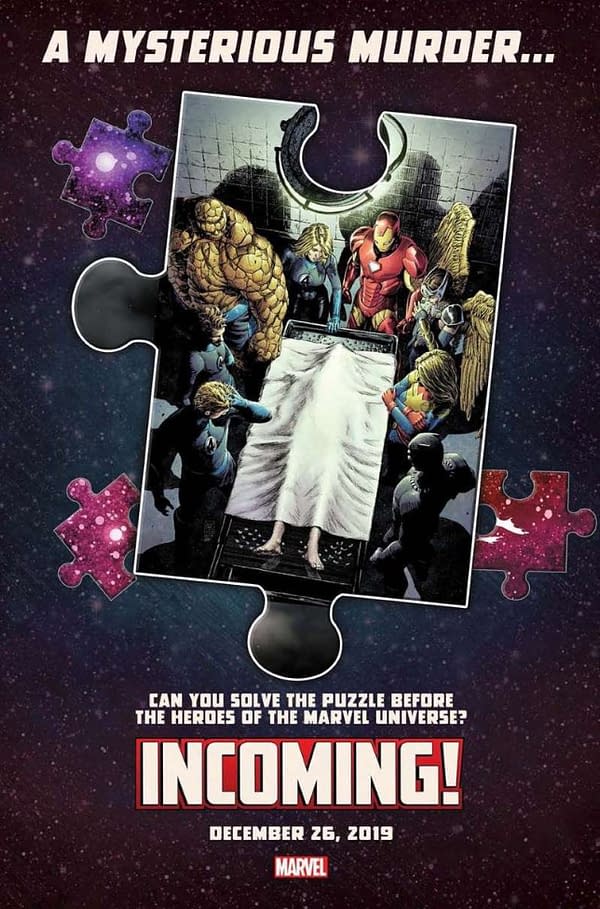 And we have a clue. 2FACED. You may start your cryptography engines now.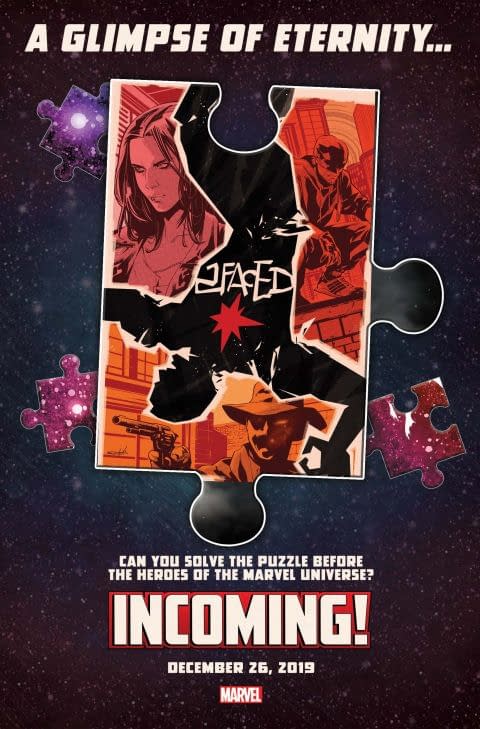 Now, the body is discovered by the Masked Raider, as seen in Marvel Comics #1000 and #1001, originally from Marvel Comics #1, an adaptation of a pulp Western series of novels, and now part of the Marvel Universe through sheer stint of time. He wears the Eternity Mask, created in the Middle Ages by wizards, and passed along the line since, enabling the wearer to be the equal physically of anyone they face in battle. And we have a preview of the first few pages.
Daredevil and Elektra there of course. And this provides the backbone of Incoming, in a Watchmen style, with Jessica Jones playing Rorschach, going from one group of heroes to another, pursuing clues as to the murder and the murderer, and in doing so, laying out just where everyone in the Marvel Universe is, from Captain Marvel, to Namor and an Attacking Atlantis, to the new Three Xs as seen in Marvel Comics #1000. Who are Jimmy Woo, Blue Marvel and Night Thrasher.
2. XXX Mark The Spots
Both on Earth and in Heaven. The identities of the new Three Xs may suggest who they get in touch with next.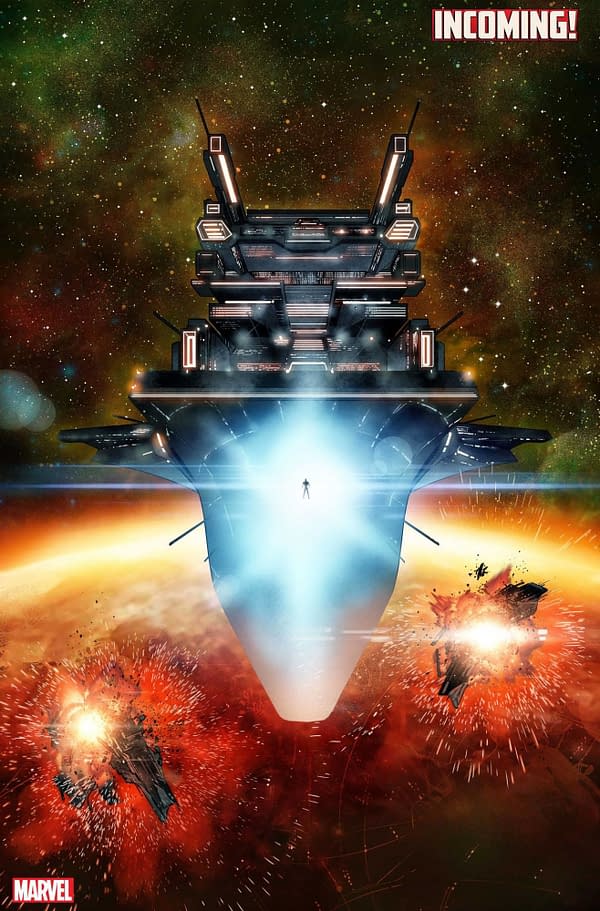 Because it also includes The Champions. And that's when things start to get really tricky.
3. The Politician's Strife
Marvel Comics have often enjoyed a politician to play off, especially when they have a point. Senator Robert Kelly is probably the classic example from Chris Claremont and John Byrne, the sponsor for the "Mutant Registration Act," whose murder was said to precipitate the then-dim-and-distant future of 2013 from whence Kate Pryde came from. Far from a villain, he made a clear case to limit the capabilities of mutant terrorists. Or people walling around who were living weapons.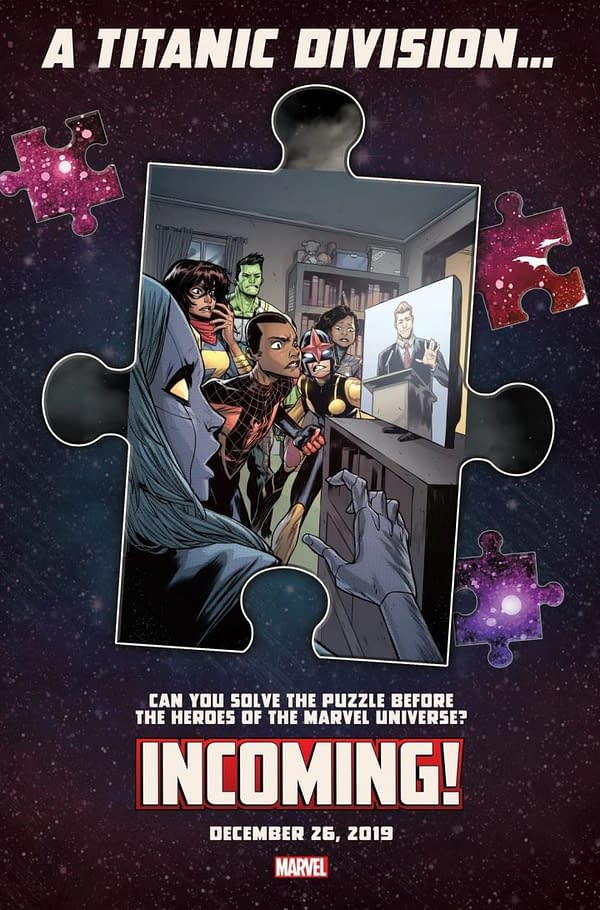 And in Incoming we have Senator Geoffrey Patrick. A politician who makes the very reasonable statement that maybe the state should have some role in governing or caring for children with superpowers who act like superheroes, and classifying them as child soldiers. Considering the amount of kids-as-superheroes in Marvel, including Miles Morales Spider-Man, Ms Marvel, Amadeus Cho, Nova, Wasp, Ironheart, Franklin and Valeria Richards, this might be a thing. And, as capable as they are… he does have a point. Could this be what sets up the Outlawed series? Here's a scene from that preview.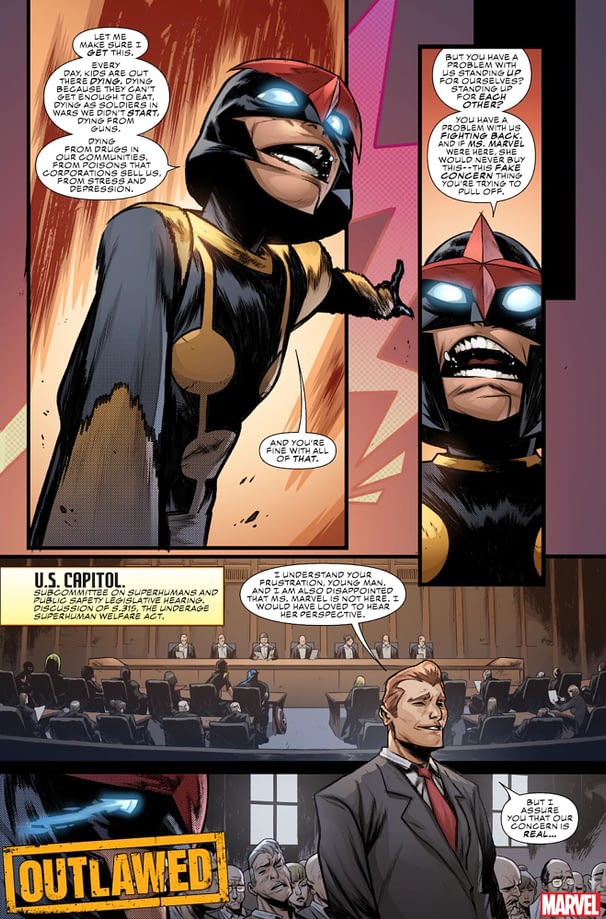 Yeah, that's the Senator from Incoming again. Civil War III anyone? He also has concerns about a certain new country that has been taking the world by storm as well. Or, indeed, by Storm.
4. Diplomatic Immunisation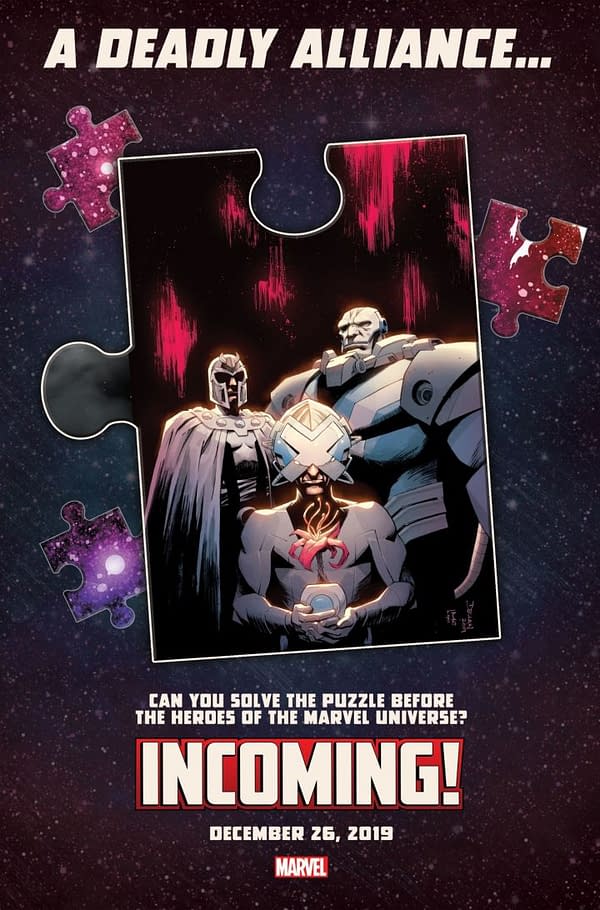 Which will give Mister Sinister, at least something or someone to gossip about. And there are future chimera with his name on them, and lots of DNA still to play with. Even if Charles is tying his hands.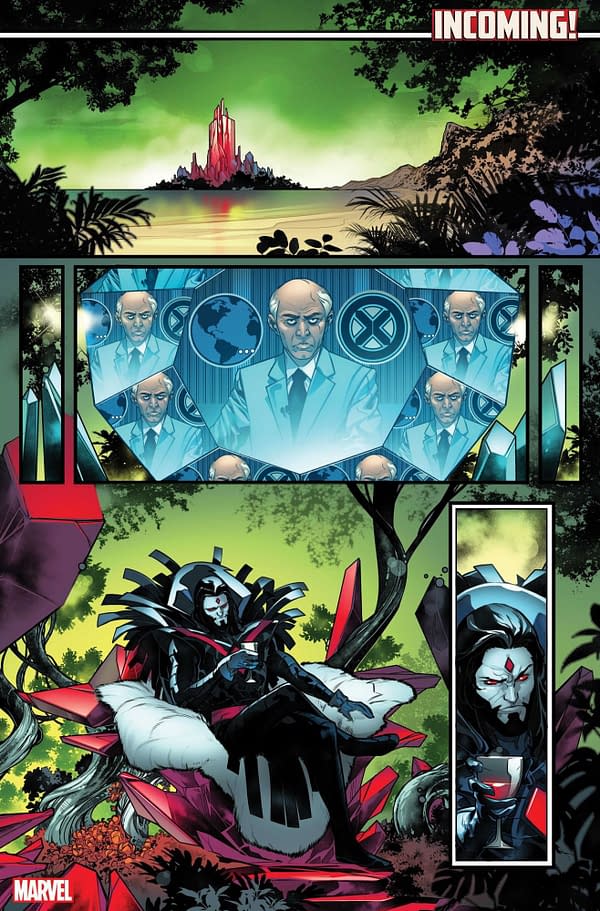 5. Speak Of The Devils
Mephisto has been getting a lot more active in Marvel Comics titles of late. In Champions, in Amazing Spider-Man, in Doctor Strange, in Spider-Man/Deadpool, in Ghost Rider, in Avengers, in Strikeforce, in Thor… and with the TV series Hellstrom on the way, his time is coming. But he's not the only dark god et up by Incoming, there's also Knull as well, recently woken up in Absolute Carnage.
6. Artificial Protests
There's also a robot revolution going on, courtesy of the AI rights movement in Tony Stark: Iron Man – now Iron Man 2020. It may be worth wondering how many superhero teams have robot members – or more specifically servants – who may be transformed by this.
But while there are superhero rights, diplomatic incidents, and rebelling artifical intelligences to cope with on Earth, there's still a lot going on elsewhere in the universe.
7. Empyre Building
And then there's that first Incoming tease of all.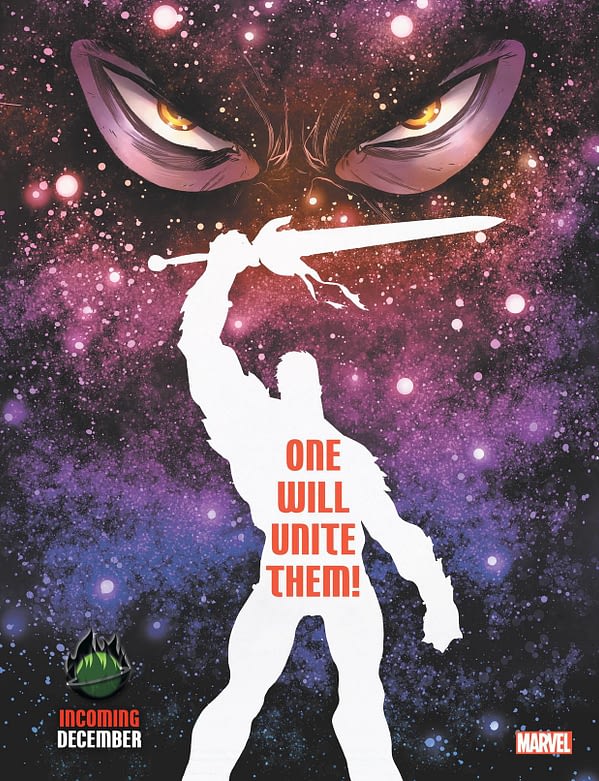 Hulking, both Skrull and Kree, he is two-faced – though that is coincidental. But one uniting both the Skrull and the Kree? You know where that will be heading… from Al Ewing and (possibly) Humberto Ramos if he's free from Strange Academy.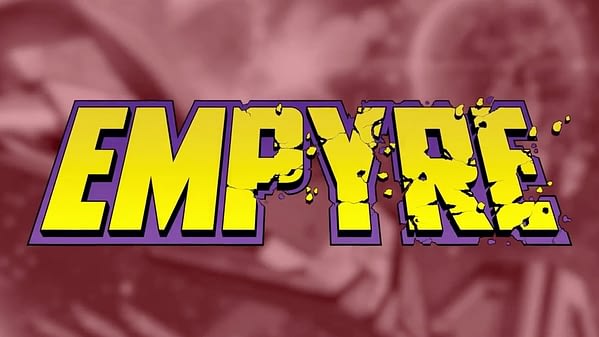 Just another book being set up by Incoming, out on Boxing Day…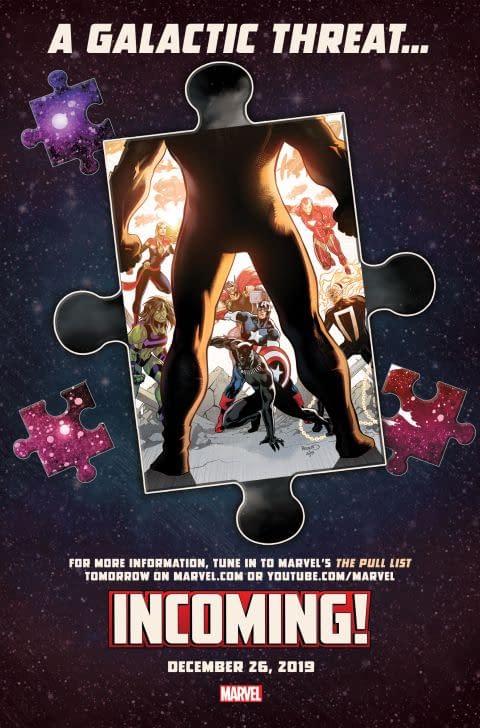 INCOMING #1
(W) Al Ewing, Jason Aaron, Saladin Ahmed, Ed Brisson, Donny Cates, Eve L. Ewing, Jonathan Hickman, Tini Howard, Greg Pak, Matt Rosenberg, Dan Slott, Kelly Thompson, and Chip Zdarsky. (A) Joe Bennett, Carmen Carnero, Jim Cheung, Mattia de Iulis, Jorge Fornes, Javier Garron, Kim Jacinto, Aaron Kuder, Francesco Manna, Carlos Pacheco, Humberto Ramos, R. B. Silva, Andrea Sorrentino, Ryan Stegman, Luciano Vecchio, and Annie Wu. (CA) Patrick Gleason.
ONE WILL UNITE THEM!
A mysterious murder brings together the heroes of the Marvel Universe in the search for a killer – but no one can imagine where the trail will lead, or how it will affect everything in 2020 and beyond! Who is the victim and who is the assailant?
The closing chapter to MARVEL's 80th year, which will connect the dots of everything that happened in 2019 and propel the narrative into the year that is to come! Featuring the Avengers, the Fantastic Four, the X-Men, the Guardians of the Galaxy, Daredevil, Spider-Man, the Champions, the Agents of Atlas, Valkyrie, the Immortal Hulk, Jessica Jones, Venom, Ghost Rider, the Masked Raider and more!
Rated T+In Shops: Dec 25, 2019
SRP: $9.99
And in March…
ROAD TO EMPYRE: THE KREE/SKRULL WAR #1
ROBBIE THOMPSON (W) • MATTIA DE IULIS & JAVIER RODRIGUEZ (A)
Cover by PHIL NOTO
VARIANT COVER BY RON LIM
EMPYRE IS COMING!
The build-up to Marvel's massive event series of the spring begins here—but in actuality, it began a millennia ago, with a challenge on the moon! In the wake of INCOMING, everything has changed for the Kree and the Skrulls. And out in the cold on Earth, the Warner family (MEET THE SKRULLS) need to work out what has happened and what it means for the future of their family and their race! And that means educating their kids on just how the Kree and the Skrulls first went to war! 40 PGS./ONE SHOT/Rated T …$4.99
Okay, that's seven, I'll leave the remaining 3,124,454 thoughts till then.