Tim Sheridan – A Big New Name For DC Comics?
Tim Sheridan has already written a lot for DC Comics and Warners. Just not for the comics. He has five episodes of DC Super Hero Girls LEGO – Galactic Wonder, three Justice League Action Shorts, five episodes of Justice League Action, as well as feature-length animations Scooby-Doo! and the Gourmet Ghost, Scooby-Doo! and the Curse of the 13th Ghost, Reign Of the Superman, The Death and Return of Superman, two episodes of Teen Titans Go!, a Sgt Rock short, and four episodes of the DC Super Hero Girls series – including the two-parter #DCSuperHeroBoys. He is also writer on the upcoming Masters of the Universe: Revelation TV mini-series.
While most of these projects are kids-focussed, I understand that after the Reign of the Supermen movie, he took on a bigger role with the adult-fan-targeted DC animated movies that are currently in the pipeline. Masters Of The Universe: Revelation is also adult-aimed, as is the Transformers: War Of Cybertron project he let slip on Kevin Smith's podcast.
Bleeding Cool has learned from well-connected sources that it is expected Sheridan will be a major figure in upcoming DC Comics titles. One of a number of new creators to DC Comics that Bleeding Cool will be profiling in the days ahead, brought into DC by Dan DiDio in recent months. Possibly 5G/Generation Five titles, possibly Black Label titles, that kind of detail will come later. Tim is part of DC's Big Change that we were talking about over the weekend, a move at DC Comics away from the usual comics writer talent base, to TV, film and animation writers, with the intention to bring in new energy – fans of the comics but people who who have pursued that interest in other directions, with other influences and voices.
What books Tim would be working on, I don't yet know. But he has written plenty of Superman…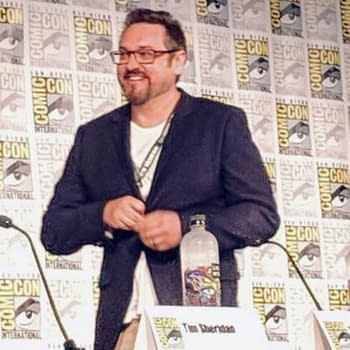 Keep up with what – and who – Bleeding Cool are reporting about DC's Big Change in the next few days, with this tag.