DC Comics has been improving its portrayal of Britain of late. While Marvel Comics decided to place Cambridge University in London, DC Comics put Wonder Woman there instead, and did a pretty good job of portraying the city. Today's Justice League takes a trip to Liverpool, and the football teams who play there, as writer Robert Venditti introduced us to the Finches and the Hammers.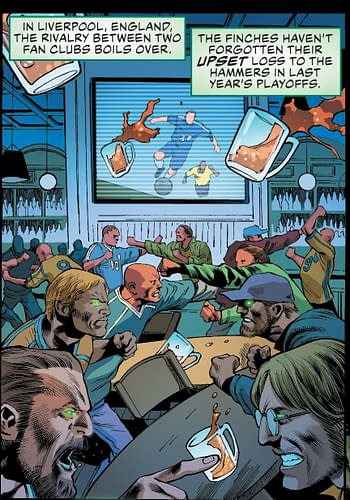 Those familiar Liverpudlian teams the Finches and the Hammers, rather than Liverpool and Everton. And if its nicknames, well, that would be the Reds and the Toffees. Hammers would be West Ham. There are no Finches – there are the Magpies of Newcastle FC and elsewhere – but no Finches.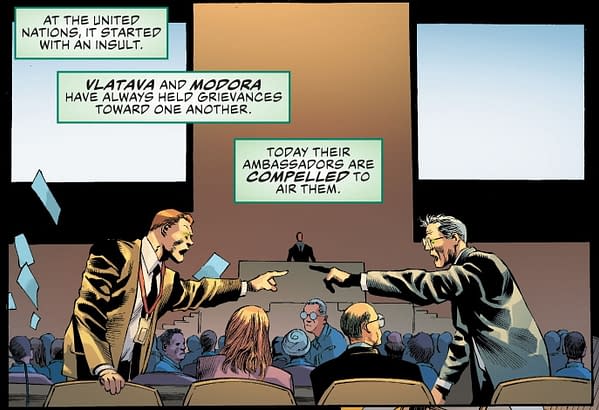 There are also fictional countries, Vlatava and Modora, though they have already been established in the DC Universe, Vlaava, home of Count Vertigo and Modora, home to Fando the Mad from Green Lantern. But almost before it's happened, it's all over. The Finches and Hammers are friends again.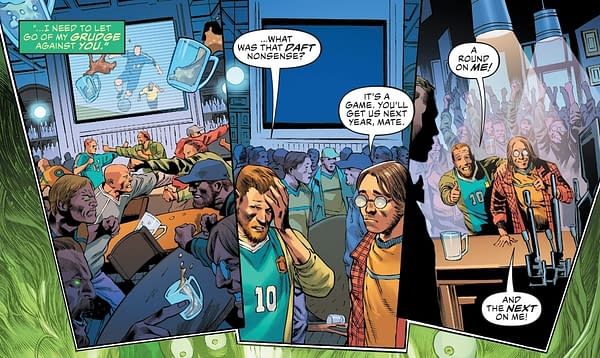 The dialogue wasn't half bad until we got to 'a round on me' which sounds like one the Fast Show's posh couple. Of course, the following issue will be written by Si Spurrier, so you might get a little more British speak and potentially accurate football teams. He has pub speak (and Nigel Farage) down a little more pat.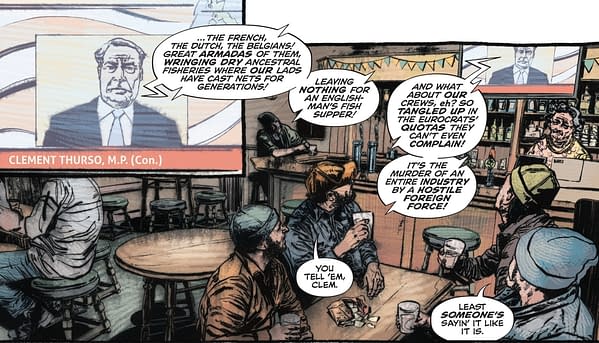 Although he's not actually called Nigel Farage and isn't a member of the Brexit Party. Looks and sounds the job though. But, given today's John Constantine: Hellblazer, there must be some worry how he's going to deal with Aquaman…

JUSTICE LEAGUE #47
(W) Robert Venditti (A) Eddy Barrows, Eber Ferreira (CA) Gary Frank
"Vengeance Is Thine" conclusion! The Justice League battles through the dreaded Pit of Tartarus, mythological prison to the most wretched creatures imaginable. Batman, Superman, the Flash, Green Lantern, Aquaman, and Wonder Woman must resolve their long-held grudges while they still can-and before the world burns. Yet even if they succeed, they must still defeat the monster that lives and rules at the dark base of Tartarus.In Shops: Jun 24, 2020 SRP: $3.99

JOHN CONSTANTINE HELLBLAZER #7 (MR)
(W) Simon Spurrier (A) Aaron Campbell (CA) John Paul Leon
How are all those poor British fishermen supposed to keep the French out of their waters? By summoning an ancient merwoman, perhaps? Of course, there's the little matter of what to do with her once she's served her purpose…and what to do about this John Constantine fellow who's come sniffing around to find her himself…In Shops: Jun 24, 2020 SRP: $3.99
Enjoyed this article? Share it!