Todd McFarlane On Spider-Man #1 Artwork He Is Not Selling… Yet
Recently I talked to Todd McFarlane about Jim Lee's decision to sell the original cover artwork to X-Men #1, all four covers, for millions of dollars. More details on that sale to come, I am hearing. But I wondered if he had any similar gems and what it might take for him to sell them. Todd told me "I save a lot of stuff my wife affectionately refers to it as my crap. Obviously, I've got every page of Spawn, nobody's got a McFarlane page of Spawn so that's arguably the crown jewel of any of it because anybody that can say they've got a McFarlane page can be the only human being on the planet. But I have other pieces of art I didn't save for any particular reason other than I just liked a couple pieces. I wish I had liked more and kept more, but the one that if I ever sold it would probably bring the biggest amount of money for non-Spawn…"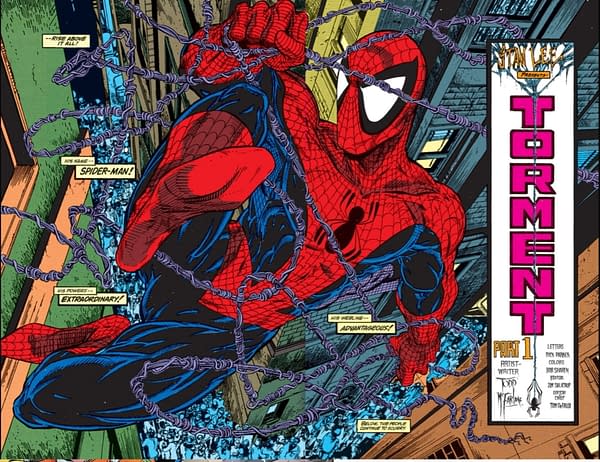 "What may have its own life, because I've never given any pages away, is the two-page spread to Spider-Man #1. You know this may seem weird, because I'm the guy who drew it in black and white. It's really impressive, I look at it still in print, but in black and white it's impressive. Sometimes the colors get a little bit heavy and so you don't really see all the detail on them. But the reason that I think it would fetch a pretty penny is not only is it a lot of linework — I mean, it's just lines everywhere — but it's also a double-page spread, on paper that Marvel was giving us for their bleed books. So it's bigger than the 10" by 15" and it's a double-page. Easily the biggest Spider-Man drawing I've ever done. So it's cool, it's also part of a record-setting book, and even if you threw all that away, it's just the single biggest drawing of Spider-Man ever by Todd, that would probably be the one that might fetch might a nice amount. I felt like whatever money came from it, I could use it for something else was important whether it was for investing in business, whether it was to start some charity or do something philanthropic, so at some point that may be it." Does anyone want to make him an offer?