A fair few solicitation changes are coming to Marvel's upcoming titles. Some big names jumping about, Gerardo Sandoval off Cosmic Ghost Rider with issue 2 already, replaced by Todd Nauck. And more besides…
Amazing Spider-Man #18.HU will be drawn by Ken Lashley instead of the previously solicited Chris Bachalo.
Avengers: No Road Home #8 will be drawn by Carlo Barberi instead of the previously solicited Paco Medina.
Cosmic Ghost Rider Destroys Marvel History #2 will be drawn by Todd Nauck instead of the previously solicited Gerardo Sandoval.
Marvel Super-Heroes Adventures: Spider-Man Web Designers #1 will be written by Ty Templeton alongside Sholly Fisch instead of the previously solicited Jed MacKay.
Spider-Man/Deadpool #48 will be drawn by James Towe instead of the previously solicited Matt Horak.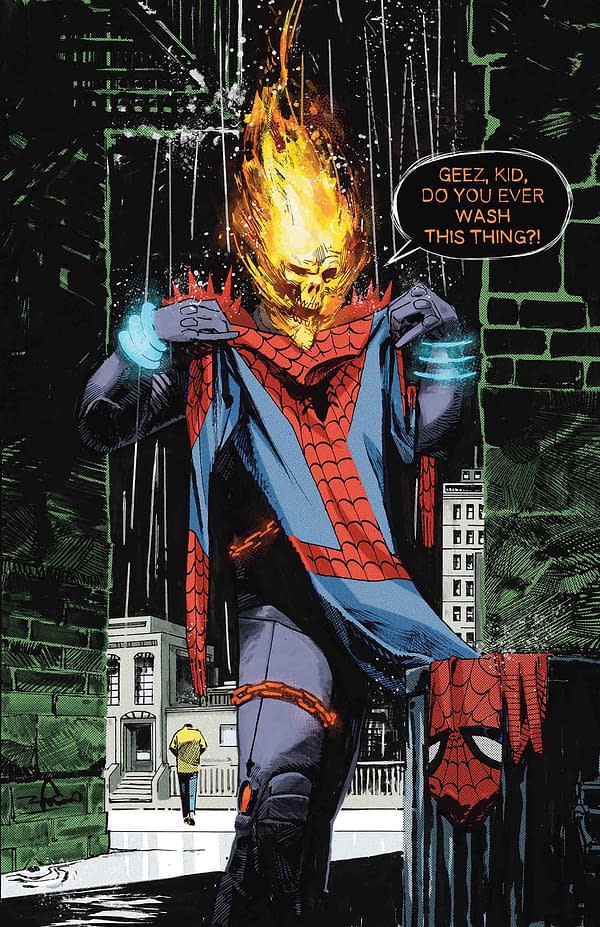 AMAZING SPIDER-MAN #18.HU
(W) Nick Spencer (A) Ken Lashley (CA) Greg Land
"HUNTED" TIE-IN!
•  Spider-Man's most dangerous villain, THE GIBBON, is back and –
•   He's not Spidey's most feared foe? Then why are we? You want me to read the script?
•  Oh man. That's insane.
Rated T In Shops: Apr 03, 2019 SRP: $3.99
AVENGERS NO ROAD HOME #8 (OF 10)
(W) Al Ewing, Jim Zub, Mark Waid (A) Carlo Barberi (CA) Yasmine Putri
THE ALL-NEW WEEKLY AVENGERS EVENT CONTINUES!
Team Hulk vs. Nyx, Queen of Night! Team Herc vs. Oizys, Creature of Misery! One Avenger faces the supreme test – and one Avenger falls!
LEGACY #716 Rated T+In Shops: Apr 03, 2019 SRP: $3.99
COSMIC GHOST RIDER DESTROYS MARVEL HISTORY #2 (OF 6)
(W) Paul Scheer, Nick Giovannetti (A) Todd Nauck (CA) Gerardo Zaffino
The Destruction of Marvel History continues!
•  Can Cosmic Ghost Rider take up the mantle once Spider-Man is no more?
•  With great power, there must also come total irresponsibility!
•  Take a seat and prepare to have your childhood memories destroyed.
Parental Advisory In Shops: Apr 03, 2019 SRP: $3.99
MSH ADVENTURES SPIDER-MAN WEB DESIGNERS #1
(W) Sholly Fisch, Ty Templeton (A) Mario Del Pennino, Ty Templeton (CA) Jacob Chabot
• Hold on to your hats! Spider-Man and his amicable arachnid companions are back in this action-packed tale of adventure for readers of all ages!
•  Don't miss all your favorite web-slingers in the latest issue of the web-tastic wonder-series that is MARVEL SUPER HERO ADVENTURES!
All Ages In Shops: Apr 03, 2019 SRP: $3.99
SPIDER-MAN DEADPOOL #48
(W) Robbie Thompson (A) Jim Towe (CA) Will Robson
"INFINITE HOUSE OF CIVIL yet SECRET CRISIS WAR INVASIONS" marches on!
•  Who is this new, mysterious and OMNIPOTENT villain who has restored the fourth wall?
•  If he can stop Deadpool from seeing and talking to readers, WHAT ELSE CAN HE DO?!
•  Can Spider-Man pull it all together by #50?!
Rated T+In Shops: Mar 27, 2019 Final Orders Due: Mar 04, 2019 SRP: $3.99
Enjoyed this article? Share it!