Tom King Didn't Pick the Characters for Heroes in Crisis; DC Editors Did (Spoilers)
Heroes in Crisis #9 is in the books, all of the mysteries have been revealed, and the characters have come to their planned endings in the story. But was it always meant to be these characters? Well… as it turns out, Tom King recently gave readers a glimpse into how he makes his sauce, and the ingredients turn out to be somewhat… arbitrary?
Read on, assuming you've read Heroes in Crisis #9, as some of this could be considered minor spoilers. Or just read Rich Johnston's recap here…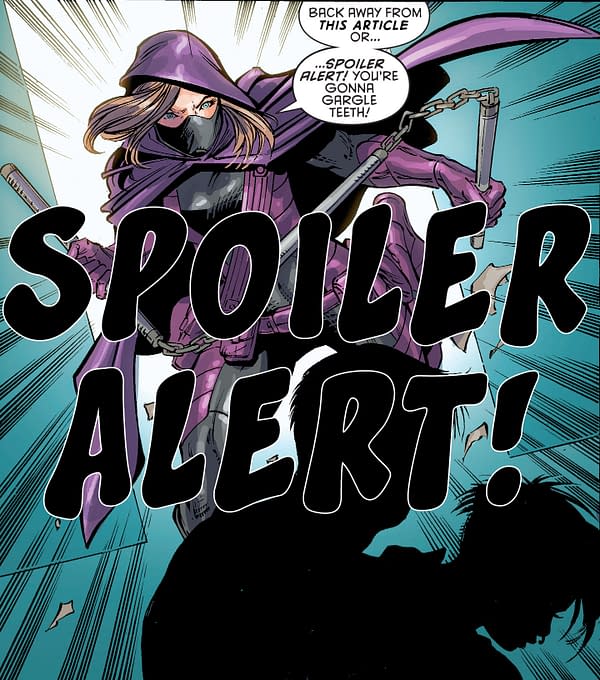 In an interview on ComicBook.com last week, King revealed that it wasn't his choice to use Wally West, Booster Gold, and Harley Quinn in their roles in Heroes in Crisis. Instead, King came up with the plot, passed it off to DC's editorial department, and they told him which characters would be used in each role.
As I've said many times before, I don't pick the characters for my story; I give my plot to the editors and then the editors pick the characters for me. So I told them in the beginning, "this is what it's going to be — it's going to be about one hero who's made a mistake and it's going to be about the two heroes that get framed for that mistake." And they said, "okay, it's Booster, Harley, and Wally, those are the three characters."
Even so, King did say he enjoyed writing the characters:
I mean they're a joy to write, I love writing them. That's almost what I miss the most about this book is writing those two. Booster is the most fun character in comics, except maybe Hal Jordan.
And even though he didn't choose the characters, and came up with the story before he knew he was going to use them, it was apparently still a story about those characters:
This was always about those three characters. It was a Harley story, a Wally story, and was a Booster story.
And in the end, King says that Wally West is his favorite character, and the events of Heroes in Crisis are actually the best thing to happen to the character in 15 years.
Wally hasn't had a successful solo comic since, when? 2003? What I'm saying is, the idea behind this is to elevate that character. Everyone is now talking about Wally. Everyone wants to see where Wally goes next. Everyone wants Wally to get the attention that that character deserves. He's my favorite Flash. He's my entry into DC comics — The Flash #53 by Messner-Loebs and Larocque was my first DC comic. I love that character. I have a page above my desk of Wally from that Flash run and I think this, at the end of the day, will shine a spotlight on my character and put him at the center of the DC universe, in a place he hasn't been for 15 years.
What do you think, dear readers? Do you agree?
Heroes in Crisis #9 is in stores now.
Heroes in Crisis #9
(W) Tom King (A/CA) Clay Mann
The most-talked-about miniseries of the year reaches its stunning finale! The mystery behind the murders at Sanctuary is solved, but the mind behind it is one the heroes never expected. With their deepest secrets exposed, the Trinity has to consider how to carry on. Should the tragedy cause them to redouble their efforts to help their hurting comrades, or will they need to close up shop? The answers will be found in the ashes of this final showdown, and the fates of Booster Gold, Harley Quinn and the rest hang in the balance.
In Shops: May 29, 2019
SRP: $3.99