Tuesday Review: Angel And Faith #17
Tom Huxley writes;
A comic that opens with an obvious allegory for high risk drug usage may seem like an unwelcoming entry point for someone who has never successfully smoked a single cigarette (I tried – just once – and choked), but I'm someone who likes to see certain things through, particularly when they don't involve inhaling. And, fortunately for their dead friend, so are Angel and Faith in their mad quest to bring him back to life.
The other-worldly excursion of the last few months seemed a strange turn for a line that was supposedly getting "back to basics" after the fantastical Buffy Season Eight – I don't think there has ever before been a storyline in the Buffyverse that took place primarily in a dark demon dimension – alienating in its change-up of the cast as well as its setting (although if superstitious speculation is anything to go by, after this weekend the world we live in might end up looking like Quor'Toth). With this "Death and Consequences" arc, this series is back into the demon detective mode it excels at.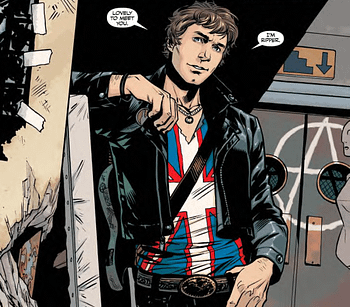 In spite of being definitively dead, everybody's favourite Watcher Giles has returned to what I consider the third lead role of this series, with his tales being told through flashbacks and recollections – much in the mould of Six Feet Under or Desperate Housewives, he's more prominent in this book than he ever was when he was alive. This time the clock has been wound back to the most infamous period of his past, his wild teenage "Ripper" years. Artist Rebekah Isaacs, who doesn't get enough credit for her superior work rendering actor likenesses as convincing comic book characters, draws the character as young, sexy, and recognisably Anthony Stewart Head.
If you read the previous issue, you might think its surprising twists and turns in the series' overarching plot to resurrect Giles were enough for one story arc, but there's bigger and more surprising ones here. I don't know if it's writer Christos Gage's own idea, or from Whedon's guidance (as were Giles' horrible rejuvenated aunts, modelled after Anthony Head's own daughters, who delightfully return this issue) but this issue has the most disturbing act I've ever seen in the Buffyverse, and it works both on a surface visceral level as well as a personal one rooted in established character and story. Gage takes a highly obscure (and in my opinion, lame) element from one episode of Buffy the Vampire Slayer – so obscure and lame that even the hardcore fan might struggle to recognise it on first glance, so get Google at the ready – and transforms it into an unforgettable one. In fact it works so well here – cleverly arranged and visually striking – that I can't help but wonder if it was better suited to the printed page than the screen in the first place.
I'd definitely recommend picking up this issue and the one preceding it – this book is on a roll and I can't wait to see where it goes next.

Angel and Faith issue 17 is available from Wednesday at all good comics selling establishments. Thanks to Dark Horse for the advance look.