 By Hannah Means-Shannon
In the wake of massive successes in numbers and pro-interest in open access online courses studying comics and graphic novels both in the US and UK, the University of Colorado is gearing up for its own MOOC (massive open online course) starting on September 23rd with space for unlimited numbers. The Comics and Graphic Novels Course will explore the "governing question": "by what terms can we discuss comic books as literary art?" The workload is set at 3-4 hours of work for students per week and will run for 7 weeks. Professor William Kuskin of University of Colorado, Boulder, who has been heavily involved in promoting the study of comics for some time, will teach the course. Remarkably, the Coursera hosted program is free to all who wish to sign up and there are no purchases required in terms of comics, though students may want to buy the comics anyway.
The MOOC will be particularly focused on American comics and the history behind them, and look at the place of comics in "literary culture". The draft syllabus already posted for the course shows its comprehensive scope. It's going to start off with modes of reading the comics medium in terms of format, then move on to Golden Age, Silver Age, Underground Comics, and economic topics as well as focusing on key canonical authors and texts. These are going to include Maus, Persepolis, Fun Home, the works of Frank Miller, Neil Gaiman, Alan Moore, Dave Gibbons, Joe Sacco, and Chris Ware, among others. Each week a guest lecturer will also be participating, slated as Barry Barrows, Jim Vacca, Wayne Winsett, and Chris Angel.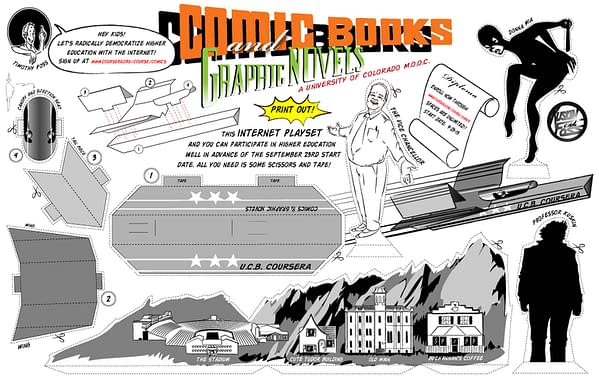 Online connection and the ability to watch video segments are the only pre-requisites for taking part in the course, which will result in a "certificate of accomplishment" when completed, but an obvious note to keep in mind is that the course is too intensive and too mature in subject matter for children. Essay writing is part of the mode of the course, and improving the way in which readers write about and discuss comics in society is one of the goals. The course promises: "You will learn a mode of reading that will allow you to appreciate comics in a new depth. You will learn an effective mode of writing that will allow you to express your thinking clearly. Most importantly, you will also learn the power of the imagination as a force for change: Art is Generative, so there is always hope". It's fair to say the course has lofty goals, but many of these goals are shared by other educators hoping to bring comics into education and therefore establish comics discussion more openly in modern culture.
The poster released for the course is both whimsical and an expression of the mentality behind the course of self-involvement. You can create, through cut-outs, some 3D art in the time leading up to the course. So here's your opportunity, whether you sign up for the course or not: get out your scissors and tape for a little DIY meditation on comics.
Hannah Means-Shannon is a regular contributor at Bleeding Cool, writes and blogs about comics for TRIP CITY and Sequart.org, and is currently working on books about Neil Gaiman and Alan Moore for Sequart. She is @hannahmenzies on Twitter and hannahmenziesblog on WordPress. Find her bio here.
Enjoyed this article? Share it!