Dan Slott recently revived the Fantastic Four comic book series with Sara Pichelli. And, in returning Reed Richards, Sue Storm, Valeria and Franklin to the Marvel Universe, revealed that they had aged five years.
This Wednesday sees the release of Fantastic Four #5, featuring the marriage of Ben Grimm and Alicia Masters. Not a dream, not a hoax, not an imaginary story on a Gotham rooftop. And it includes a large Fantastic Four cast of friends and… family.
And that includes Aunt Petunia.
Back in the day, Stan Lee introduced Aunt Petunia in words only, emphasising the old and painting the picture of a wizened crone who had raised Ben Grimm. A verbal affectation of The Thing.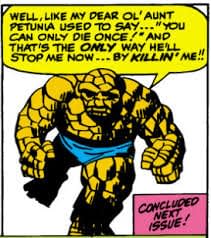 Two decades later, John Byrne would bring her to life, introducing us first to Ben Grimm's elderly Uncle Jake…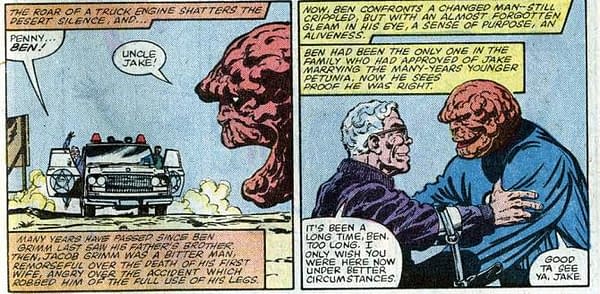 And a rather Young Aunt Petunia.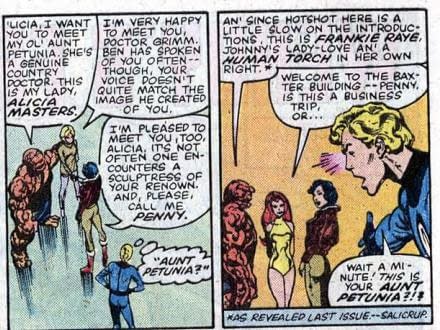 And she was a lot younger than anyone was expecting.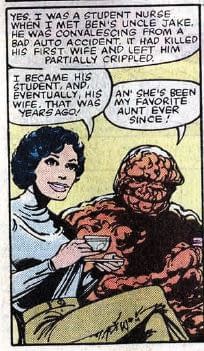 A student who married her much, much older doctor. Yeah. John Byrne did have quite a thing for May-to-December romances at the time. Or in this case, January to December.
In today's Fantastic Four #5, Dan Slott and Aaron Kuder take the opportunity to draw that gap closed a little more. With an Aunt Petunia who is a little older than previously portrayed.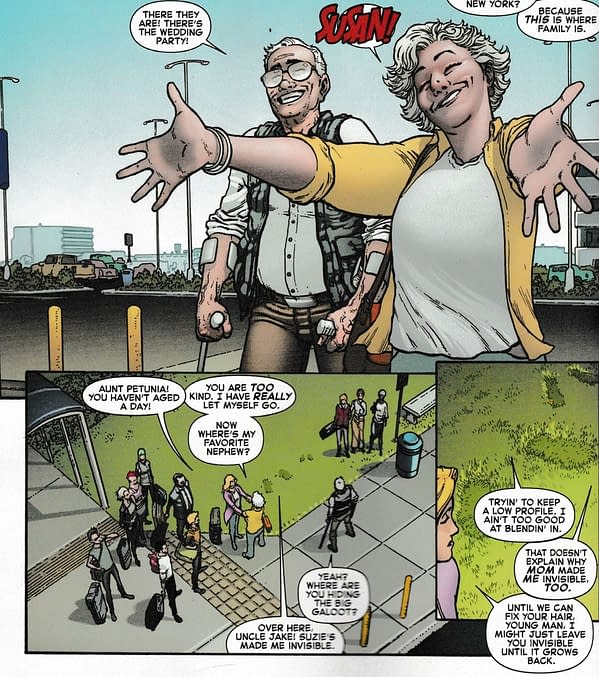 Even if everyone is far too polite to say such a thing.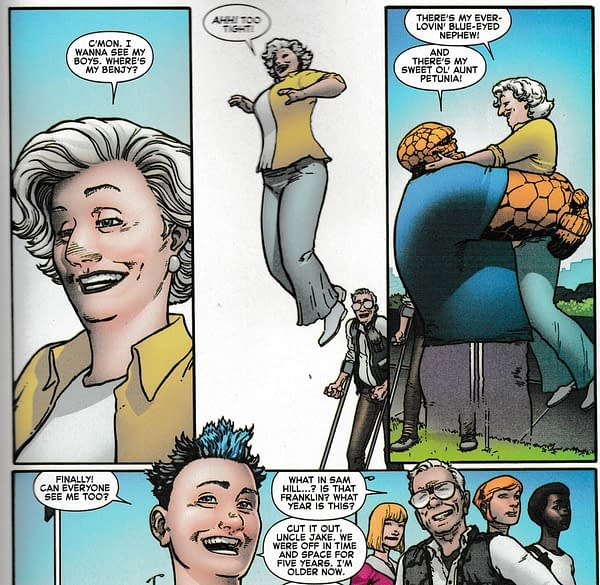 Come on Uncle Jake, don't you know it's rude to comment on a time travelling son of a superhero's age?
Fantastic Four #5 is published on Wednesday. It's a biggun…
FANTASTIC FOUR #5
(W) Dan Slott (A) Aaron Kuder, Adam Hughes, Michael Allred (CA) Esad Ribic
SPECIAL 650th ISSUE SPECTACULAR!
The wedding that's been years in the making…Ben and Alicia say "I do!"
No bait. No switch. Not a dream. Not a hoax. And we swear, not a single Skrull around. This is really happening! From the book that brought you the first, best and longest running super hero marriage in comics, we give you…the wedding of Ben Grimm and Alicia Masters! Featuring an untold tale of the courtship of Ben and Alicia. A bachelor party that only Johnny Storm could throw. And a very special ceremony brought to you in the Mighty Marvel Manner.
Rated T In Shops: Dec 26, 2018
SRP: $7.99
Enjoyed this article? Share it!