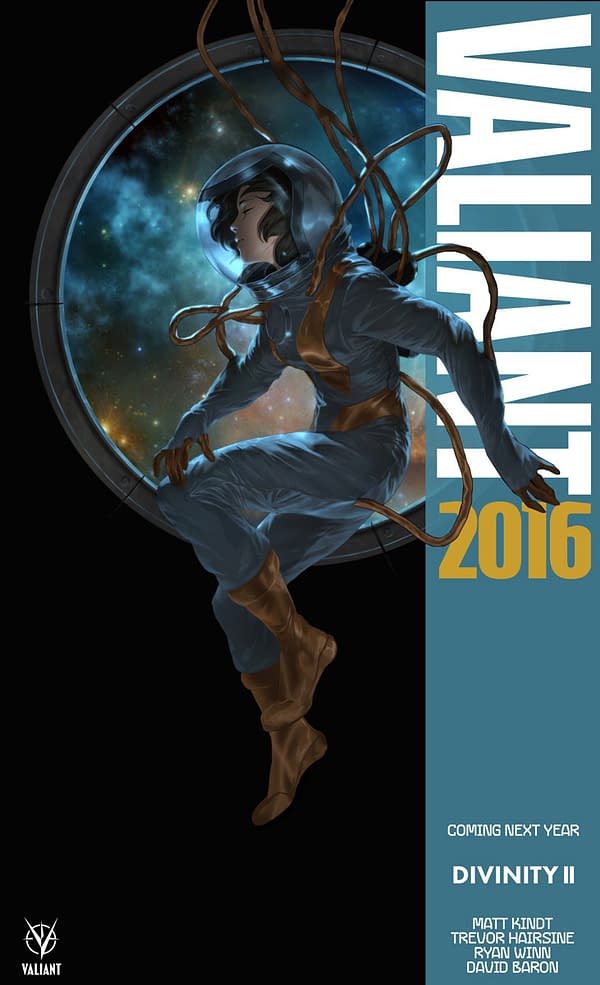 Hey it worked for Thor.
Following on from yesterday's look at the upcoming 4001 A.D., Valiant have just released their second year-end teaser for their 2016 slate — this time for April's Divinity II from returning creators Matt Kindt, Trevor Hairsine, Ryan Winn and David Baron.
Featuring the debut of Valiant's first headlining new character to debut in their own series, the first Divinity series was a high watermark for Valiant in 2015 — generating five sold-out printings of the first issue, several more across the subsequent issues, and widespread critical acclaim, including the title of "Best New Superhero of 2015" from the AV Club.
The first Divinity series followed an orphan named Abram Adams as he is adopted by the USSR and drafted into a secret Soviet space program to probe farther into the universe than anyone before or since. After decades adrift in the cosmos, Adams and his team of cosmonauts encounter an alien entity in deep space…and, soon after, a transformed Adams reappears in the Australian Outback as Divinity – a god-like being with the ability to control energy, matter, and time. But the sudden appearance of a god among men – who also just happens to be a black Communist ripped straight out of the 1960s – has major ramifications for the world, bringing Divinity into direct conflict with international powers…and leading him to seek out the family he left behind decades ago to pursuit of his duty.
As seen in the teaser image here by Jelena Kevic-Djurdjevic, Valiant appear to broadening Divinity's corner of the Valiant Universe with the introduction of a second, female god-like being for the sequel… And although the publisher has yet to release plot details on the book, but this would presumably one of the original Divinity's fellow space-faring comrades also thought lost in the first series…and something tells us she might not be as friendly…
Look for Divinity II #1 in April 2016.
Enjoyed this article? Share it!