Tomorrow kicks off Michel Fiffe's GI Joe Sierra Muerte, a new series claiming to be "a brilliant, contemporary and loving homage to all things G.I. Joe." IDW has released a preview of the first issue, and it goes right for the spirit of the early days of GI Joe comics, with Cobra Commander, the Baroness, and Major Bludd raiding the weapons stash of deceased Cobra mad scientist Dr. Venom.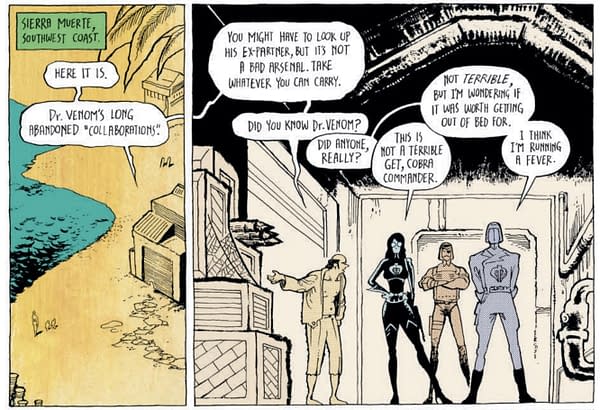 It looks like Venom has left behind your typical Cobra fare…but we also learn that Venom had a partner, and that partner is still at large.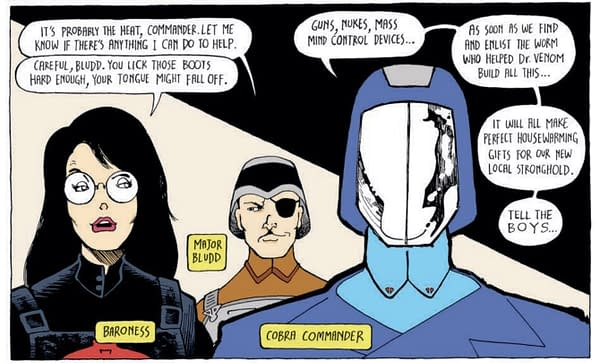 Classic Joes and Cobra villains in their classic costumes, classic themes…what more could you ask for? How about backup material exploring Larry Hama's epic GI Joe run?
GI Joe Sierra Muerte #1 hits stores tomorrow.
GI Joe Sierra Muerte #1
(W) Michel Fiffe (A/CA) Michel Fiffe
From the mind of comic book auteur Michel Fiffe comes a brilliant, contemporary and loving homage to all things G.I. Joe! Eccentric soldiers dominating bizarre terrorists are showcased in this bombastic account of G.I. Joe's quintessential mission against Cobra! Through a beachside ambush, a compromised manhunt, and a revenge plan that backfires, America's fighting elite risk life, love, and honor in this brutal globe-spanning adventure. From the creative mind that brought you COPRA! Visionary creator Michel Fiffe unleashes his imagination on the thrilling, amazing, and wonderful world of G.I. Joe! Each extra-length issue features an in-depth exploration of Larry Hama's G.I. Joe: A Real American Hero comic book series, including an interview with Larry Hama himself! All conducted by former Youngblood and current Sleepwalker scribe, Chad Bowers!
In Shops: Feb 06, 2019
SRP: $4.99
Enjoyed this article? Share it!