For Those Mourning Vertigo, A Wave Blue World Has a New Way of Publishing "Mezo" #1 and "Dead Legends" #1 in October
What a perfect time for former DC Comics editor, former Lion Forge senior editor, former Valiant senior editor Joseph Illidge to put together a line of titles for those wondering where they are going to get their future Vertigo-esque titles from?
As Editorial Director of A Wave Blue World alongside Lisa Y. Wu, VP of Sales and Marketing, they have a bunch of new titles – and a new way of publishing them, with their Premier #1 Program.
It is a commonly observed feature amongst comic book series that the first issue launches big, with drop-off for subsequent issues, with some readers choosing a) not to read any further or b) wait for the collection to be published for the rest of the story.
This new programme will see people buy the first issue in print, including backmatter exclusive to the print issue. Them they can read the reast of the series digitally, a new issue every two weeks. Or put the print volume in full, two months after the first issue is published.
President/Co-Publisher of A Wave Blue World, Tyler Chin-Tanner explains, "Two of the challenge that prevent fans from reading indie comics are the difficulty in finding all the issues and waiting long periods of time for them to come out. We've addressed both of those problems by having the full series completed in advance and ready to deliver in whatever format the reader prefers."
Executive Director/Co-Publisher Wendy Chin-Tanner says, "Our goal in conceiving AWBW's Premier Program is to solve a sales problem by creating a win-win solution for readers and retailers alike."
The first two titles released in this fashion will begin in October, with Mezo and Dead Legends.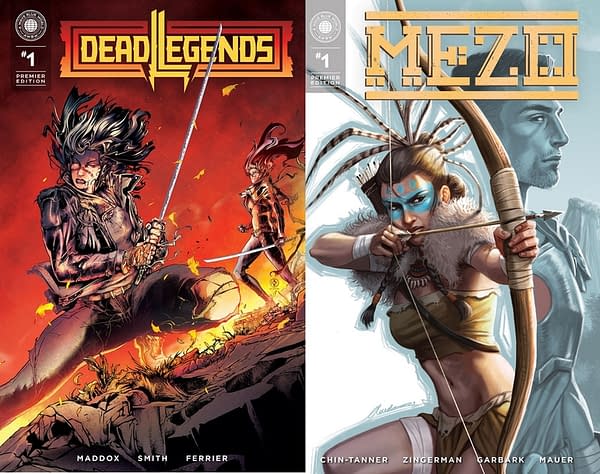 MEZO #1 by Tyler Chin-Tanner, Josh Zingerman, Val Rodrigues, Doug Garbark, Thomas Mauer, Cover Artist: Claudia Ianniciello
$3.99 / 32 pages / Full Color On Sale October 2nd
The rise of the Tzalekuhl Empire threatens to disrupt the peace that has lasted for generations across the land of Mezo. When the conquest begins, a young girl named Kyma witnesses the death of her father, Hegol, a tribal leader who refused to yield.

As the solar eclipse nears, Kyma must unite the various tribes against an emperor determined to make them all kneel before his god or be sacrificed in his name.

MEZO is a daring Mesoamerican-inspired Game of Thrones-type epic that can only be found at A Wave Blue World.
DEAD LEGENDS by James Maddox, Gavin Smith, Ryan Ferrier. Cover Artist: Leo Colapietro
$3.99 / 32 pages / Full Color, On Sale October 9th
A widow seeking revenge. A champion hellbent on losing. A world-class assassin second-guessing her contract. The Dead Legends tournament contains a long history of pitting the best fighters in the world against one another, but this year, these combatants bend the rules and place the future of the tournament in jeopardy. This is the martial arts throwback series that hits harder than a kick to the skull, where alliances are made, bonds are broken, and fighters lose their lives.

DEAD LEGENDS is Kill Bill meets Enter the Dragon.
Look for them in Previews in July… just in time for San Diego Comic Con.