Viz Media Launches 7 New Strips For Shonen Jump
Viz Media announced seven new titles picked up for 2016 at New York Comic Con, to appear in their Shonen Jump series, after just debuting on ComiXology. Here;s a look at the titles coming your way…
7TH GARDEN · Rated 'T+' for Older Teens · Debuting Summer 2016
In this series by Mitsu Izumi, Awyn Gardner will do anything to protect the beautiful mistress of the equally beautiful estate gardens he lovingly tends…even enslave himself to an also beautiful demon bent on world domination! The fight is on between angels and demons and humans for the world…and Awyn's heart! BLACK CLOVER · Rated 'T' for Teens · Debuting Summer 2016
SHONEN JUMP's breakaway hit of 2015, a fantasy action-adventure about mastering magical powers. Asta is a young boy who dreams of becoming the greatest mage in the kingdom. Only one problem – he can't use any magic! Luckily for Asta, he receives the incredibly rare five-leaf clover grimoire that gives him the power of anti-magic. Can someone who can't use magic really become the Wizard King? One thing's for sure – Asta will never give up! The series is also currently featured in WEEKLY SHONEN JUMP magazine. EVERYONE'S GETTING MARRIED · Rated 'M' for Mature Readers ·
Debuting Summer 2016
In this new Shojo Beat manga series by Izumi Miyazono, successful career woman Asuka Takanashi has an old-fashioned dream of getting married and becoming a housewife. After her long-term boyfriend breaks up with her to pursue his own career goals, she encounters Ryu Nanami, a popular newscaster at PTV. Asuka and Ryu get along well, but the last thing he wants is to ever get married. This level-headed pair who want the opposite things in life should never get involved, except… HAIKYU!! · Rated 'T' for Teens ·
Debuting Summer 2016
Ever since he saw the legendary player known as the "Little Giant" compete at the national volleyball finals, Shoyo Hinata has aimed to be the best volleyball player ever! He decides to join the team at the high school the Little Giant went to – and then surpass him. Who says you need to be tall to play volleyball when you can jump higher than anyone else? KUROKO'S BASKETBALL: 2-IN-1 EDITION · Rated 'T' for Teens ·
Debuting Summer 2016
Kuroko Tetsuya doesn't stand out much. In fact, he's so plain that people hardly ever notice when he's around. Though he's just as unremarkable on the basketball court, that's where his plainness gives him an unexpected edge – one that lets him execute awesome moves without others noticing! And now that he's a high school student, he's on a mission to defeat each member of his legendary middle school team, known as the Miracle Generation.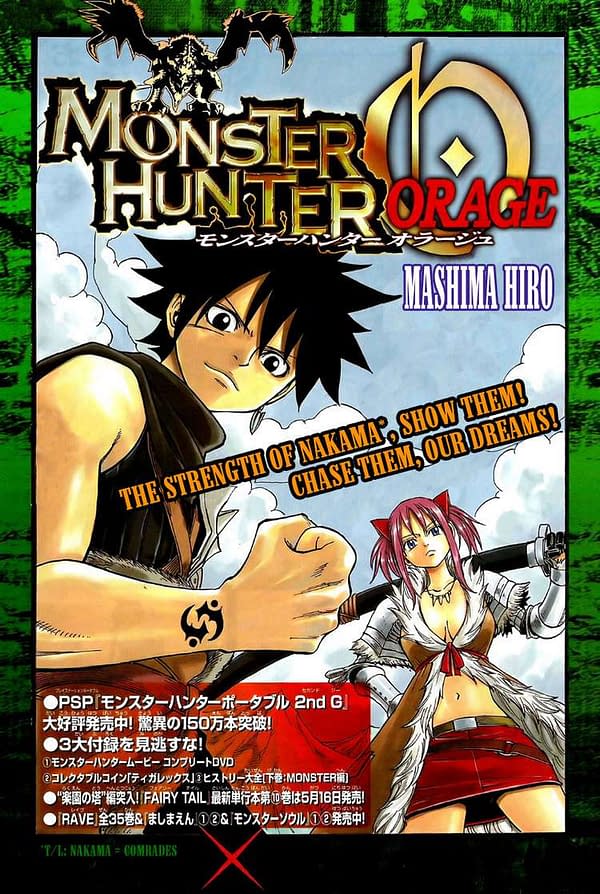 MONSTER HUNTER · Rated 'T' for Teens ·
Debuting Spring 2016
In this new series based off the popular Monster Hunter video games, our heroes live in an age when monsters rule the world: soaring through the sky, treading the earth and filling the seas. Humanity survives on the fringes, relying on a special kind of hero to defend the people from danger – the Monster Hunter! YONA OF THE DAWN · Rated 'T' for Teens ·
Debuting Summer 2016
The fantasy adventure shojo manga series that also inspired the fan favorite anime about a princess who's on a quest to reclaim her throne! Princess Yona lives an ideal life as the only princess of her kingdom. Doted on by her father, the king, and protected by her faithful guard Hak, she cherishes the time spent with the man she loves, Soo-won. But everything changes on her 16th birthday when she witnesses her father's murder!