Walking Round London For Free Comic Book Day – The Heat, The Crowds And The Fame
This morning I took the kids along to Free Comic Book Day. A sweltering day in London, there were plenty of activities, signings and events through the day but we were there for the morning's events. The line at Orbital already stretched round the block when we arrived. With cosplayers and comic compatriots, I bumped into old acquaintance Ben Moor, currently away from playing Victorian folk on BBC period pieces to pick up a few titles. I recommended a couple he was humming and ha'ing over. But we left the line for Gosh Comics, who had cartoonists decorating the windows most gaily.

This is what it would look like later. Something my eldest daughter now suddenly wants to do on her bedroom window. We will have to have words. And pictures. Inside the kids soon got down to the drawing. There were cartoonists to give inspiration and to join in the creative process.
It was a buzz of creativity and character building. My eldest seems to have absorbed the recent spate of Batman V Superman and Civil War to create her own conflict. Which was handily put together just in time to be discussed with Julian Barratt of The Mighty Boosh and Nathan Barley.. who had popped into Gosh with his kid, also drawing at the table. He wondered why the two would be at war, and who the more aggressive would be. We left Gosh, discussing how plants use resources around them and constructing a plot for a vegetable war. It was time for a frozen yoghurt break and a chance for me eldest to read Hilda for the first time. And the youngest to dive into Pink Panther.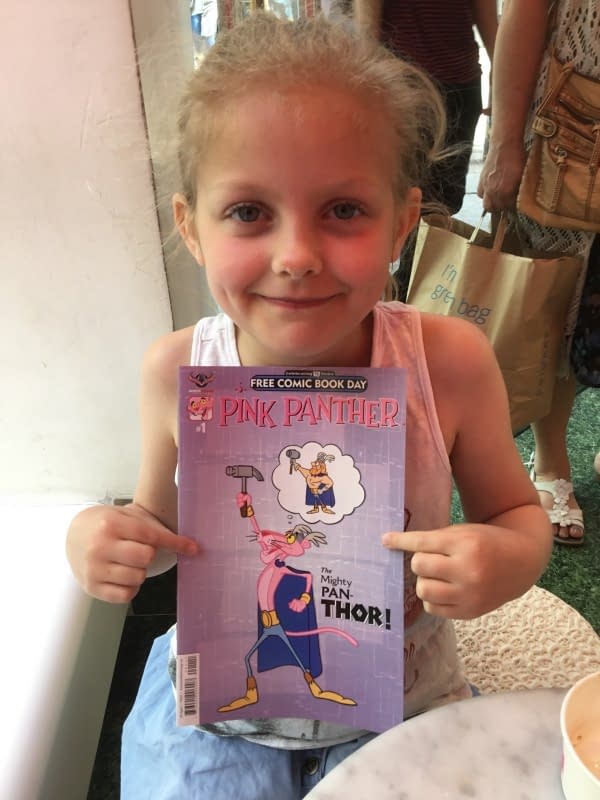 Forbidden Planet was gearing up for their own signing, but were handing out big bags of comics at the door. And very popular they were, even for passing traffic. They also had special golden tickets with bigger gifts going for free to those lucky few… We returned to Orbital to a slightly more manageable line.
And Joel Meadows of Tripwire making his pilgrimage in. We talked about elections and comics and plans… and why this was Joel's first journey in to Free Comic Book Day ever… Then, via the South Bank playground under the looming London Eye, it was time to go home. Train and then bus… But with free comic books (and a few that I paid for) the time just flew by!