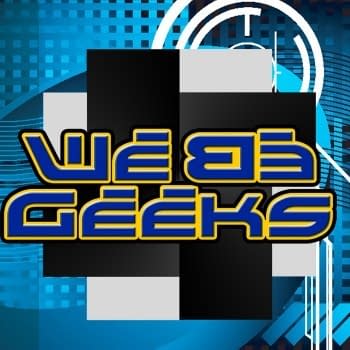 [audio: http://media.blubrry.com/webegeeks/p/webegeekspc.com/podcasts/Episode_147_Sanitized_For_Your_Protection.mp3]
Bleeding Cool welcomes back We Be Geeks, hosting a variety of guests and covering a wide range of geek topics.
Is it a dream? Is it a mirage? This episode of We Be Geeks features a return appearance by the one and only Julz. With Julz back to rein in the testerone, the gang starts off by discussing a potential Batman vs. Superman spoiler found in one of the toy box sets. We then move on to discuss the new Netflix Marvel show Jessica Jones at length. The return of Julz leads us to discuss the latest episode of Doctor Who before moving on to discuss the upcoming Marvel Movie Doctor Strange. We cover some Fantastic Four movie news, and then get into a discussion about the cancelation of The Player along with other canceled shows. Of course it wouldn't be a proper We Be Geeks episode without discussing the latest Star Wars news, including C3-PO making an appearance on the Waze app, the potential box office numbers of the movie, and some interesting Star Wars goodies from Google. After that, we talk about some fun Easter Eggs you can find on the internet, then move on to the revival of the Tremors franchise as a TV show before finishing off with a discussion about the shows that have not been cancelled.
Subscribe today on iTunes and Stitcher and leave a 5 star review. Leave a voice mail on the Geek Revolution hotline at 321-219-8227. Email us at webegeeks (at) webegeeks dot net with any news, questions or comments.
Follow us:
Twitter: @webegeeks, @JulzHendricks, @nesofgeek, @geek_happenings
Facebook: We Be Geeks
Superheroes by day, Podcasters by night! The We Be Geeks Podcast is hosted by Mike Ehmcke (@webegeeks) Along with Julz Hendricks (@JulzHendricks), Derrick Nadeau (@nesofgeek) and Brett Dasilva (@geek_happenings) as Co-Hosts, this podcast is on fire! You can find us on Facebook as well as the We Be Geeks official site. Check out our Patreon and support the show.
Enjoyed this article? Share it!