Wednesday Runaround – Emotional Teenagers And Wild Children
SuperWatch: Variety reports that US appeal courts have ruled that Warner Bros can use documents stolen from Marc Toberoff in their case against him over the Superman legal fight, because he handed copies over to police when requested to, when they were investigating the crime.
WalkingWatch: Walking Dead Issue One Page Two sells for over $8000.

CheWatch: Panini, who publish Marvel Comics across Europe, are to publish a new graphic novel about Che Guevara, in Spanish.
"We were convinced that if we wanted to tell Che's story, we'd have to find a new perspective and something that would help make readers aware of the iconic power of his images," Marco Rizzo, co-author with Lelio Bonaccorso of Che Guevara, published by Panini Comics, told EFE.
MaxWatch: Marvel Comics is creating a Max Payne 3 digital comic to be downloaded through Rockstar's online services.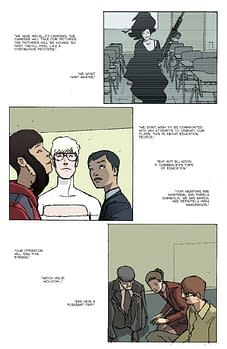 WildWatch: Ales Kot's Wild Children for Image in July gets profiled by USA Today. Which means we can now add it back to the solicitations we ran at the weekend.
ChinaWatch: Iron Man 3 will be co-produced by China, and mostly film over there as well.
The US entertainment conglomerate said it was partnering Chinese production company DMG Entertainment to bring the popular superhero franchise to China. DMG will co-finance the film and jointly produce it in China, where much of the action will be set.
AvengersWatch: ABC News knows a good headline when they see one.
Scarlett Johansson 'Shredded' Her 'Avengers' Costume
PromotionWatch: Alvin Lu of Viz Media has been promoted from Senior VP – General Manager to Executive VP of Publishing.
EmotionWatch: The Irish government support a new graphic novel aimed at teenage readers.
EDUCATION MINISTER Ruairí Quinn has given his backing to a graphic novel aimed at instilling greater emotional intelligence in teenagers in a bid to improve the mental health of younger generations.. 'Xceptionalise', written by Kevin Kelly and illustrated by Rebecca Burgess, is aimed at children from sixth class onwards, and is drawn entirely through the Japanese manga style in an attempt to attract younger readers