What Have They Done To Ben Reilly? (Dark Web Spoilers)
Ben Reilly has been canon fodder in many Spider-Man comics, but has he ever fallen so far in continuity terms as Amazing Spider-Man #18?
---
It's Ben Reilly time! In the previous volume Amazing Spider-Man #93, featuring the end of the Spider-Man Beyond storyline, had a bit of an almost-apology to make regarding what went down with the character and clone of Spider-Man, Ben Reilly. The letters/editorial page included the following words;
Special mention to Danny Khazem, who isn't in the Spider-Office anymore, having taken the Kessel Run to the Star Wars office. Danny was our in-house Ben Reilly superfan and expert (and editor of ASM #88.BEY) and was a huge asset to what we did here. With Danny in mind, I wanted to thank and… apologize isn't quite the right word…to the Ben Reilly fans out there. Ben is an incredible character who didn't really have a place in the Spider-Landscape anymore. Peter Parker isn't going anywhere, and Miles Morales is here to stay, so Ben has been a challenge for us, and we thought this story gave us an opportunity to not only give Ben a last run as Spider-Man and to do a rare thing in the world of super hero comics–a tragedy. With most of our characters locked into eternal roles, a truly tragic story is very rare, and we hope we did Ben justice with it. As you just read in our "Days" story, we may not have seen the last of Ben Reilly.
However, looking at today's Amazing Spider-Man #18, Ben Reilly fans may have preferred Marvel to just leave Ben Reilly alone. We have seen him coping without his clone memories of being Peter Parker and becoming the creature Chasm, blaming Parker for not returning their shared memories, teaming up with fellow clone Madelyne Pryor and taking over Limbo in an effort to gain their memories back,m and kidnapping Peter Parker in an attempt for him to surrender.
But today's Amazing Spider-Man #18 goes further. Dark Web X-Men #3 had seen Madelene Pryor switch sides, reconcile with Jean Grey and gain the memories of raising her child, Cable. But Ben Reilly and his partner Janine Godbe, also transformed, are still where they were.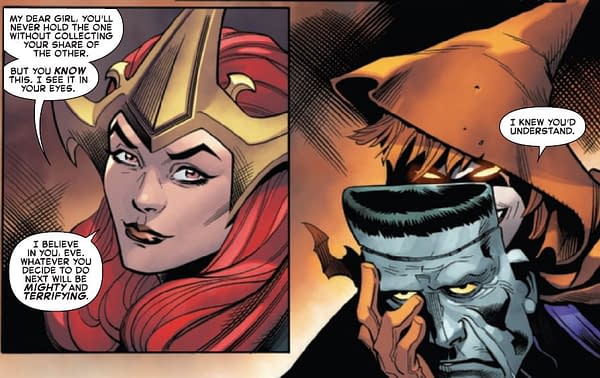 Janine Godbe, as the new character Hallow's Eve demonstrates some monstrous transforming abilities that may hold on Earth and they do in Limbo.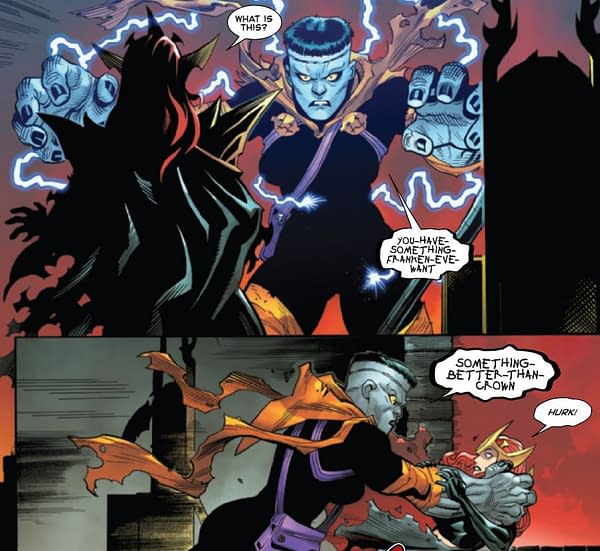 The battle sees Janine seize the sword that Madelyne Pryor had been using to keep Limbo under control and transfer it across to Ben Reilly.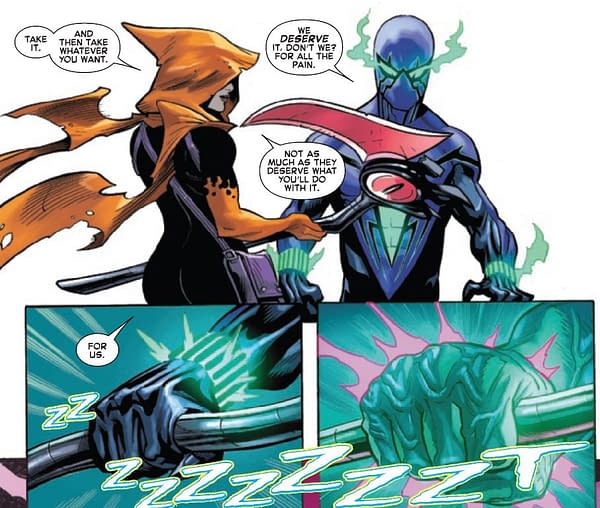 Ans takes the throne of Limbo. Talk about demonising a character. Well, it had been done to Madelyne for years, now it's Ben's turn to start to throw horns to match the demon wings and new claws…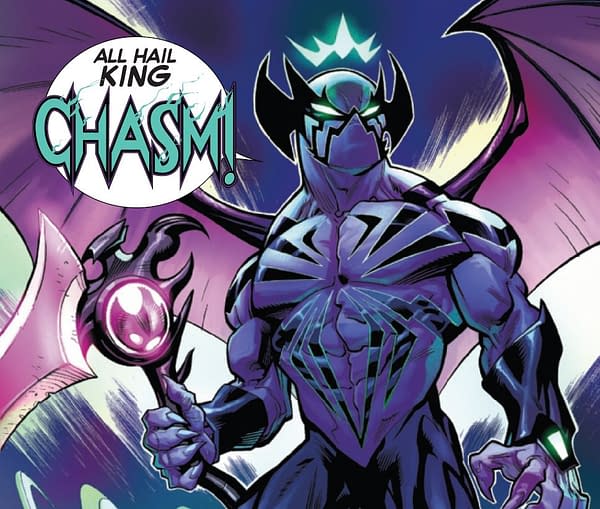 AMAZING SPIDER-MAN #18
MARVEL COMICS
NOV220766
(W) Zeb Wells (A) Ed McGuinness (CA) John Romita Jr.
As if the normal run-of-the-mill demons of Limbo weren't enough? Spider-Man finds himself facing a small army of demonized versions of his rogues' gallery! Can he make it home to stop Chasm and the Goblin Queen?!In Shops: Jan 25, 2023
SRP: $3.99