Who's Smarter, Moon Girl or Valeria Richards? (Fantastic Four #10)
The rankings are supposed to be settled. The smartest person on Earth in the Marvel Universe is Lunella Lafayette, AKA Moon Girl, of Moon Girl and Devil Dinosaur fame. That's not just a PR moniker. It's established cannon, as explained in 2017's Unstoppable Wasp #1, as Mockingbird explains to Nadia…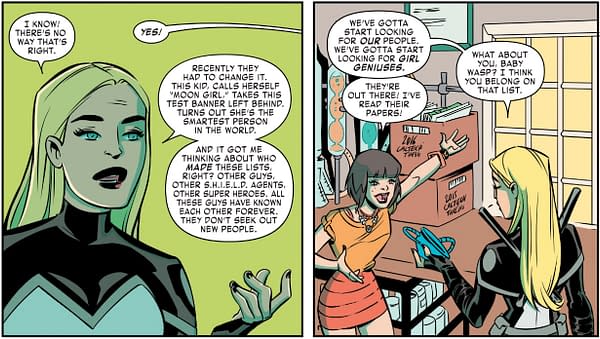 That test in question is the Banner B.O.X., or Banner Brain Omnicompetence Examiner. It's a test that even its inventer, Bruce Banner, was unable to pass. But as Mockingbird says, back in Moon Girl and Devil Dinosaur #12, Moon Girl solved it, and like a breeze at that.
It was Amadeus Cho who administered the test…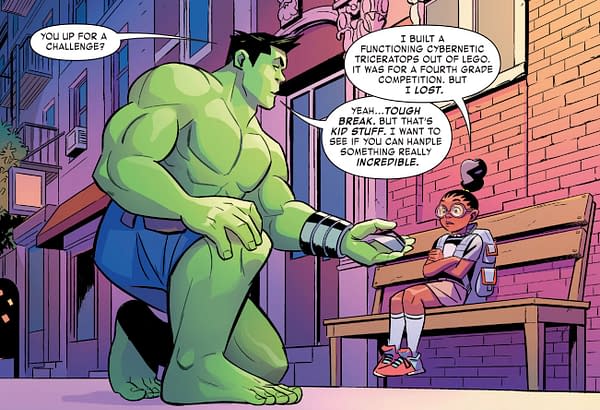 But before he could even finish explaining what it was…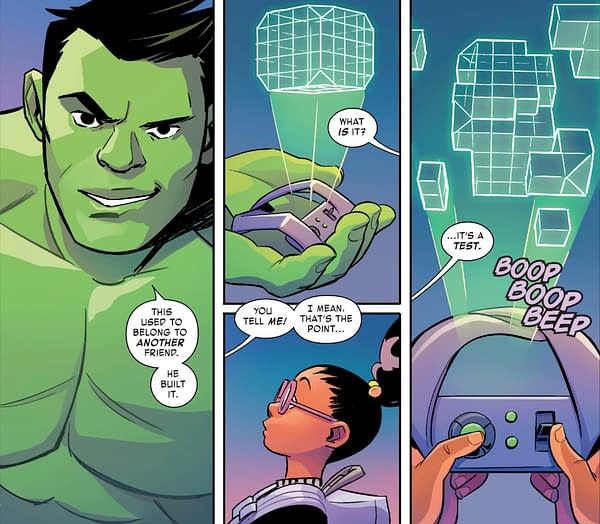 Moon girl solved it, the first person ever to do so…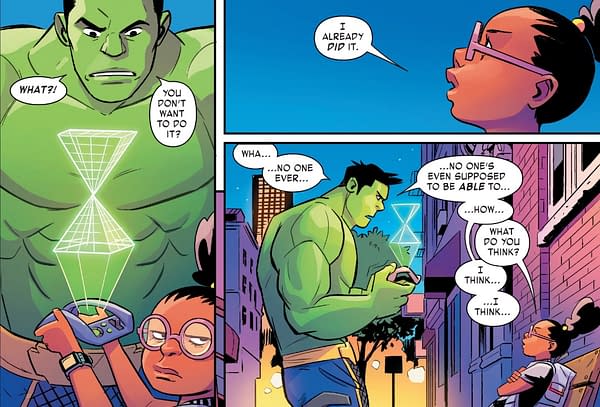 Leading Amadeus to proclaim…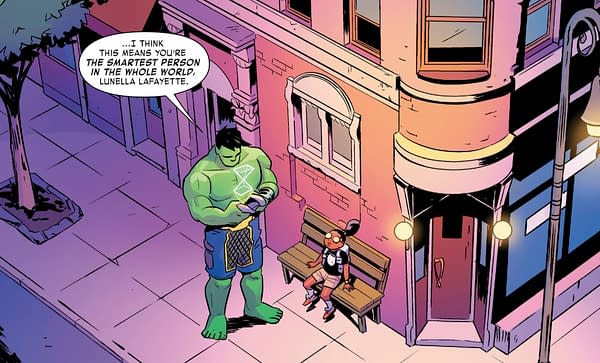 But in Fantastic Four #10, in stores now, a challenger has stepped up: Valeria Richards, the daughter of Reed and Sue, and a genius herself. Valeria meets Lunella at a block party set up to welcome the Fantastic Four to Yancy Street, a party that is soon interrupted by invaders from the War of the Realms super-mega-crossover event, but that's for another time.
For now, we're concerned with this icy interaction…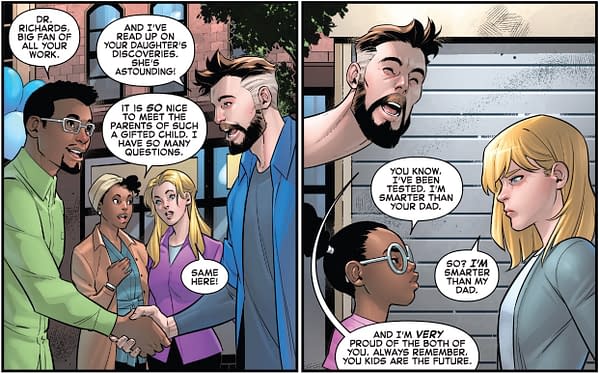 And Lunella throws down the trump card: the Banner B.O.X. results…

But Valeria does have a point. Lunella took the test in October of 2016, but Fantastic Four was unceremoniously canceled in 2015 by Marvel due to a grudge by Marvel Chairman Ike Perlmutter against then-rival movie studio Fox, which owned their movie rights, despite the lies told at the time by Tom Brevoort.
Secret Wars, which ended in January 2016, saw the Fantastic Four shuffled completely off the board, traveling the multiverse created by Franklin Richards, and Valeria and her family didn't return until Fantastic Four relaunched last year. So does she have a legit claim?
Well, there's only one way to settle this challenge: break out the Banner B.O.X. and let Valeria put her brains where her mouth is. Otherwise, it's just idle trash talk… tinged with a bit of jealousy, perhaps?
Fantastic Four #10 is in stores now.
Fantastic Four #10
(W) Dan Slott (A) Stefano Caselli (CA) Matteo Scalera
WAR OF THE REALMS TIE-IN!
Don't bring your war to Yancy Street…
Rated T
In Shops: May 29, 2019
SRP: $3.99