Posted in: Comics, DC Comics | Tagged: Alan Moore, comica, Dave Gibbons, dc comics, Watchmen
---
Will DC Comics Publish Alan Moore's Full Scripts For Watchmen?
Last week, Dave Gibbons was asked if he would ever be open to publishing the Watchmen scripts. Because he still has them all.
---
I get the feeling that this week may be quite Dave Gibbons-heavy. As I finally manage to wade through the panel I hosted between Tim Pilcher and Dave Gibbons at LFCC last November, and from the Century Club Comica Panel with Brian Bolland and Dave Gibbons, as part of Paul Gravett's Comica events last week. There's another event tonight, with Armando Iannucci and Mike Lake, and another tomorrow with Lucy Sullivan and Lucie Arnoux, so either way I am going to be rather busy.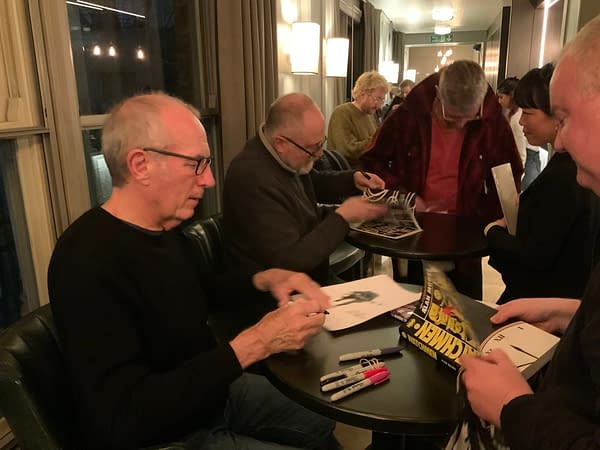 But before we get all into it, I thought it might be worth revisiting this answer from the Question And Answer session. On the day of the publication of his autobiography, Confabulations, written as an A-to-Z of a life worth anecdotes (though he feels he may have to give us a second volume at some point as he keeps realising stories, events and people he may have missed out), it is notable that there is no "Watchmen" section under 'W', instead those stories are spread throughout the book under different headings, so as to prevent people just licking to the obvious point.
But naturally, his work on Watchmen, and his relationship with Alan Moore, is a pivotal point in the book. What was once a fruitful and respectful creative collaboration, has fallen as Alan Moore has now caricatured Dave Gibbons as some kind of corporate stooge, and has stopped speaking to him. Dave Gibbons acquiesced to Before Watchmen prequels, sequels, and subsequent integration of Watchmen into the DC Multiverse, the New 52, DC Rebirth, Doomsday Clock, Death Metal, Infinite Frontier and more.
And so Dave Gibbons was asked if he would ever be open to publishing the Watchmen scripts. Written on his typewriter by Alan Moore, famously detailed, certain pages have been published in the past, including the page-long description of page one panel one. But what about the whole thing? While Alan Moore would naturally be against any further exploitation of a comic book that he now feels increasingly divorced from, citing DC Comics and Warners as having stolen Watchmen from him, and no longer has a copy in his house to remind him. Dave Gibbons doesn't quite have those issues, even as he emphasises the purity of the Watchmen graphic novel in and of itself. DC Comics certainly believes it has the rights to keep publishing Watchmen, and they have not been challenged in the courts, and that would include the scripts to Watchmen.
Dave Gibbons answered that it was certainly an idea. His art agent, Joseph Melchoir, then asked from the audience, "who actually had the Watchmen scripts?" Dave Gibbons answered emphatically with a smile, "ME."
Would DC Comics really publish Alan Moore's scripts to Watchmen, in the knowledge that he would vehemently oppose such a thing? Has it ever stopped them before? The only question is… would Dave let DC have them? Here's what has been released so far, and how they relate to certain panels and pages.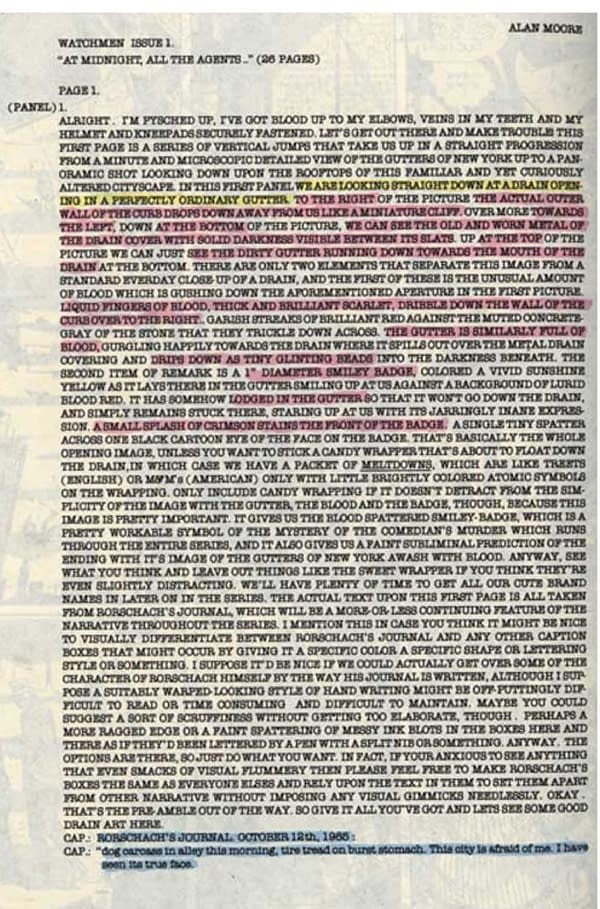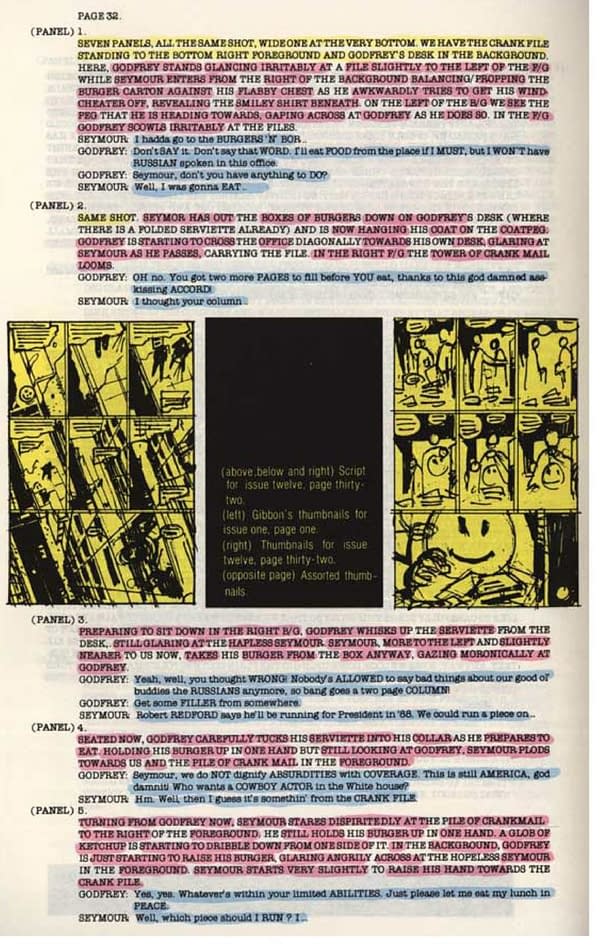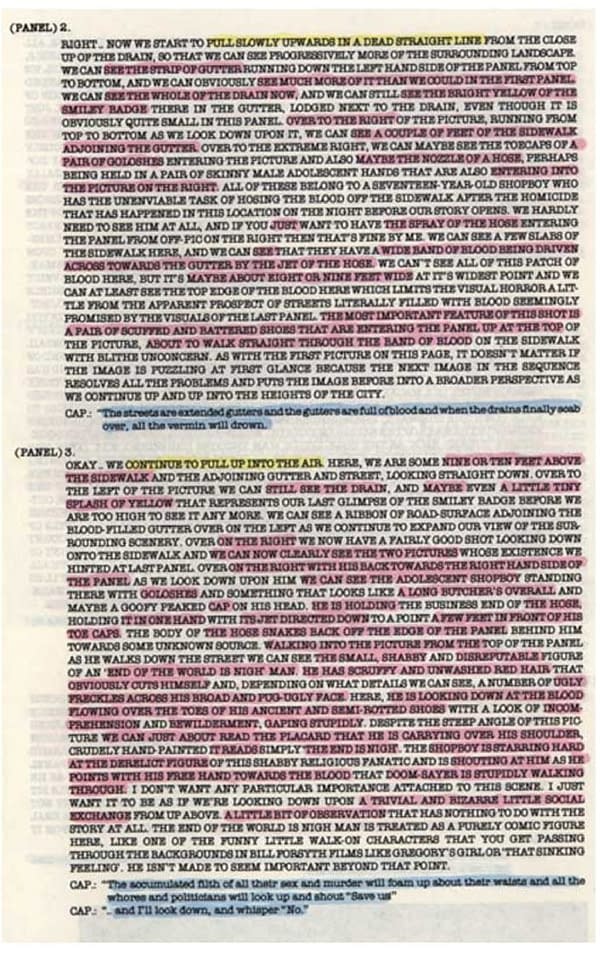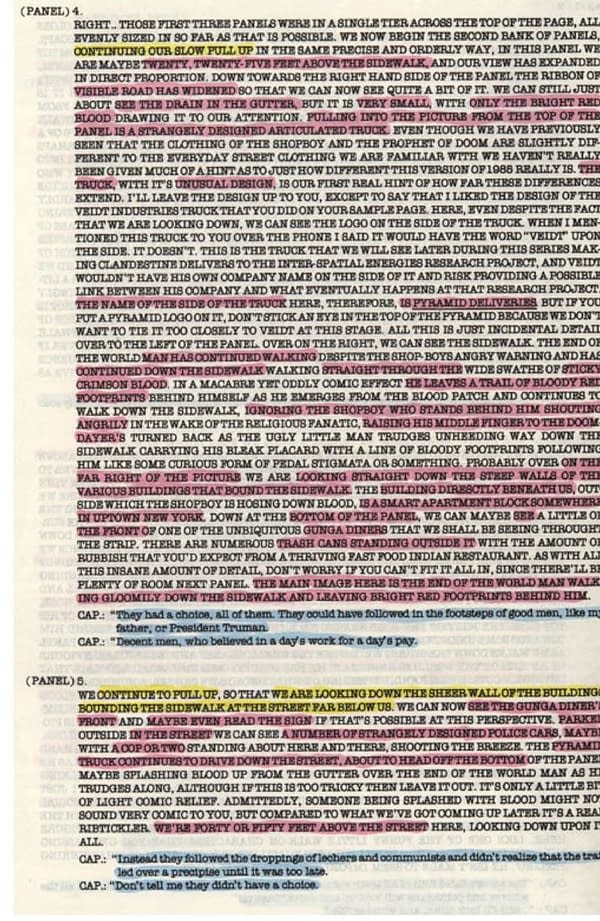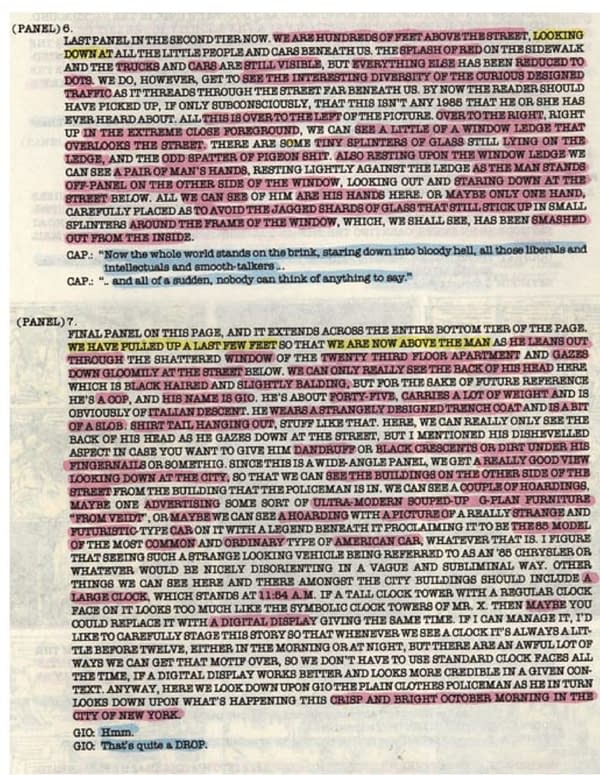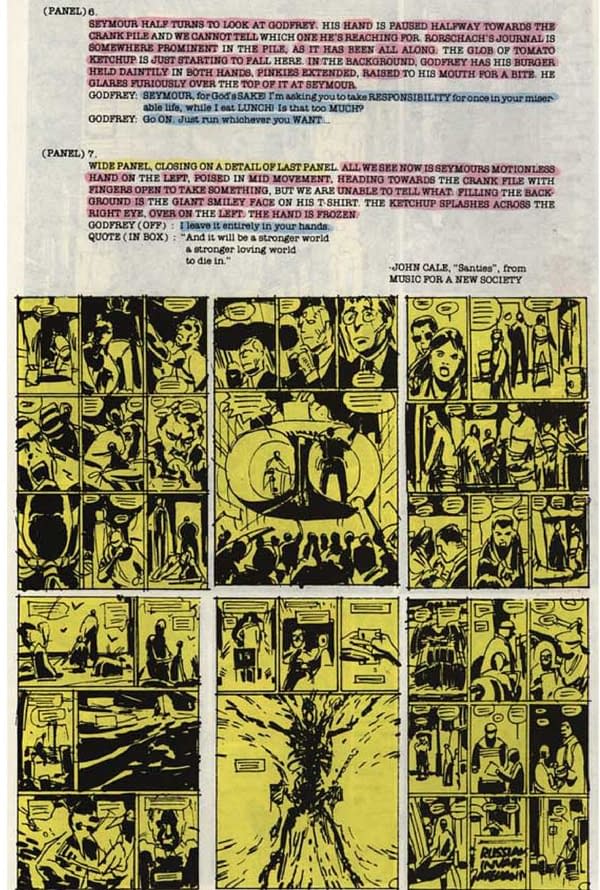 ---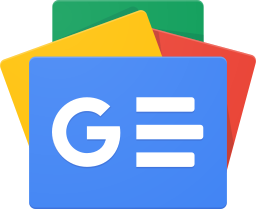 Stay up-to-date and support the site by following Bleeding Cool on Google News today!