Dave McKean To Dave Gibbons, Comica London Comics Festival In March
Comics festival with Dave McKean, Dave Gibbons, Armando Iannucci, Brian Bolland, Posy Simmonds, Alex Masterley, Iain Sinclair, Martin Rowson...
---
Comics Festival in London time! London's Century Club was a favourite venue in my Soho advertising days, on Shaftesbury Avenue between the theatres. Launched in 2001, the largest private members' club in Soho is named after the hundred steps from the entrance to the terrace garden five stories up, with views across St Anne's Church Courtyard. And now in March, it will host the long-awaited return of Comica, The London Comics Festival in association with VIP Brands Ltd and The Lakes International Comic Art Festival, a series of panels running in the evening through the month, with everyone from Armando Iannucci to Posy Simmonds, from Brian Bolland to Iain Sinclair, Dave McKean to Dave Gibbons, from Lizzie Stewart to Lucie Arnoux and Lucy Sullivan. Given that I'll probably be hanging out at Blacks round the corner on Dean Street, maybe I can bring Mark Millar along?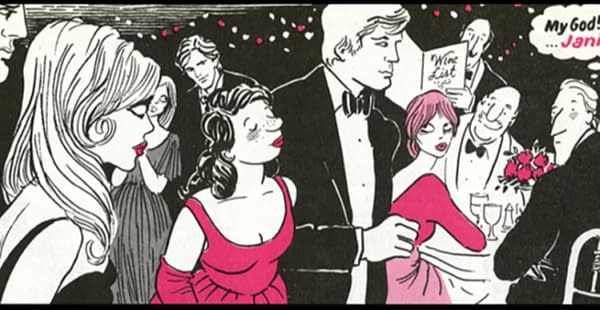 Join Posy in conversation with graphic novelist Lizzy Stewart where they will discuss Posy's life as an artist, writer and observer of the world, revealing aspects about her childhood, friendships and artists that most inspired her work. At the end of the evening, Posy will be presented with The International Award for Excellence in Comic Art for 2022. Thursday, the 2nd of March, 6.30 pm, £12.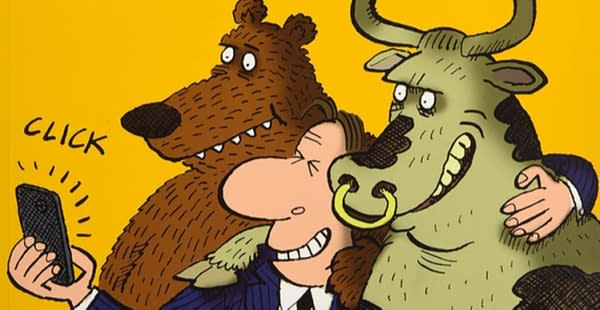 ALEX is the longest-running current daily British cartoon strip still produced by the original authors. It began life in 1987 as a satire on the short-lived social phenomenon of Yuppies (remember them?) in Robert Maxwell's London Daily News. The newspaper itself proved to be equally short-lived, but the character of Alex Masterley, an egotistical, snobbish and materialistic banker struck a chord with the public. The cartoon transferred to the Independent, where it remained for five years, before Alex defected shamelessly to the Daily Telegraph, where he appears to this day. Over the years the strip has developed into a satire on the corporate world and middle-class professional lifestyles and has ridden out more boom and bust cycles than Alex cares to remember. In this illustrated talk Alex's creators, Charles Peattie (artist and writer) and Russell Taylor (writer and luncher), will give the low-down on Britain's favourite investment banker (well, it's not like there's much competition from any of the real-life ones). Tuesday, the 7th of March, 6.30pm, £12.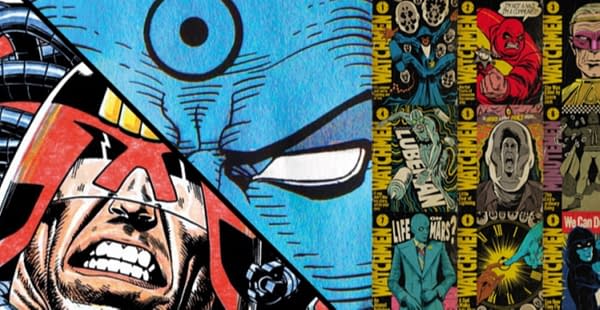 Dave Gibbons and Brian Bolland have a fifty year friendship having met at a comic convention in 1972. Both artists joined the fledgling science fiction title 2000 AD in 1977. Brian was one of the artists who drew Judge Dredd, creating several of its key characters, while Dave went on to collaborate with Alan Moore on Watchmen, one of the best-selling graphic novels of all time. Between them they have worked on franchises such as Dan Dare, Superman, Batman, Dr Who and Star Wars. In conversation with the comic historian Tim Pilcher, Dave and Brian will take you on a journey of their lives as artists, writers and observers of the world. Each will explore their childhood, friendships, careers and the comics that most inspired their own works. Expect a creative cocktail of the many influences that shaped their trajectories into becoming two of the most outstanding comic artists of their time. The event will also serve as a launch for their autobiographies: Gibbons' 'Confabulation' with Pilcher (Dark Horse) and Bolland's It's About Time (Book Palace). Signed copies will be available for purchase. Tuesday, the 14th of March, 6.30 pm, £12.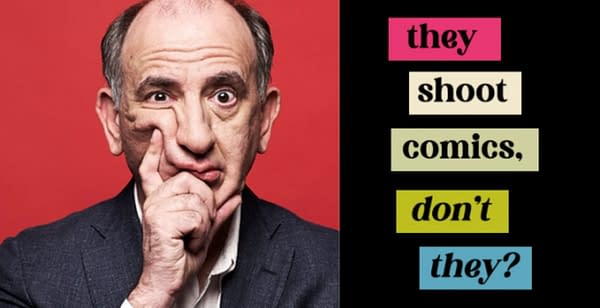 The artist Salvador Dali believed that "comics will be the culture of the year 3794". In fact, this tongue in cheek prediction appears to have come true rather quicker than the great surrealist predicted, especially in the world of cinema. Four of the top ten highest grossing films of all time started their lives as comics showing that graphic novels have crossed the borders of fringe pop culture into the domain of Hollywood's leading genre. Join us at the Century for a panel discussion with some of London's top producers discussing their experience in adapting comics to screen. After the talks, there will be an opportunity to meet the panel informally for a drink. Panellists include: Armando Iannucci for The Death Of Stalin, Michael Lake for Violent Cases, Tim Searle for Dennis & Gnasher and Patrick Walters for Heartstopper. Chaired by Ivanka Hahnenberger of VIP Brands Ltd, a rights and consulting company focusing on expanding graphic novel horizons. Wednesday, 22nd of March, 6,30pm £12.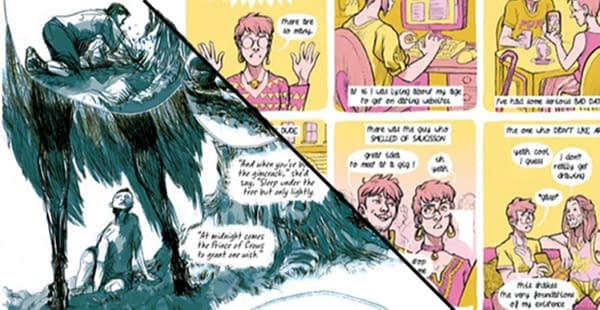 Autobiography has become a central genre in contemporary comics with notable exponents being Robert Crumb (Fritz the Cat), Art Spiegelman (Maus), and Marjane Satrapi (Persepolis). But what does it really take to transform your personal, sometimes private experiences into pictures and words for all to see and read? Lucie Arnoux and Lucy Sullivan are two of the most distinctive voices from the current generation of comics memoirists. In this illustrated talk they will share their paths and processes in an enlightening and inspiring conversation. Lucie is a French comic artist and writer. Her autobiographical graphic novel Je Ne Sais Quoi was published in 2022 by Jonathan Cape. She is also the author of the "Enola Holmes" comic series. She has travelled the world with her sketchbook, but is happiest in her adoptive home town of London, where she has lived for the last 10 years. Lucy Sullivan is best known for her critically acclaimed debut "Barking", a stark black & white graphic novel about grief, madness and the ghosts that haunt us. She creates short comics for Collusive Press and has collaborated on a variety of comics including Ind-Xed, Razorblades, Skrawl, Yoshin and Metallic Dynamite. Thursday, 23rd of March, 6,30pm £12.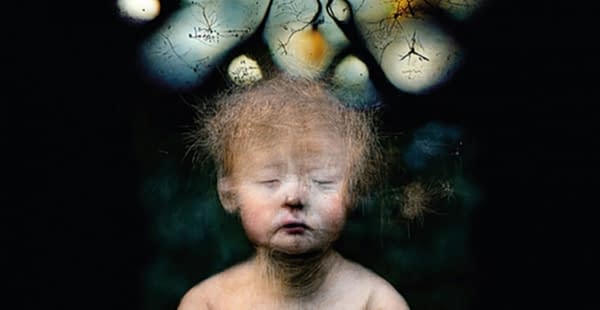 Ever wanted to know how Hieronymus Bosch would have depicted Strictly Come Dancing? Or to see Batman as a guest in the Last Supper? AI can now generate exquisite renditions of almost anything you wish for in a matter of seconds. It can produce realistic selfies of non-existent people (as if the world really needed any more selfies..) and Cosmopolitan recently trumpeted the world's first AI-generated magazine cover. All of which has caused the human creative industries to ponder their future. Illustrator Dave McKean was one such person. After reading about the implication of generative AI he decided he could either retire or respond. He chose the latter option and produced a 96-page book of short graphic stories exploring and conversing with AI. For this special event, McKean is joined with his collaborator and friend, the multi award writer and countercultural poet Iain Sinclair for a conversation exploring the question, "when AI can make art – what does it mean for creativity?" Tuesday, 28th of March, 6,30pm £12.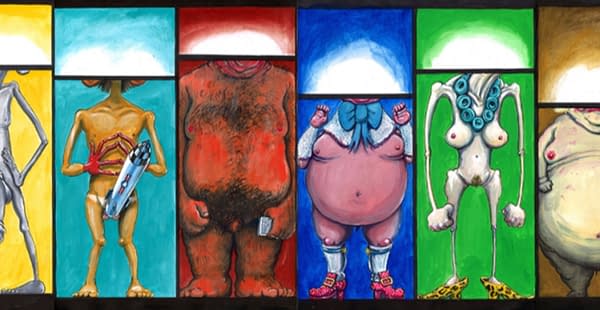 To finish up our Comica month, join cartoonist Martin Rowson as he takes us on a rumbunctious, rollicking ride through his 40 years of ankle-biting, satirical-savaging attempts to hold the great and good to account. During an action-packed – and possibly very messy – evening, he will be depicting (with commentary) the nine prime ministers who have been in office during his career – using ketchup, mustard, mayo, peanut butter, toilet duck and various other household condiments. The evening will include a private view of Martin's 'Naked Attraction' paintings of various prime ministers which will be exhibited alongside his 'Gluttony' series in the Century's cocktail lounge during March. Tuesday, 28th of March, 6,30pm £12.
Comica was co-created in 2003 by Paul Gravett and John Harris Dunning for the Institute of Contemporary Arts. It continues as part of the annual Observer/Faber/Comica Graphic Short
Prize, founded in 2007, and as the regular Comica Social Club in London. Comica, The London Comics Festival, at The Century Club is a VIP Brands Ltd concept and initiative, presented in association with The Lakes International Comic Art Festival.