Will Philomena Cunk Join Batman At DC Comics?
Could we get Philomena Cunk presenting Cunk On Batman? Today's Batman: The Adventures Continue Season Three teases the vague possibility.
---
Diane Morgan has received a recent worldwide profile blip, as Netflix has picked up her BBC shows playing the ignorant TV interviewer Philomena Cunk. An extremely dim-witted and ill-informed interviewer and commentator on current affairs, the character first appeared on Charlie Brooker's Wipe shows in 2013 alongside her male counterpart Barry Shitpeas. This span off into her own "Cunk On…" shows from 2016 including Cunk on Christmas, Cunk on Britain, Cunk On Shakespeare. Cunk and Other Humans and Cunk on Earth, as well as the book written by Diane Morgan, Cunk on Everything: The Encyclopedia Philomena. But now Netflix has picked up the Cunk shows, more people are becoming familiar with her very entertaining strain of idiocy. And that seems to include Alan Burnett, Paul Dini and Ty Templeton, who bring a very specific sound effect to this week's Batman: The Adventures Continue: Season Three #3, out today from DC Comics.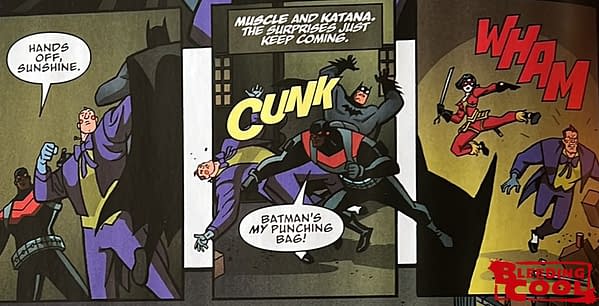 I really wish she'd start asking experts about Batman, now.
While today's Batman Inc #6 by Ed Brisson and John Timms is happier to pick up the Marv Wolfman and George Perez references, previously dropped into Nightwing, establishing Marv & George's Pizza parlour in Bludhaven…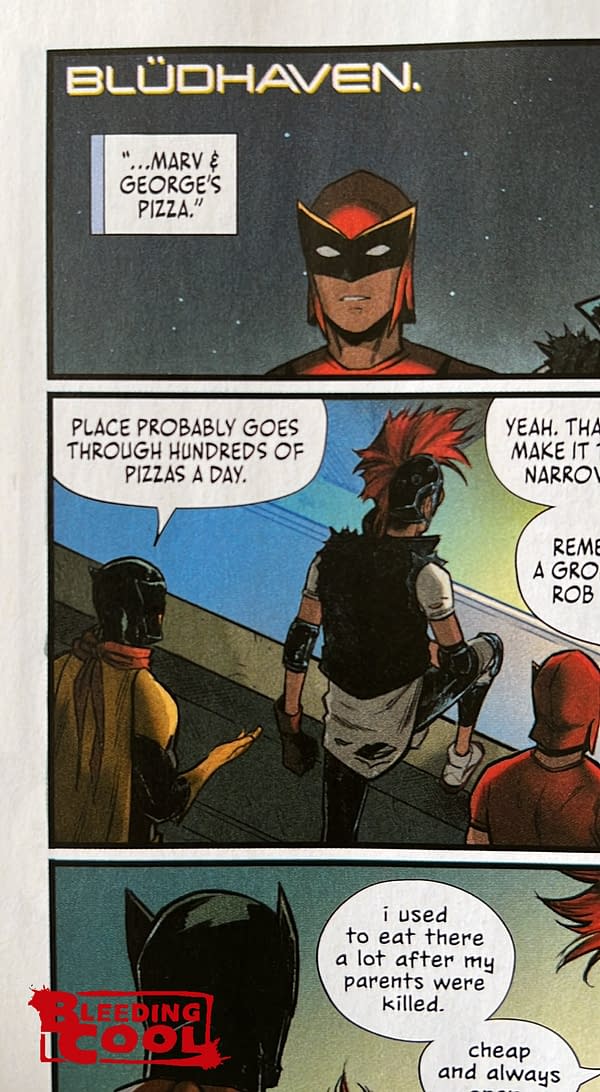 BATMAN INCORPORATED #6 CVR A JOHN TIMMS
(W) Ed Brisson (A/CA) John Timms
Someone has stolen from Professor Pyg, and he's ready to burn down Gotham to get his property back. Everyone is a suspect, and everyone will pay. With Batman gone, Batman Incorporated must return to Gotham before the city is nothing more than ashes.
Retail: $3.99 In-Store Date: 03/14/2023
BATMAN THE ADVENTURES CONTINUE SEASON THREE #3 (OF 7) CVR A BALDEMAR RIVAS
(W) Alan Burnett, Paul Dini (A) Ty Templeton (CA) Baldemar Rivas
The Joker's right-hand man, Straightman, isn't quite feeling himself lately. He keeps experiencing moments…flashbacks…of a life he doesn't remember. After a recent run-in with the Clown Prince and his stoic enforcer, Batman starts to unravel the man's past, but it lands him smack dab in the crosshairs of Amanda Waller and Task Force X!
Retail: $3.99 In-Store Date: 03/14/2023