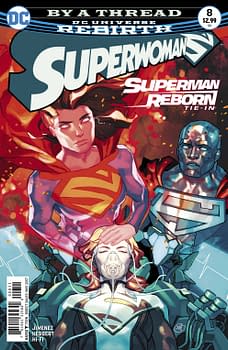 The Amazon listing for Superwoman Vol 2 reads,
From best-selling writer and illustrator Phil Jimenez comes the continuing adventures of DC's newest hero in SUPERWOMAN VOL. 2, as a part of DC Rebirth!
The super-family rallies around Superwoman as the reason her powers are killing her is revealed, as are her connections to the New 52 Superman! The events of SUPERMAN REBORN will greatly impact the future of Metropolis' newest hero!
From comics superstar Phil Jimenez (INFINITE CRISIS) comes the finale of one of the most unique tales in DC history with SUPERWOMAN VOL. 2! Collects SUPERWOMAN #8-12.
Did you see the use of the word "finale"? Issue 12 is expected in July's solicits from DC Comics. And while Phil Jimenez is credited here, it's worth pointing out that K Perkins takes over the writing of the comic from #9 with Stephen Segovia and Art Thibert on art.
Could #8 have been the finale they talk of?
Enjoyed this article? Share it!