Spider-Man, Spider-Man, does whatever an old book can—looking for an affordable key in the Silver Age pool? Look no further than this Amazing Spider-Man #1 GCC Conserved label 7.0 with off-white to white pages on Heritage. This is a beautiful example of the first solo book in the Spider-Man series. This issue retells the story of Spider-Man's origin, as made famous in the earlier Amazing Fantasy #15. This issue also features the Fantastic Four and is the first appearance of the iconic J. Jonah Jameson, and villain Chameleon. 
This book continues to be one of the most sought after and popular keys of the Silver Age. The conservation done on this book was the cover being cleaned, to preserve the book better. While the  market is still developing on Conserved graded books, a Universal blue label 7.0 recently sold for $25200, while a Restored purple label 7.0 sold in 2018 for $8400. With two hours left on this auction, this book is already priced above a restored copy, but still far below the blue label. While this is still pricey for a lot of us out there, this isn't a bad price for an essential and popular key issue in the Spider-Man universe.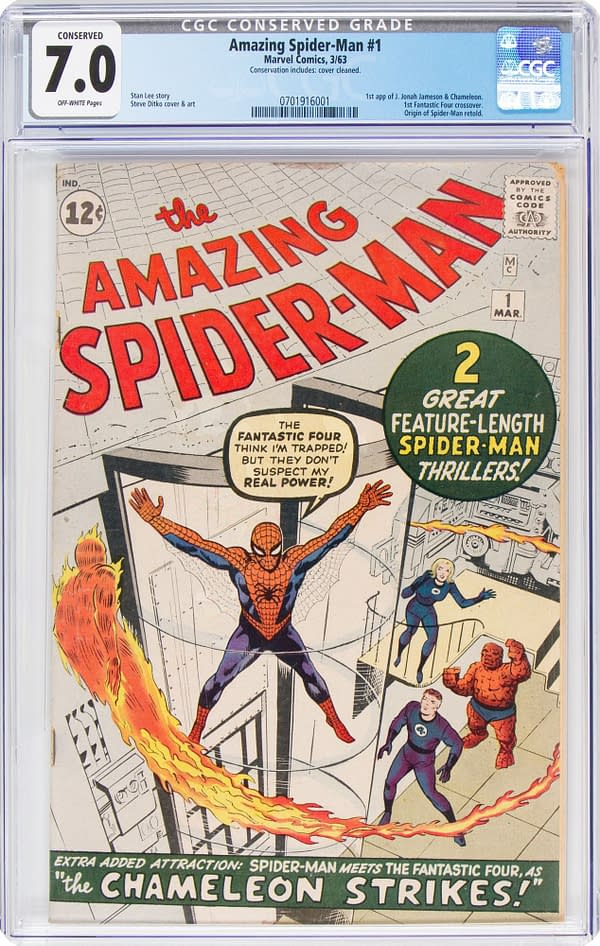 As far as this being an investment piece, the jury is still out since the Conservation label is still so new. Other Amazing Spider-Man #1 copies have been seeing a price increase, showing that this is, in fact, one of the most important keys from the Silver Age (nay, any age) era. Are you interested in trying your luck with this book? You will need a Heritage account, but they are free. Heritage has comic book auctions every Sunday and Monday, and they frequently feature essential books such as this Amazing Spider-Man #1. You really never know what treasures you'll find!
Good luck, and happy bidding.
Enjoyed this article? Share it!