Wonder Woman #750 Tops January 2020 Chart, DC Comics Slips Under 30% Marketshare, and Comics Sales Are Down on 2019
Diamond has provided the first of the year's marketshare reports.
Of late, DC Comics has been pushing its head above the psychologically important 30% marketshare, often denied it. but in the first month of 2020, it slipped under again, for both unit and retail marketshare, despite topping the chart with its ten-dollar Wonder Woman #750 and beating Marvel's Thor relaunch.
More worryingly, for the first month of 2020, total sales of comics and graphic novels were down 3.26% in dollars earned and down 7.99% in copies sold. That's not a good start to 2020.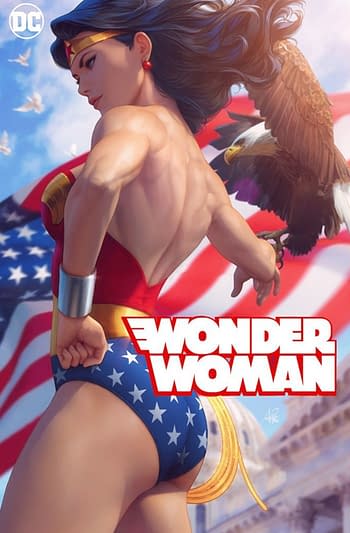 Marvel Comics claimed 39.98% dollar share and 46.67% unit share. DC placed second at 29.33% and 29.73%. Image Comics was third, with a market share of 5.6% in both categories, followed by IDW Publishing, Dark Horse Comics, BOOM! Studios, VIZ Media, and Dynamite Entertainment.
Outside the top ten, Spawn #304, ranked #40, Mighty Morphin Power Rangers/Teenage Mutant Ninja Turtles #2 ranked #54, Red Sonja: Age of Chaos #1 ranked #86; Teenage Mutant Ninja Turtles #101 ranked #89; and Stranger Things: Into the Fire #1 ranked #134.
Donny Cates and Ryan Stegman's Absolute Carnage, collecting Marvel Comics' crossover event, was January's best-selling graphic novel, BBC Books' Doctor Who: Star Tales, an anthology in which the Doctor meets celebrities in her travels through time and space, was January's best-selling book.
TOP COMIC BOOK PUBLISHERS
RETAIL MARKET SHARE
PUBLISHER
SHARE
MARVEL COMICS
39.98%
DC COMICS
29.33%
IMAGE COMICS
5.60%
IDW PUBLISHING
4.05%
DARK HORSE COMICS
3.09%
BOOM! STUDIOS
3.04%
VIZ MEDIA
2.59%
DYNAMITE ENTERTAINMENT
2.21%
RANDOM HOUSE
0.76%
TITAN COMICS
0.57%
OTHER NON-TOP 10
8.77%

UNIT MARKET SHARE
PUBLISHER
SHARE
MARVEL COMICS
46.67%
DC COMICS
29.73%
IMAGE COMICS
5.60%
IDW PUBLISHING
3.28%
BOOM! STUDIOS
3.10%
DARK HORSE COMICS
2.28%
DYNAMITE ENTERTAINMENT
2.08%
VIZ MEDIA
1.04%
ARCHIE COMIC PUBLICATIONS
0.48%
ABLAZE
0.43%
OTHER NON-TOP 10
5.30%
COMPARATIVE SALES STATISTICS
DOLLARS
UNITS
JANUARY 2020 VS. DECEMBER 2019
COMICS
-2.48%
-1.59%
GRAPHIC NOVELS
29.62%
36.99%
TOTAL COMICS/GN
5.84%
0.73%
TOYS
-1.05%
-4.04%
JANUARY 2020 VS. JANUARY 2019
COMICS
-6.70%
-8.64%
GRAPHIC NOVELS
5.09%
0.00%
TOTAL COMICS/GN
-3.26%
-7.99%
TOYS
4.00%
-16.26%
NEW TITLES SHIPPED
PUBLISHER
COMICS
SHIPPED
GRAPHIC NOVELS
SHIPPED
MAGAZINES
SHIPPED
TOTAL
SHIPPED
MARVEL COMICS
101
56
0
157
DC COMICS
98
30
0
128
IDW PUBLISHING
35
16
0
51
IMAGE COMICS
43
7
0
50
VIZ MEDIA LLC
0
43
0
43
DARK HORSE COMICS
25
9
0
34
BOOM! STUDIOS
22
6
0
28
SOURCE POINT PRESS
16
3
0
19
DYNAMITE
14
4
0
18
TITAN COMICS
6
2
3
11
OTHER NON-TOP 10
130
235
28
393
TOTAL
490
411
31
932
TOP 10 COMIC BOOKS BY UNITS SHIPPED
TOP 10 COMIC BOOKS BY DOLLARS INVOICED
| | | | | |
| --- | --- | --- | --- | --- |
| RANK | DESCRIPTION | PRICE | ITEM CODE | VENDOR |
| 1 | WONDER WOMAN #750 | $9.99 | NOV190399-M | DC |
| 2 | THOR #1 | $4.99 | AUG199016-M | MAR |
| 3 | STAR WARS #1 | $4.99 | AUG199000-M | MAR |
| 4 | X-MEN #4 | $3.99 | OCT190906-M | MAR |
| 5 | GUARDIANS OF THE GALAXY #1 | $4.99 | NOV190742-M | MAR |
| 6 | X-MEN #5 | $3.99 | AUG199030-M | MAR |
| 7 | THE JOKER/HARLEY: CRIMINAL SANITY #2 (MR) [*] | $5.99 | SEP190500-M | DC |
| 8 | BATMAN: CURSE OF THE WHITE KNIGHT #6 | $4.99 | NOV190433-M | DC |
| 9 | IRON MAN 2020 #1 | $4.99 | NOV190753-M | MAR |
| 10 | VENOM: THE END #1 | $4.99 | NOV190795-M | MAR |
TOP 10 GRAPHIC NOVELS & TRADE PAPERBACKS BY UNITS SHIPPED
| | | | | |
| --- | --- | --- | --- | --- |
| RANK | DESCRIPTION | PRICE | ITEM CODE | VENDOR |
| 1 | ABSOLUTE CARNAGE TP | $29.99 | OCT191107 | MAR |
| 2 | DIANA: PRINCESS OF THE AMAZONS TP | $9.99 | SEP190470 | DC |
| 3 | WATCHMEN TP | $24.99 | JUN190614-M | DC |
| 4 | LEAGUE OF LEGENDS: LUX TP | $15.99 | JUL191064 | MAR |
| 5 | HOUSE OF X/POWERS OF X HC | $60.00 | SEP190963-M | MAR |
| 6 | STRANGER THINGS: ZOMBIE BOYS TP | $10.99 | OCT190311 | DAR |
| 7 | MY HERO ACADEMIA VOLUME 22 GN | $9.99 | OCT192290 | VIZ |
| 8 | BLACK HAMMER VOL. 4: AGE OF DOOM PART II TP | $19.99 | MAY190209 | DAR |
| 9 | GREEN LANTERN: LEGACY TP | $9.99 | SEP190471 | DC |
| 10 | WONDER WOMAN: WARBRINGER TP | $16.99 | SEP190472 | DC |
TOP 10 GRAPHIC NOVELS & TRADE PAPERBACKS BY DOLLARS INVOICED
| | | | | |
| --- | --- | --- | --- | --- |
| RANK | DESCRIPTION | PRICE | ITEM CODE | VENDOR |
| 1 | INCREDIBLE HULK BY PETER DAVID OMNIBUS VOL. 1 HC | $125.00 | JUL191095-M | MAR |
| 2 | CONAN THE BARBARIAN: THE ORIGINAL MARVEL YEARS OMNIBUS VOL. 3 HC | $125.00 | JUL191093-M | MAR |
| 3 | HOUSE OF X/POWERS OF X HC | $60.00 | SEP190963-M | MAR |
| 4 | ABSOLUTE CARNAGE TP | $29.99 | OCT191107 | MAR |
| 5 | DAREDEVIL BY BENDIS & MALEEV OMNIBUS VOL. 1 HC | $100.00 | JUL191088 | MAR |
| 6 | JUNJI ITO: NO LONGER HUMAN HC (MR) | $34.99 | OCT192289 | VIZ |
| 7 | WATCHMEN TP | $24.99 | JUN190614-M | DC |
| 8 | BATMAN: BLACK & WHITE OMNIBUS HC | $125.00 | MAY190477 | DC |
| 9 | MARVEL MASTERWORKS: DAREDEVIL VOL. 14 HC | $75.00 | JUL191091-M | MAR |
| 10 | AMAZING SPIDER-MAN EPIC COLLECTION: MAXIMUM CARNAGE TP | $39.99 | OCT191135 | MAR |
TOP 10 BOOKS BY UNITS SHIPPED
| | | | | |
| --- | --- | --- | --- | --- |
| RANK | DESCRIPTION | PRICE | ITEM CODE | VENDOR |
| 1 | DOCTOR WHO: STAR TALES HC | $16.99 | MAY198373 | PEN |
| 2 | DOCTOR WHOL REVELATION OF THE DALEKS HC | $16.99 | JAN198797 | PEN |
| 3 | BLACK WIDOW LITTLE GOLDEN BOOK | $4.99 | NOV191744 | RAN |
| 4 | OVERSTREET COMIC BOOK PRICE GUIDE VOLUME 49 SC | $29.95 | APR191757-M | GEM |
| 5 | BLOODBORNE OFFICIAL ARTWORKS SC | $44.99 | MAR172148 | UDO |
| 6 | SWORD ART ONLINE VOL. 18: ALICIZATION LASTING SC | $14.00 | OCT192330 | YEN |
| 7 | FROZEN: I AM ELSA LITTLE GOLDEN BOOK | $4.99 | NOV191746 | RAN |
| 8 | FROZEN: I AM ANNA LITTLE GOLDEN BOOK | $4.99 | NOV191745 | RAN |
| 9 | THE SHADOW NOVEL VOL. 151 SC | $19.95 | DEC191846 | SAN |
| 10 | THE SHADOW NOVEL VOL. 150 SC | $19.95 | DEC191845 | SAN |
TOP 10 TOYS BY DOLLARS INVOICED
| | | | |
| --- | --- | --- | --- |
| RANK | DESCRIPTION | ITEM CODE | VENDOR |
| 1 | POP! MARVEL HEROES: THANOS SNAP 6-INCH DELUXE VINYL FIGURE | MAY198251 | FUN |
| 2 | DARK NIGHTS METAL: THE BATMAN WHO LAUGHS & ROBINS DELUXE STATUE | MAY190542 | DC |
| 3 | DC BOMBSHELLS: DEATH STATUE | MAY190539 | DC |
| 4 | FANTASTIC FOUR LEGENDS 6-INCH ACTION FIGURES | SEP198358 | HAS |
| 5 | SPIDER-MAN LEGENDS 6-INCH ACTION FIGURES | SEP198357 | HAS |
| 6 | POP! DRAGON BALL Z: SUPER SAIYAN 2 VEGETA VINYL FIGURE | JAN199073 | FUN |
| 7 | MARVEL ANIMATED: VENOM & SPIDER-MAN STATUE | JUN192393 | DST |
| 8 | MARVEL SELECT: AVENGERS ENDGAME: HERO SUIT HULK FIGURE | JUL192664 | DST |
| 9 | MARVEL SELECT: SPIDER-MAN PS4 VIDEO GAME FIGURE | AUG192734 | DST |
| 10 | MARVEL GALLERY: 1990S SPIDER-MAN PVC FIGURE | JUN192391 | DST |
TOP 10 GAMES BY DOLLARS INVOICED
| | | | |
| --- | --- | --- | --- |
| RANK | DESCRIPTION | ITEM CODE | VENDOR |
| 1 | CRITICAL ROLE: TAL'DOREI CAMPAIGN SETTING HC | JUN173357 | GRE |
| 2 | STARFINDER RPG: CORE RULEBOOK HC | JUN173371 | PAI |
| 3 | CREATURE CODEX HC | JUL183073 | PAI |
| 4 | PATHFINDER CORE RULEBOOK SPECIAL EDITION HC (P2) | MAY193228 | PAI |
| 5 | D&D ICONS OF THE REALM: VOLO & MORDENKAINEN BOOSTER BRICK | MAY198224 | NEC |
| 6 | PATHFINDER: GAME MASTER SCREEN (P2) | MAY193238 | PAI |
| 7 | PATHFINDER RPG: CORE RULEBOOK | JUN091729 | PAI |
| 8 | PATHFINDER: BESTIARY HC (P2) | MAY193229 | PAI |
| 9 | PATHFINDER: BESTIARY SPECIAL EDITION HC (P2) | MAY193230 | PAI |
| 10 | STARFINDER RPG: ARMORY HC | MAY182931 | PAI |
Dollar Market Share – January 2020
Unit Market Share – January 2020