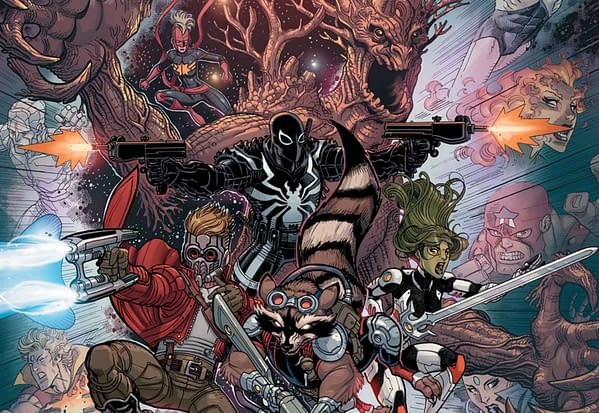 When she's not fighting flerken cats, Captain Marvel is whizzing around the galaxy lickety split at the moment.
And at Kelly Sue DeConnick's panel at Wondercon, the question was asked as to whether a certain Carol Danvers might find herself crossing paths with the Guardians Of The Galaxy any time soon. Since the character is, you know, joining the team alongside Venom.
Hannah Means-Shannon tells me that Kelly reacted with a bit of a squeak.
Q: Does Carol's presence in space lead to a crossover with Guardians?

KSD: I don't know(funny voice). But it sure seems like something that would be like her character (meaningfully, suggestively)
These days, that's as good as a full blown confirmation, isn't it? So… how soon for an official Ms Marvel/Guardians crossover event then? Time is ticking…
Enjoyed this article? Share it!