Caleb Palmquist writes,
My name is Caleb Palmquist, and I am one of the writers and creators of the science fiction comic book series A Small Favor. The comic has a rotating roster of artists, and I have been lucky enough to work with 17 different artists over the past four years creating the book. The latest installment is currently seeking funding on Kickstarter, and you can check it out here.
I have written about hiring indie comic artists before, but after a few years of working in comics I've learned a lot and want to help new creators dive in as fast as possible. If you want to hire talented artists to bring your vision to life, you're going to need some patience, a little finesse, and honestly, a good chunk of money. Nothing good comes easy, but maybe I can help make the process a little smoother. Here are my top four ways to get amazing artists to work for you:
1. Network, network, network
Almost every artist I have hired was someone I met through a friend of a friend, or at a convention, or in an online group for comic book creators. The larger your network is, the more likely you are to find an incredible artist who will want to work with you. Reach out whenever you can. Most indie artists will accept friend requests on Facebook and reply to messages or emails you send them. After all, unless they are absolutely slammed with work, they are probably looking for new gigs.
Join groups on Facebook, join subreddits, join forums. Be active in those groups and make it clear you're in it for the long haul (you're not just going to find an artist and then ditch). Once you start to make some friends, let them know you're looking for artists. I have found some of the best artists I've ever worked with just by asking other artists for recommendations. The indie comics community is fairly tight-knit, and as a rule everyone in it is interested in helping each other out.
2. Show them you mean business
Unless you are best friends with the artist you want to work with or you're already famous in your own right, very few artists will want to work with you for free. Good art costs money, period. If you approach an artist with an offer, or if you make a post searching for an artist, mention that this will be a paying gig up front. Artists like money, especially artists who are trying to make a living doing freelance comic book art. If there is no money involved, most people will just ignore your request.
If you have a tight budget, let the artist know so they can set their expectations accordingly. Otherwise it's a good rule to let the artist tell you their page rates first. Expect to pay somewhere between $100-$250 for a fully colored and lettered comic page.
That said, most artists will be open to negotiation depending on your budget and the amount of work. If you can't afford their rate, don't be afraid to ask, politely, if they'd be willing to work on your project for less. Make sure you make it apparent what kind of timeline is required. A larger delivery window can be more appealing than a project that needs to be done right away.
3. Be a fan first
So you just discovered a really awesome indie artist, and you want to ask them to work on your new comic book project. Before you dive in and ask to hire them, do a little research into who you're hiring. Have they created their own comic books? Find them and read them. Do they have a website, a mailing list, or a Facebook fan page? Get on it. If you really dig the artist this should be obvious, but it's important to show that you actually care about the work the artist has done.
If you've done your research and you still think the artist is awesome, let them know! I have never heard of an artist who doesn't appreciate positive feedback about their work. Tell them what you liked about their stuff and why you think they would be a perfect fit for your project. Flattery can go a long way, especially if it is sincere.
Of course, you should also research the artist and vet them for your own sanity. Has this artist made a comic before? Have they worked with a writer? Contact the writer and ask them about their experience. How was the artist's behavior and timeliness? Were they professional? You shouldn't be afraid to ask these questions – no one will be insulted, and it could save you a lot of headache later on.
4. Take it slow
When I first started, I was trying to hire artists based on a pitch alone. I had no previous comic book work to show, so every artist I hired was taking a chance on me. I'm glad to say that I followed through, paid my artists promptly, and was able to publish my first comic book. Now I have a backlog to show new artists, and something of a fledgling reputation to give them more confidence taking a job from me. More doors are open to me now than when I started, and I have more options when it comes to hiring artists for my projects.
The thing is, that process took a long time. It took two years from the time I hired the first artist for A Small Favor to the time we published the first volume. Not everyone will take that long, but the fact is you can't build a reputation for yourself overnight. Start slow, and don't get discouraged when your #1 choice says no, or doesn't even respond to your messages. Keep looking, and you'll find an artist that is right for you and is excited about your project.
Given enough time and hard work, your #1 choice might suddenly be available down the road. Or, the artist you ended up hiring first could turn out to be your new #1 choice anyway. You never know.
In Conclusion
Hopefully these tips will help you hire an amazing artist to bring your comic book visions to life. If you're interested in checking out my comic book project on Kickstarter, just follow this link: https://www.kickstarter.com/projects/918197022/a-small-favor-welcome-to-earth-world?ref=1ghanz
Thanks for reading. If you have any questions or just want to chat about comic books, feel free to contact me at smallfavorcomic@gmail.com.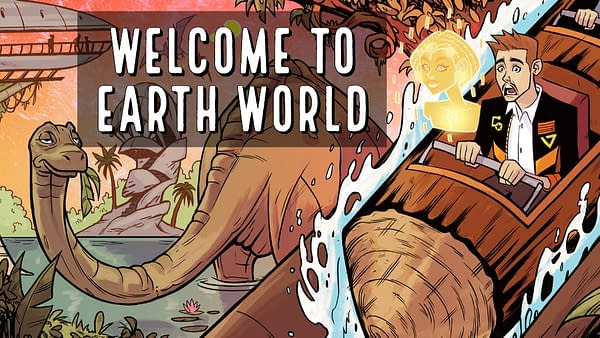 Enjoyed this article? Share it!