Transia, sunny Tranisa, fictitious Eastern European country first introduced to the Marvel Universe in 1966, it is either a landlocked country in the southern Balkans and shares borders with Serbia/Montenegro, Macedonia, Greece, Belgriun and Transylvania – or it's a little more to the left and shares borders with Bulgaria, Romania, Transylvania, Symkaria and Serbia. It depends on the story – and the other fictional countries being quoted.
It contains the Wundagore Mountains, its capital is the imaginatively titles East Transia, it's currency is the Transian Franc and people mostly speak Romanian. It has been messed around with by the High Evolutionary, it generated the radioactive clay that the Puppet Master used (more about him later today), it was the birthplace of Scarlet Witch and Quicksilver, the headquarters of the Chapel of the Single Shadow. Oh and it's got werewolves.
Just your average Eastern European country then. And in X-Force #1, on the hunt for Kid Cable, it's where the action is headed as the country struggles with the concept of mutant rights. Firstly openinhg the borders to all and every mutant in return for weapons from a mysterious benefactor… but not everyone in the Transian authorities is happy about it.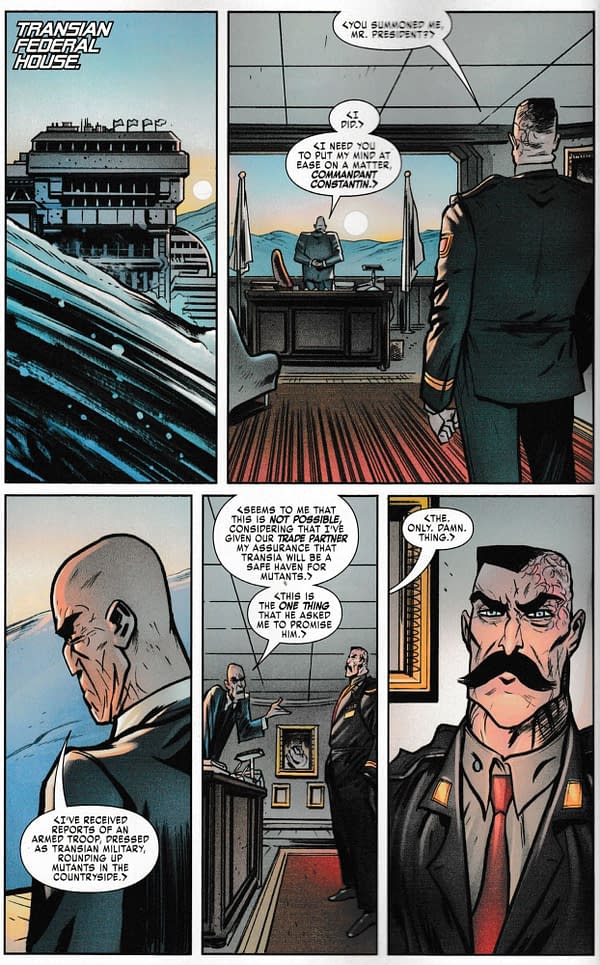 A split between the President of the country (do Eastern European countries have Presidents? This one does…) and his head of military Constantin.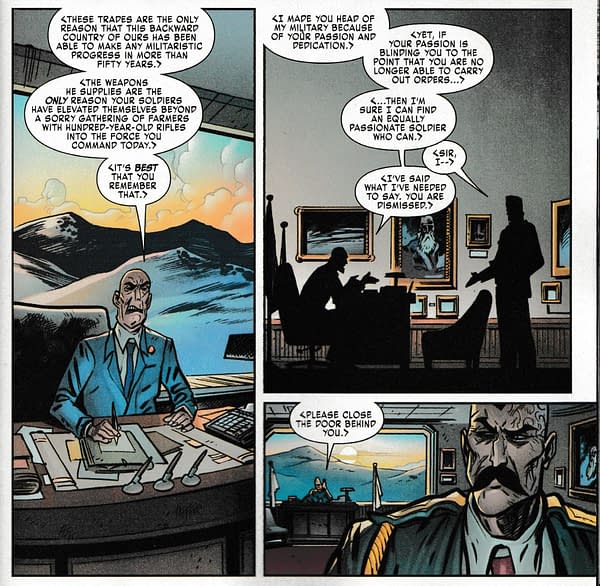 Principles will only get you so far of course. And, since this is an Eastern European country, that necessitates a military coup. Hey, this comic is not called X-Force for nothing.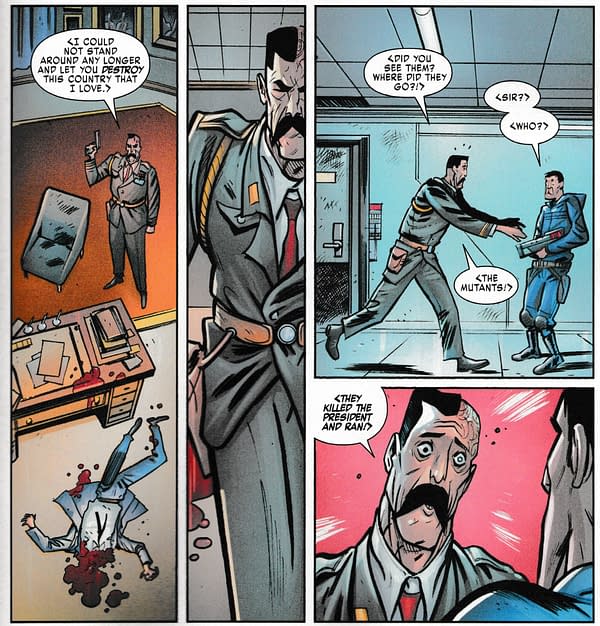 Man, mutants can't get an even break. Still, what will the weapons fella think of all this?
X-Force #1 is published on Wednesday.
X-FORCE #1
(W) Ed Brisson (A) Dylan Burnett, Juanan Ramirez (CA) Pepe Larraz
FROM THE ASHES OF EXTERMINATION!
Cable is dead…and now, the original X-Force team of Domino, Cannonball, Shatterstar, Boom Boom and Warpath. must hunt down the murderer of their former leader! The mutant militia are hot for blood…but when their target is the time-traveling younger version of their fallen mentor, is there a line they absolutely cannot cross? And what does Deathlok have to do with all of it? From Ed Brisson (EXTERMINATION, OLD MAN LOGAN) and Dylan Burnett (COSMIC GHOST RIDER), comes an all-new, high-octane mutant adventure! A reckoning will come!
Parental AdvisoryIn Shops: Dec 26, 2018
SRP: $4.99
Enjoyed this article? Share it!