Last week, Bleeding Cool Rumourmonger-in-Chief Rich Johnston correctly reported that X-Men Gold would launch an Extermination backup strip in last week's X-Men Gold #27. And indeed, that's exactly what happened, showing the X-Men in the future, facing off against all odds for the survival of the mutant race (just like every time they go to the future).
Asked for comment on the accuracy of his rumourmongering, Johnston would only tell us, "pip pip" and "Blimey! Get back to work, Terror! I own your ass", but Marvel has followed up by officially announcing that Countdown to Extermination will also appear in X-Mens Blue, Red, and Astonishing, as well as Cable throughout the Summer before the Extermination super-mega-crossover event launches.
"20 years into the future, mutant kind is on the verge of extinction — and it's an incident not even the X-Men will survive!" proclaims a press release on Marvel.com. "But how did this future come to be in the first place? And is it too late to prevent it? The answers will be revealed this summer, but readers will be able to find clues in the final pages of key X-Men titles."
Perhaps along with those mentioned, we'll also learn the answer to the question of where Colossus is and, more importantly, why Marvel refused to call the book X-Termination, as would have made complete thematic and logical sense. Another major editorial screw-up at the House of Ideas! Still, they could make it all better by putting Chris Claremont on something ongoing in the next reboot.
Check out the graphic below: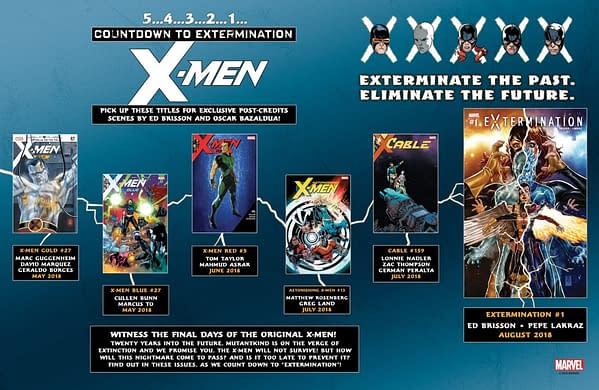 X-MEN BLUE #27
– On Sale 5/9/18
X-MEN RED #5
– On Sale 6/6/18
ASTONISHING X-MEN #13
– On Sale 7/4/18
CABLE #159
– On Sale 7/18/18
Enjoyed this article? Share it!