ReedPOP and New York Comic-Con have revealed the cover for their 2019 program guide, which is all about the X-Men, baby! Art Adams drew the cover, which features Storm, Dani Moonstar, Apocalypse, Captain Britain (Betsy Braddock), Wolverine, Kitty Pryde, Jean Grey, Cyclops, Kid Cable, and Lockheed. Edgar Delgado colored it.
Check out the cover in their tweet below.
Drawn by @arthuradamsart with colors from @delgaduck, this stunning image gives fans a preview of what to expect when the DAWN OF X begins to break this October!

— New York Comic Con (@NY_Comic_Con) September 3, 2019
New York Comic Con will take place from October 3-6 in New York City, which is the week before Powers of X #6 hits stores. That means we should know a lot more about what will be happening in the X-books in the Dawn of X era, and also we're likely to learn a lot more about what's to come at various Marvel panels at the convention.
It's been a while since the X-Men were the talk of the comics world, so enjoy it, folks! Hopefully it will last a while.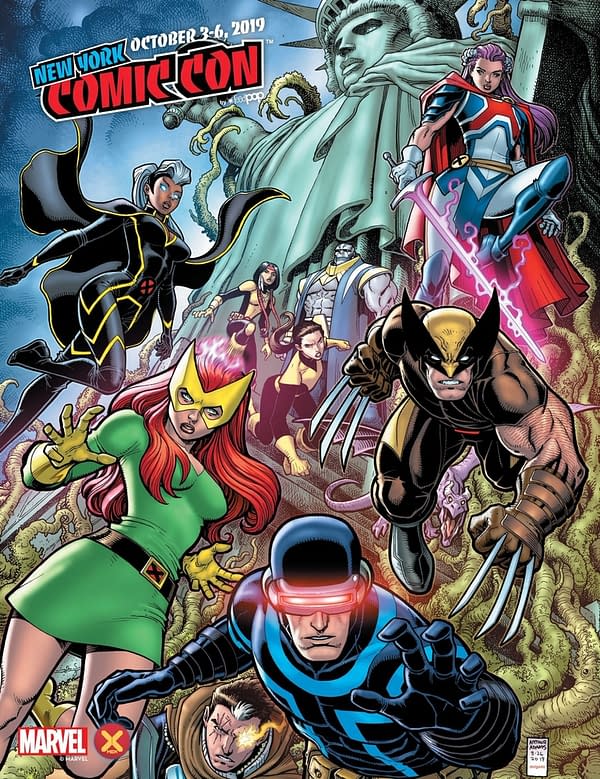 Enjoyed this article? Share it!