Sworn to sell comics for Marvel executives who feared and hated the fact that Fox owned their movie rights, The Uncanny X-Men suffered great indignities, but with a corporate merger on the way, the X-Men can finally get back to doing what they do best: being objectively the best franchise in comics.
Each week, armed with the joy, heartbreak, and frustration of 30+ years of reading X-Men comics, we read every new X-book that comes out, recap the events, provide the historical context so you can read it on Marvel Unlimited, and wonder when Marvel will let Chris Claremont write something again.
It's the way X-Men comics were meant to be read! It's the column that can only be known as…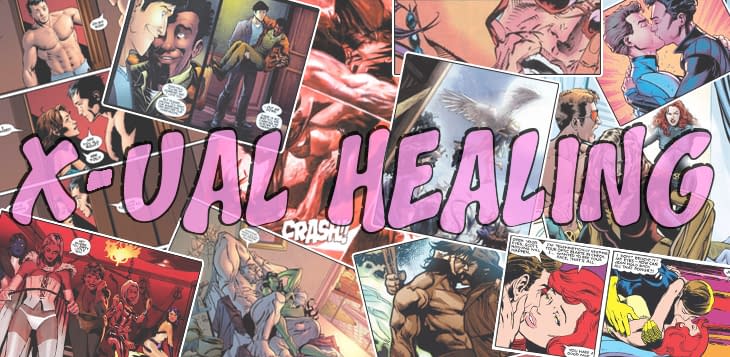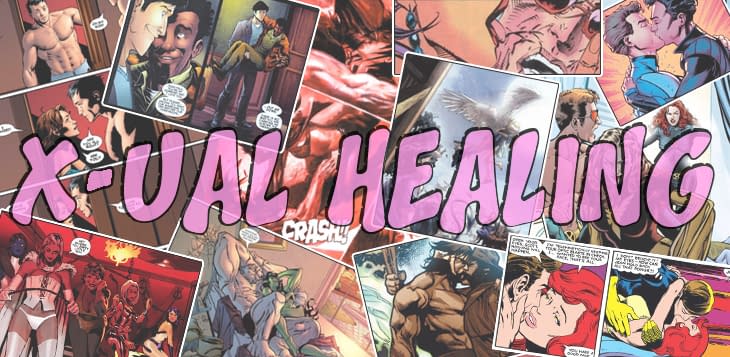 For more about the column, check out the reboot issue here.
---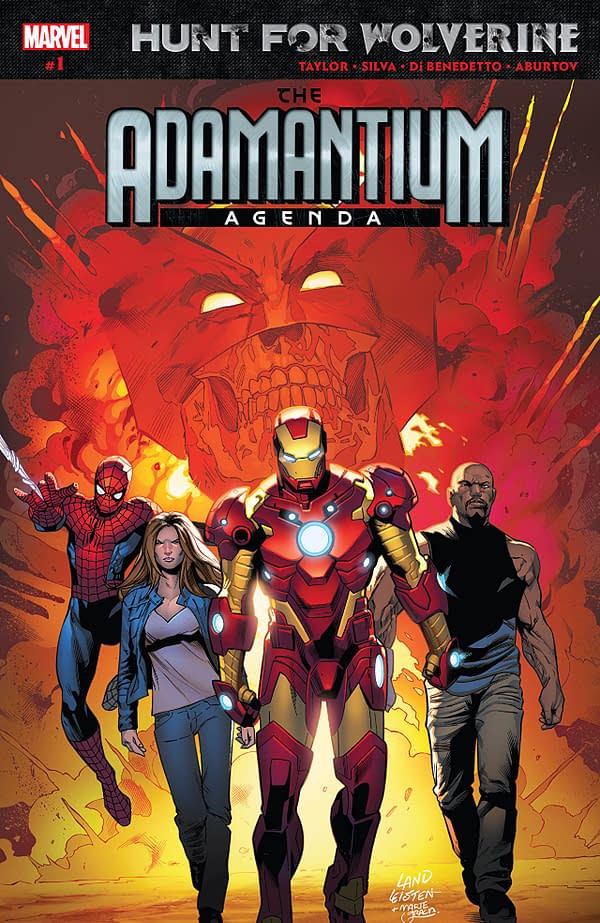 HUNT FOR WOLVERINE: ADAMANTIUM AGENDA #1 (of 4)
TOM TAYLOR (W) • RB SILVA (A)
Cover by GREG LAND
Variant Cover by RB SILVA
CONNECTING WHERE'S WOLVERINE VARIANT COVER BY TODD NAUCK (2 of 4)
SNIKT! A SOUND THAT ONCE MADE BLOOD RUN COLD, WHICH THE AVENGERS WANT TO ENSURE IS NEVER USED FOR EVIL AGAIN.
Due to a promise made between heroes, the NEW AVENGERS have reassembled to make sure Logan's body isn't misused. IRON MAN, SPIDER-MAN, JESSICA JONES and LUKE CAGE discover a deep-state conspiracy that leads to a shocking DNA discovery and metallurgic miracle in the MARVEL UNIVERSE.
32 PGS./Parental Advisory …$3.99
Hunt for Wolverine: The Adamantium Agenda is a mystery wrapped in an enigma, sprinkled with crumbs of a conundrum, and then baked in the oven at 325 for 45 minutes or until a fork comes out clean after puncturing. On the one hand, it's really a New Avengers comic, and we don't have any desire to read one of those, especially one that's not even written by "The Great One" Brian Michael Bendis. On the other hand, we vowed to read every X-book published each month, and this book is ostensibly about Wolverine. In addition, the creative team is technically good, with Tom Taylor writing the excellent All-New Wolverine and R.B. Silva most recently drawing the Cross-Time Capers story in X-Men Blue, amongst other X-work. Okay, fine. We have no desire to relive the era that started the decline of the X-Men into second-class franchise status at Marvel, but we'll try it. Hopefully we don't regret it.
The issue starts out in Tribeca, New York, back during the New Avengers era, otherwise known as peak Bendis. The New Avengers — Spider-Man, Luke Cage, Jessica Jones, and Wolverine — are assisting SHIELD in a bomb removal mission in an apartment building. The bomb is armed with a mechanism that can reduce the mile-wide blast radius to 200 feet, provided someone flicks a switch on the bomb that will make the explosion occur immediately. Wolverine can see where this is going, and so can we.
After some discussion, the team agrees that the purpose of the bomb is to force a hero to kill themselves in order to protect everyone else. Spider-Man and Luke Cage offer to pull the switch, but Wolverine, naturally, is the one that has to do it. Just as the bomb goes off, Wolverine notices something…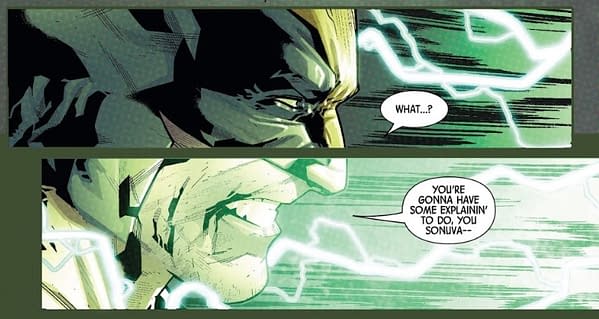 Later, Iron Man shows up on the scene of the bomb, which is full of radiation. Iron Man seems guilty about something.
In the present, Tony Stark is speaking to Kitty Pryde. He wants to find Logan's body, which went missing in the initial Hunt for Wolverine one-shot. He thinks he might have a lead, but he needs to put together a team first. Cut to Spider-Man beating up the Vulture, then taking a call from Iron Man. Iron Man explains the situation to Spider-Man and references the day in Tribeca from the flashback. He says the genetic code of a superhero is being auctioned on the black market soon, and he suspects its Wolverine's. Probably a good guess, considering the title of the book. Luke and Jessica agreed to join too… off panel.
Later, off the coast of Guam, the black market auction is happening on a submarine. The New Avengers are there, wearing masks. They munch on catering (classic New Avengers) in a waiting room, and Iron Man explains that the auction will be paid in bitcoin, so it's not just criminals at this auction, but also douchebags. Side note: is Luke Cage wearing an Ogun mask?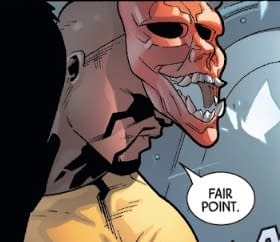 The Avengers get into a minor scuffle before the auction begins. Only one of them is allowed at the auction stage to bid. That would be Iron Man. The action begins, and the first item is the genetic code we've been waiting for, which belongs to…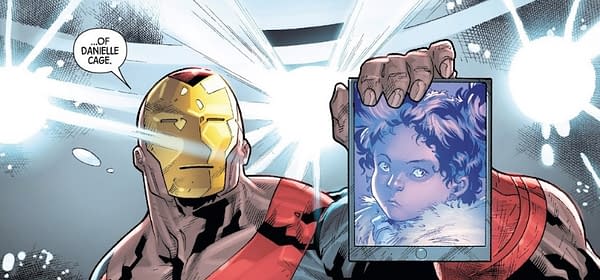 Okay, we didn't see that one coming. Luke and Jessica aren't pleased, of course. We'll learn more next issue.
This book captured the inane chatter of New Avengers, and it was light on plot and heavy on decompression as well. Perfect New Avengers. Mission accomplished.
---
Further Reading:
Do you have what it takes to start at the beginning of Bendis's New Avengers run, where these characters originally got together, and make it all the way through to the end?! You can do that starting here on Marvel Unlimited. Note: Bleeding Cool is not responsible for any mental anguish experienced by reading peak Bendis comics.
Want to learn how Wolverine kicked the bucket in the first place? You're looking for 2014's Death of Wolverine, available on Marvel Unlimited as well.
Read more X-ual Healing here: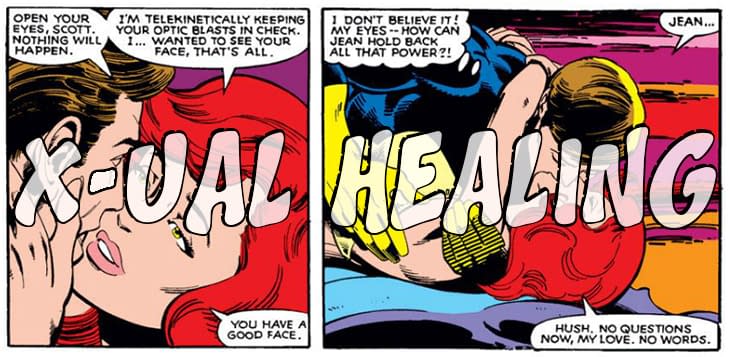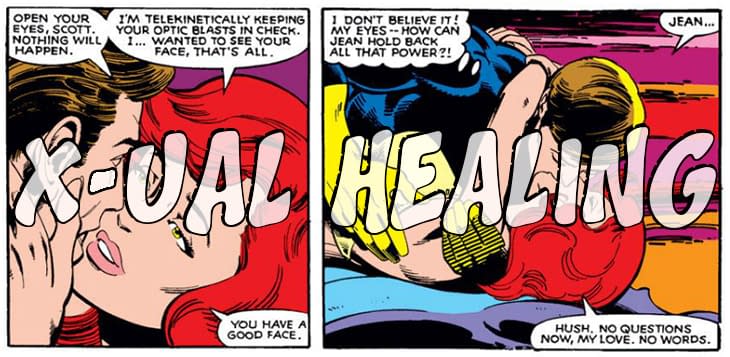 Enjoyed this article? Share it!