In the comic book series Xena Warrior Princess #2, out tomorrow, Xena and Gabrielle share a kiss. As those who know the show of old, a romantic relationship between the two has often been teased, but the times they kissed in the show were always qualified with a technicality.
Either they were in different bodies, waking one another from a spell or transferring magical abilities.
In Xena Warrior Princess #1 they were shown sleeping in bed together in the first issue but, you know, so were Bert and Ernie.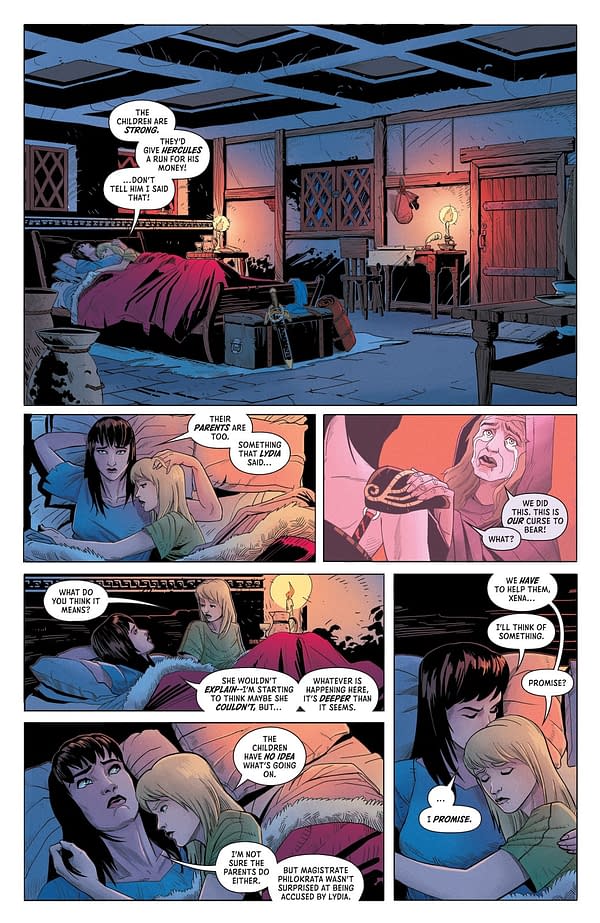 Xena Warrior Princess #2 may be the first time they've been explicitly and unequivocally shown as romantically linked in officially licensed material, without qualification.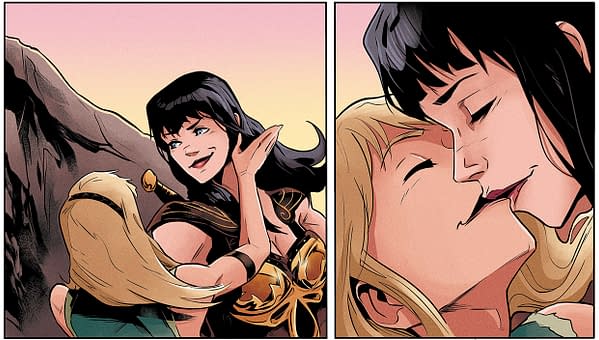 Here's a preview of the comic book, out tomorrow… I wonder how fast it will be for this sells out? Maybe you may see a little more demand for #1 as a result of this as well?
XENA WARRIOR PRINCESS #2
(W) Vita Ayala (A) Olympia Sweetman, Vasil Georgiev (CA) David Mack
"THE GRAND OLD ARMY": The epic journeys persist, courtesy of VITA AYALA (Shuri, Livewire, The Wilds) and OLYMPIA SWEETMAN! Xena and Gabrielle find themselves amidst a deadly quarrel between The God Of Strife and The God Of Discord! The only way to save a village of innocents is for Xena to agree to lead an army against an incoming Roman legion. But Xena's "army" is comprised of…the village elders!?In Shops: May 15, 2019
SRP: $3.99
Enjoyed this article? Share it!