Conan: Serpent War #1 is in stores from Marvel Comics next week, kicking off yet another Conan the Barbarian crossover. Is Conan really selling well enough to justify this level of market saturation? The Diamond charts would seem to indicate "no," but what do we know? This one is by Jim Zub, Scot Eaton, and a bunch of other people. Check out the preview below.
Moon Knight is involved in this for some reason. Best not to ask questions.
But Moon Knight and Conan alone aren't enough to fill four issues, so we're going to need more people.
Also, back by popular demand (we guess), it's Solomon Kane!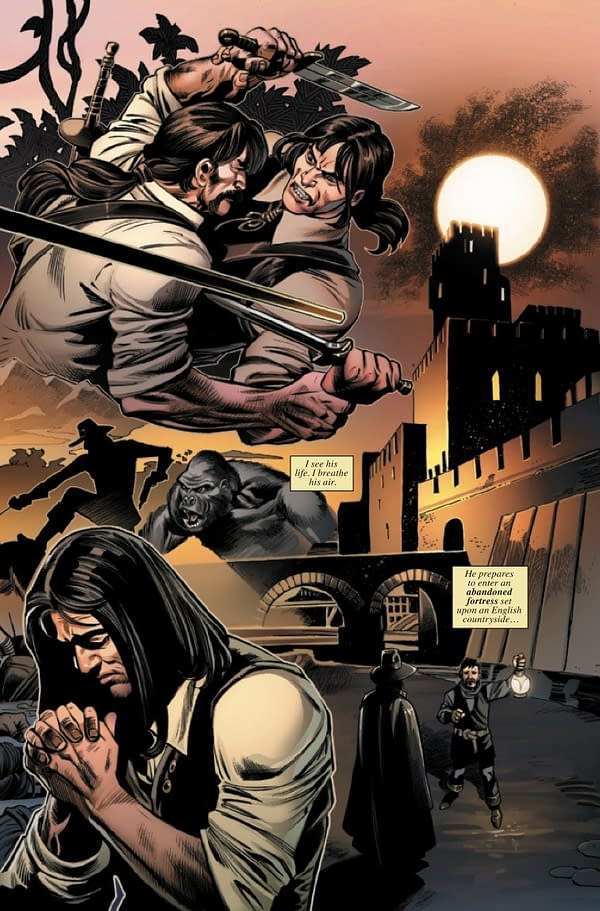 And here because Dynamite still has the Red Sonja license, it's Dark Agnes!
It's honestly amazing Conan is able to get any sleep at all when he's so busy starring in all these books.
Conan: Serpent War #1 hits stores on Wednesday.
CONAN SERPENT WAR #1 (OF 4)
OCT190892
(W) Jim Zub (A) Scot Eaton (CA) Carlos Pacheco
THE WRATH OF THE SERPENT GOD!
WARRIORS ACROSS TIME DEFY THE ELDER GODS!
JAMES ALLISON will soon die. But it's not his first death. He's lived many lives, in many places – lives he can recall in vivid detail. But when an Elder God called the WYRM reaches across time to James, an ages-spanning quest begins! The serpent god SET plans to usher in an eternity of darkness, and only the chosen warriors across time and space have a hope of stopping him: CONAN THE BARBARIAN, SOLOMON KANE, DARK AGNES, and the man known as MOON KNIGHT!
In an unprecedented comics event, Robert E. Howard's characters join forces along with Marvel's Moon Knight, in an all-new saga built on REH and Marvel lore from across the ages!
PARENTAL ADVISORY
In Shops: Dec 04, 2019
SRP: $4.99
Enjoyed this article? Share it!