Zatanna – The New Leader Of Justice League Dark? (Spoilers)
Zatanna Zatara was created by Gardner Fox and Murphy Anderson, and first appeared in Hawkman #4 in 1964 from DC Comics. Both a stage magician and an actual magician, like her father Zatara, she speaks the words of her incantations backwards. Zatanna was played by Serinda Swan in the TV series Smallville. And now it's time for her to step up.
This week's Justice League #60 is solicited with the line for its Justice League Dark back-up. "This team needs a leader, but what twisted secret prevents Zatanna from stepping forward?" Of that, I have no idea, but Bleeding Cool does get the word that whatever it is, won't stop Zatanna from assuming leadership of the Justice League of America. How magic is that?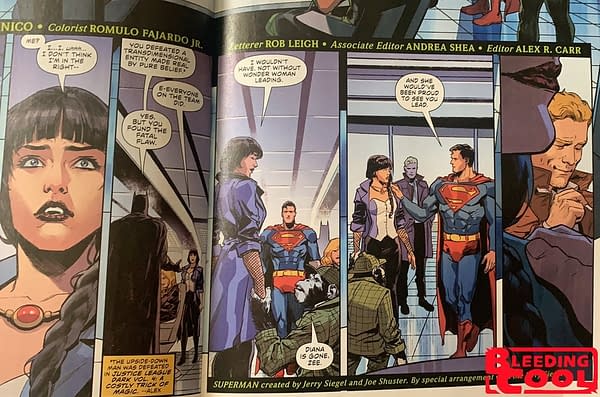 I'd have loved to have read Ram V's script for that last panel.
ZATANNA smiles quietly at SUPERMAN's words. We just see the lower half of her face, knocked back with shadow. In the background, lit, JOHN CONSTANTINE is smoking a cigarette, holding back a laugh, because he knows just how much of a ballbag Superman is.
JUSTICE LEAGUE #60 CVR A DAVID MARQUEZ
(W) Brian Michael Bendis – Ram V (A) David Marquez – Xermanico (CA) David Marquez
Superman, Batman, Green Arrow, Black Canary, Aquaman, and Hawkgirl join forces with Black Adam to fight an all-new world conqueror! But how do they stop the unstoppable power known as Brutus? Enter new mega-power sensation Naomi, who comes face to face with the League and brings along Queen Hippolyta of the Amazons for a blockbuster battle for the ages—with a last-page cliffhanger that will leave everyone guessing what's next! And in the backup tale, the new Justice League meets the new Justice League Dark, and the demon Etrigan calls the team to action—but Batman has other plans. This team needs a leader, but what twisted secret prevents Zatanna from stepping forward? Plus, Ragman makes a startling discovery—one that may cost his life!
Retail: $4.99 In-Store Date: 04/20/2021