VIZ Media has flown the creators of the Zelda manga series known as Akira Himekawa from Japan to England for the MCM London Comic Con, happening this weekend, and to help add to the excitement, has put the fifth volume of the current extended run of Zelda: Twilight Princess, due to be released in early August in comic stores and book stores, out today. With copies being signed by Akira Himekawa as well.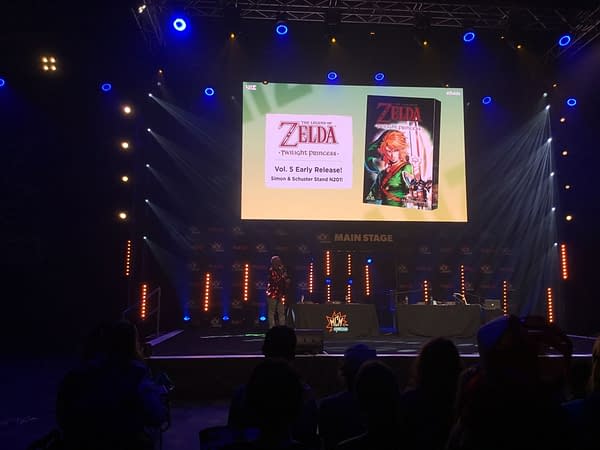 It's possible you may be able to pick up copies at other shows, such as San Diego Comic Con. But right now, MCM London Comic Con is the only place to pick up a copy of this much anticipated volume.
Once upon a time, wizards tried to conquer the Sacred Realm of Hyrule. The Spirits of Light sealed the wizards' power within the Shadow Crystal and banished them to the Twilight Realm beyond the Mirror of Twilight. Now, an evil menace is trying to find Midna, Princess of the Twilight Realm, and the fragments of the Shadow Crystal to gain the power to rule over both the Twilight Realm and the World of Light.

Midna has been Link's traveling companion and ally since the start of their journey, but will her ultimate goal of saving the Twilight Realm drive her away from Link? Link's own quest to save Hyrule leads him to seek the advice of Princess Zelda—and learn that to defeat the ultimate evil plaguing the world they will need a particular weapon: the Master Sword!
Might want to check eBay if you want an early peek – and are willing to pay for the privelege. Or come down to MCM London Comic Con tomorrow, there are a few Sunday tickets still going I think…
Enjoyed this article? Share it!