Posted in: Comics | Tagged: Amy Winehouse, daniel radcliffe, david baddiel, JW3, london, Lord Sugar, Maureen Lipman, neil gaiman, Nigella Lawson, sacha baron cohen, stephen fry, Zoom Rockman
---
Zoom Rockman's Jewish Hall Of Fame As A Comic Book Gallery
Today sees the opening of Zoom Rockman's Jewish Hall Of Fame at JW3 in London, alongside Stephen Fry, Daniel Radcliffe and Nigella Lawson
---
Today sees the opening of Zoom Rockman's Jewish Hall Of Fame at JW3 in Finchley, North London, right next to the Finchley & Frognal train station. I ran a piece on the show's existence last week, but I really wasn't prepared for what I got to see, being given a tour around the exhibition by Zoom Rockman himself. He's only 22 and has been a professionally published cartoonist since he was 12, well with a (genuine) name like that, nominative determinism gave him no other choice. Now with masters degree under his belt, and regular work for The Beano and Private Eye, it's all just so sickening. But also wonderful, of course.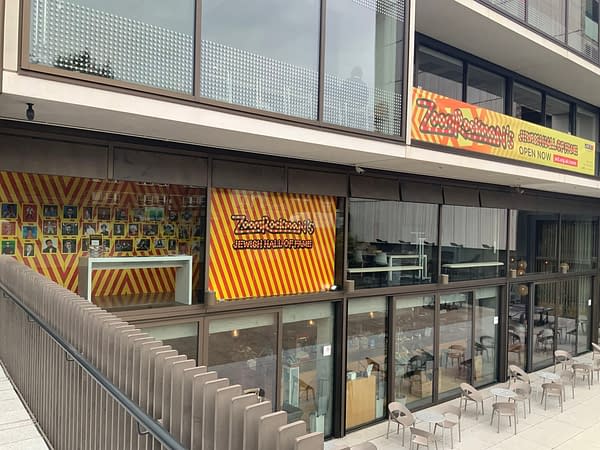 JW3 is an arts, culture and entertainment venue, an educational facility and a social and community hub in north London, celebrating its tenth year of opening and describing itself as "a new postcode for Jewish life", the name JW3 is a wordplay on its London postal code area, NW3. And it's that sense of humour which is very much on display in this context. It plays out in the comic strip that makes up this show, after completing his degree show, Zoom Rockman wins a trucket of cheese which he proceeds to eat, fall asleep and behind to dream the following exhibition. By walking down this corridor, you become part of his delirium, filled with moving and talking familiar faces.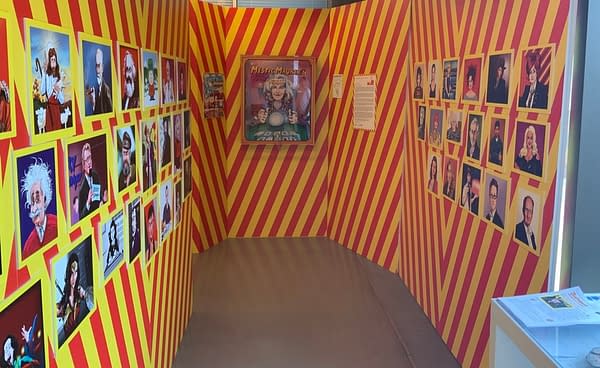 Because while this show focuses on British Jewish celebrities, the focus is as much on the British as it is on the Jewish so that a Gentile like me got just as much out if the experience. It models itself on end-of-pier British seaside entertainment of the Victorian and Edwardian era, with Zoom's cartoons and caricatures transformed into automata. Crack the handle and transparent plastic cogs turn, bringing characters such as David Baddiel, Stephen Fry, Maureen Lipman, Nigella Lawson and Sacha Baron Cohen to life, and lip-synching along to the audio the celebrities in question have contributed to the project.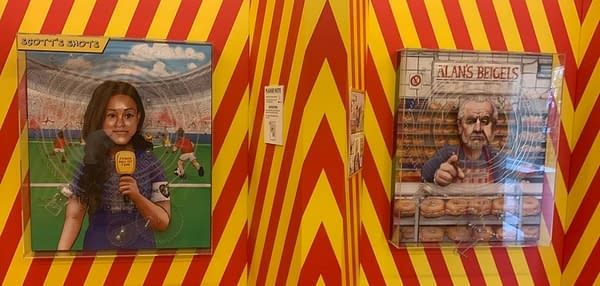 It really is Lord Alan Sugar berating you from his 24 Hour bagel shop, based on Beigel Bake from Brick Lane, and yes that is Daniel Radcliffe who recorded his voice for a candy floss salesman with a wand-like candy floss stick. And yes, there is a comic book strip which takes this all in, a page for every exhibit, telling a continual story, which is collected into a comic book (with a free cover badge) that you can buy as a memento and catalogue of the show.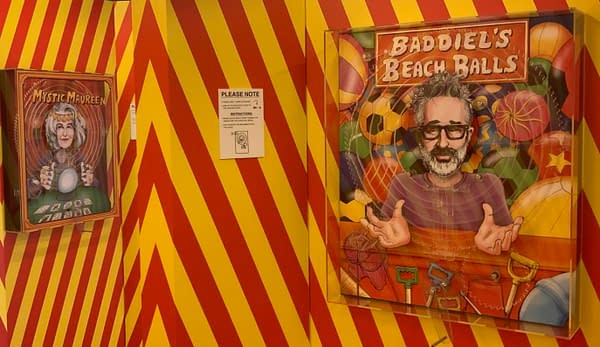 But what this means, what excited me most about this show, is that this can be a communal activity. Rather than walking around an art show, you can attend with friends and make the whole event entertaining in its own right. Can your handle-turning match the voice movements to the audio? Who can puppet Amy Winehouse the best (to a choice of songs). It brings all the fun of the fair to an art exhibition, and the summer beach that JW3 regularly install in June and July will fit the vibe even more.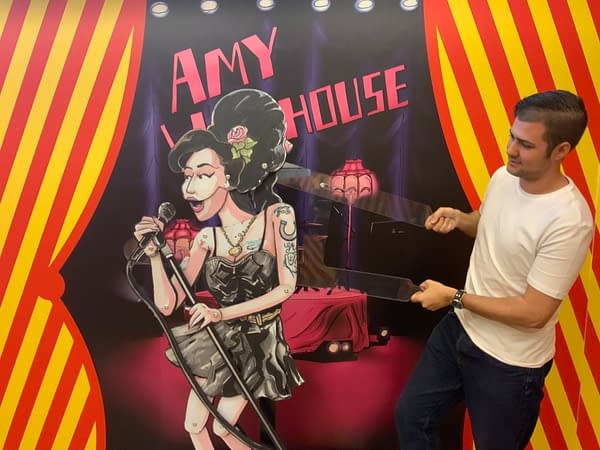 The yellow and red zig-zags that dominate the show, inside and out, absolutely recreate the classic feel of the funfair, the circus, the seaside pier, and speak to the vintage and history of this kind of entertainment in Britain, especially the Victorian and Edwardian ages of family entertainment at the seaside or in the Big Top. Zoom Rockman is a student in the history of automata, and his work is in that spirit, with the cogs, albeit transparent on display rather than hidden, and demonstrating the mathematics and coding he had to undergo, before creating the physical shapes of the cogs that match the puppets to the voices of the celebrities. They also supplied Zoom with videos of themself saying the lines, so that he could also match their eye movements – and Lord Alan Sugar's jowl movements.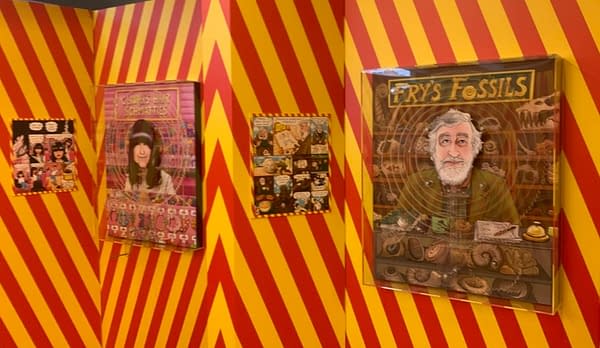 But these are cartoons and caricatures, so we have Claudia Winkleman's hairline bobbing up and down, covering her eyes, as she speaks, Lord Alan Sugar's jowls flapping as he fires you, there is reality here, but there is also fiction, smashed together. And you even get an insider look at how it all done, the coding and construction necessary to get those jowls to work in time.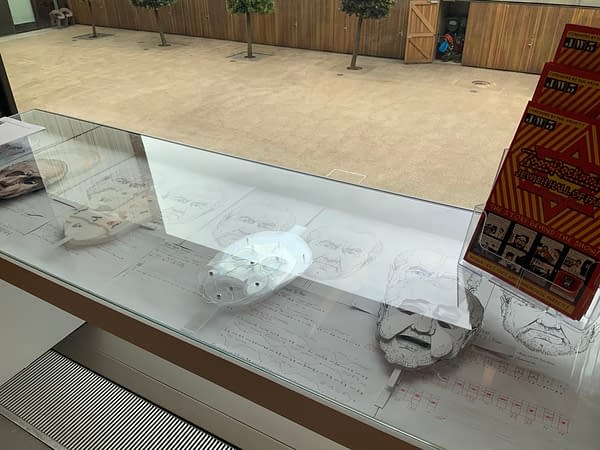 But there's more than just play here. It is a common anti-semitic trope that has Jewish figures as puppeteers of the world, something that cartoonist Steve Bell has fallen foul of. Here, in this exhibition however, it is the Jewish people who are being puppeted by the audience. But they retain some agency, in that the voice is that of the actual person being caricatured and cartooned, who have willingly taken part in this exhibition. It also celebrates Jewish assimilation into British life by choosing figures who are national treasures and generally liked by a general audience, entertained by them, now interacting with them. This is an exhibition in a Jewish community centre that simultaneously celebrates that to a Jewish audience but reaches out to Gentiles as well, in a way that doesn't seem preachy or offputting; it's just fun. Consider us informed, educated and entertained.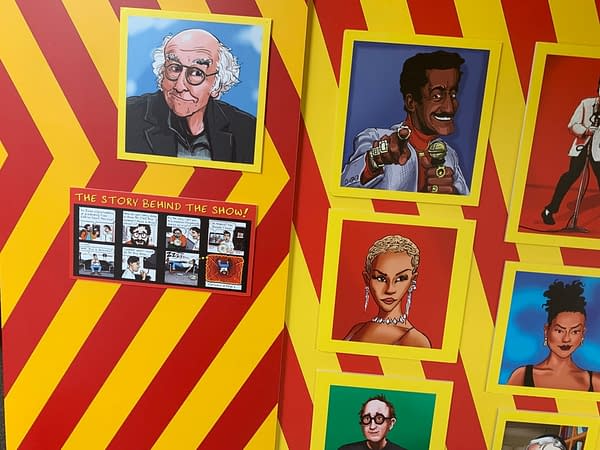 As well as those featured in the main exhibits, there are also cartoons of dozens of other Jewish celebrities from around the world. Accompanied in some cases by the "oh, I didn't realise he/she was…" comments from onlookers, which is partially the point.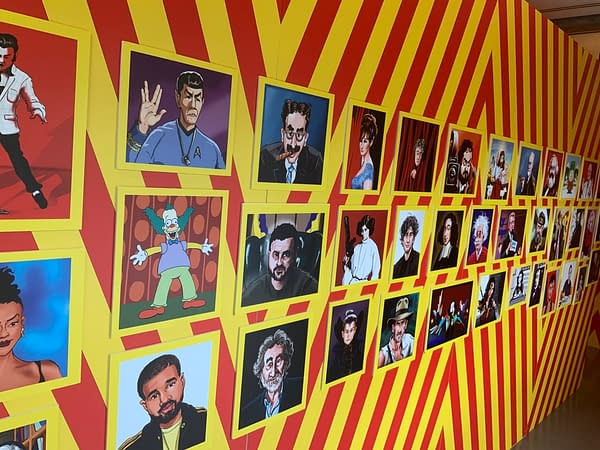 Most you'll know, some you might not, but I could see this one staring at me from the outside of the gallery.
Hello Neil. Hopefully, Zoom Rockman will get you to contribute a phrase for when he takes the show to New York. And yes, he has plans… But let's hear Amy now… with Zoom Rockman doing the puppeting.
Zoom Rockman's Jewish Hall Of Fame opens today and runs until the 3rd of September. Take your mates, tickets are £6. The comic book is extra…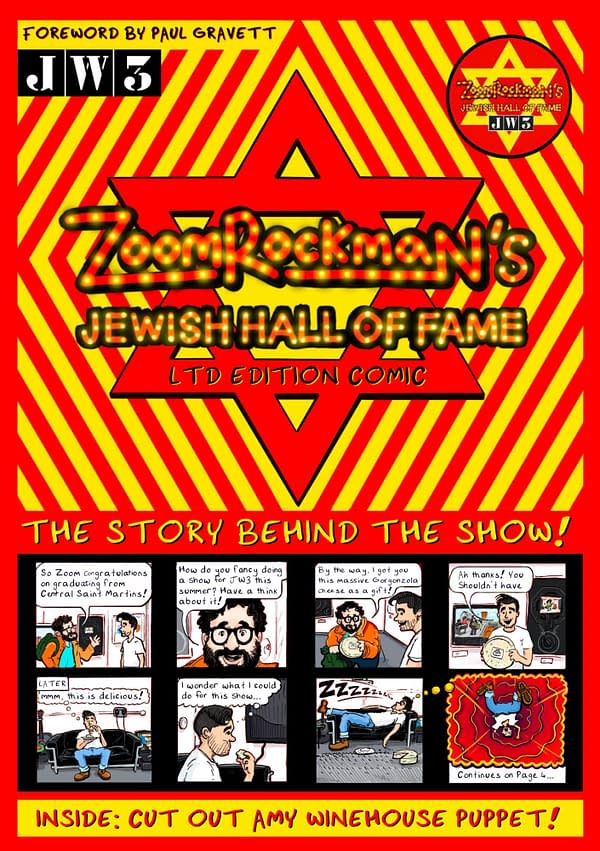 ---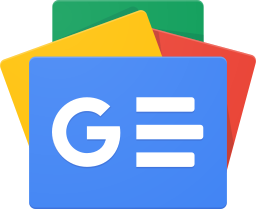 Stay up-to-date and support the site by following Bleeding Cool on Google News today!