Call Of Duty: Vanguard Reveals File Sizes & Music Content
Activision and Sledgehammer Games released a couple of nuggets of information about Call Of Duty: Vanguard about music and file sizes. First off, as we have some of the info below, the company went into detail about the file sizes for consoles and what players will be looking at when downloading the game. Surprisingly, it's a lot less of a download than Black Ops Cold War or Modern Warfare have been. That said, the file size already has people complaining that the game probably doesn't have a ton of content tied to it. Time will tell when we're finally able to check it out. Meanwhile, they released a new video, which you can check out down at the bottom, going over the music for this particular game. Enjoy the new content before it launches on November 5th.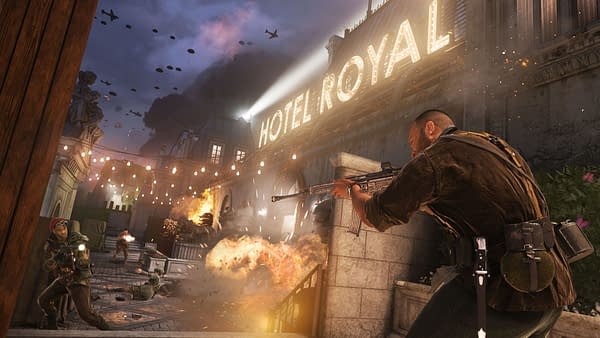 All players who preordered the game digitally can preload the title so that it's ready to go right at launch. Preloading is available for all platforms, beginning at the following times: PlayStation®4 and 5: Preloading begins on October 28 at 9 PM PT in North and South America. All other countries will begin preloading on October 29 at midnight local time. Xbox One and Xbox Series X|S: Preloading begins on October 28 at 9 PM PT. If you purchased a digital version of the game but it does not download during the preload period, visit your platform's first-party store and follow the prompts to begin the download. Ensure your console is updated to the latest firmware before attempting to preload the game.

Call Of Duty: Vanguard Day One File Sizes and Required Space

Good news for hard drives everywhere. Due to new on-demand texture streaming tech, Vanguard's install size at launch will be significantly below that of previous Call of Duty releases – up to 30% – 50%+ of a file size difference on next-gen console and PC. By console, these are the estimated file sizes needed to install Vanguard at launch, including via pre-load, as well as the disk space needed to play the game:

PlayStation 5: 64.13 GB Download | 89.84 GB Required Space
PlayStation 4: 54.65 GB Download | 93.12 GB Required Space
Xbox Series X |S: 61 GB Download | 61 GB Required Space
Xbox One: 56.6 GB Download | 56.6 GB Required Space

Players can choose to manage storage space and reduce the game's overall file size during or after the pre-load.