Call Of Duty: Warzone's New Plunder Pack Features Xzibit
You're going to be pimping your rides in Call Of Duty: Warzone with a new Plunder Pack featuring rapper Xzibit. With a callback reaching all the way to the early '00s, the new pack basically gives you everything with gold trimming, gold design, gold leafing, gold paint, gold everything. Shy of being a failed hotel mogul with your name on everything you own (including the buildings), this is basically the way to show off you're so confident in your skills, people can see you coming from a mile away and you'll still win. On top of that, the pack brings with it some new apparel from DRKN as they have created some new designs specifically for Warzone players. You can check out some of the designs below and a video showing off all the new pack Call Of Duty: Warzone content. You can pick up the pack today as it's now available in-game.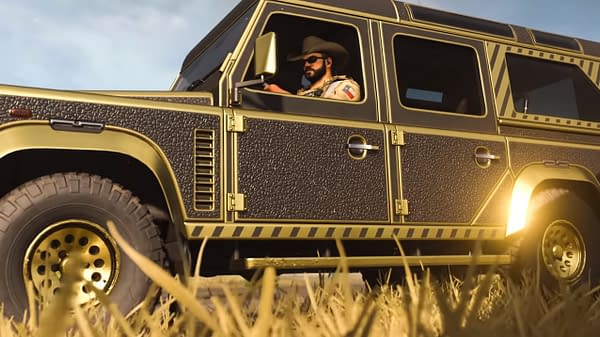 Need to deck out your wardrobe? The new Call of Duty: Warzone apparel collection from DRKN is here to help! The newly launched collection includes three oversized tees inspired by avid franchise fan Xzibit, a special edition Warzone Bomber Jacket with crosshair print on the sleeves, a Black Long Sleeve Tee with a topographical depiction of Verdansk – the fictional in-game city, two new Warzone Legacy Hoodies with a unique ghost print, and four Regular Fit t-shirts. The DRKN x Warzone collection also features a glow-in-the-dark rubber label and the DRKN velcro patch system with unique prints inspired by Warzone, the new free-to-play game-changing Battle Royale experience from Call of Duty. All DRKN x Warzone sweatshirts and tees are made with 100% combed cotton for a premium soft feel.