Creative Technology Launches The Sound Blaster X5
The Sound Blaster X5 has been released, designed to bring out the best in high-end headphones and earbuds to get the best quality possible.
---
Creative Technology has launched a brand new audio interface for those with high-quality headphones and earbuds called the Sound Blaster X5. This new audio monitor has basically been designed to bring out the absolute best out of your best by providing options, both on the front face and through a downloadable desktop app, to utilize all of the fancy options loaded into high-end audio devices and provide the best audio possible. We got more info on the device below, as it's currently being sold at $280.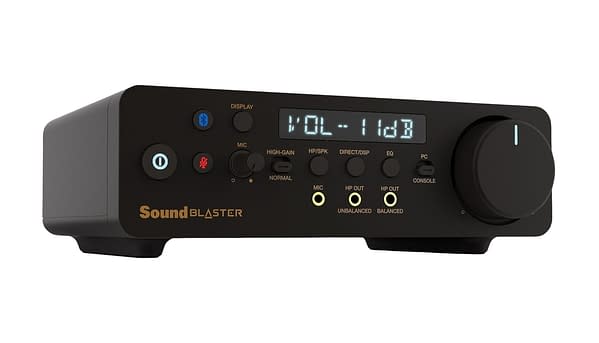 "Sound Blaster X5 personifies the best of Creative's audio engineering and design expertise, equipped with audiophile-grade components to achieve exceptional audio quality. It is the first Sound Blaster to feature a dual-DAC design – 2 Cirrus Logic CS43198 DACs deliver high-resolution lossless playback in 32-bit / 384 kHz over PCM with an ultra-high dynamic range of up to 130 dB DNR. These DACs can also decode audio formats in DoP128 and DSD256 for high-fidelity audio streaming. Audio distortion is practically non-existent with an oversampled multi-bit modulator for an incredibly low Total Harmonic Distortion rating of 0.00018%."
"From studio-grade headphones with impedance of up to 600 ohms, including the most demanding planar-magnetic headphones, to sensitive in-ear monitors with 1-ohm output impedance, Sound Blaster X5 drives them all effortlessly. The award-winning Xamp discrete headphone bi-amplification technology, which is found in the high-end Sound Blaster AE series and Sound BlasterX G6, receives a design upgrade that, coupled with a dual-DAC and dual-Xamp configuration, delivers a fully-balanced headphone output and experience on the X5. A next-level design for audio fidelity makes its debut, using two dedicated Xamp circuits that amplify the left and right channels separately in isolation throughout the entire chain of amplification, effectively eliminating in-circuit interference, noise, and cross-talk. What makes the X5 stand out, even more is the fact that this type of audio design is a rare find in its price category (sub-US$300)."
"Audiophiles with a lean-to customize their own audio signatures can do just that with the Sound Blaster X5. When connected to the Creative app, they can make adjustments with a 10-band equalization frequency graph, add on Acoustic Engine effects like Surround, Crystalizer, Bass, or Dialog+, or use CrystalVoice to improve communication quality. When in the mood for gaming, Scout Mode enhances in-game audio cues to highlight details for a competitive edge."