WWE, Horror Vinyl Figures Coming This Summer from The Loyal Subjects
WWE and Horror Icons vinyl figures are on their way from The Loyal Subjects. The blind box mini-figures come with multiple points of articulation and detailed likenesses of the Superstars and characters we all know an love. The horror figures should be in stores in May, while the WWE set arrives in June.
The WWE wave features 13 figures — a referee, Brock Lesnar, Roman Reigns, John Cena, AJ Styles, Shinsuke Nakamura, Finn Balor in his Demon King get-up, Sting in his Crow makeup, The Undertaker, "Macho Man" Randy Savage, The Ultimate Warrior, Rowdy Roddy Piper, and Sasha Banks– the lone women's wrestler here. Man, I would have loved to have seen Asuka, Charlotte Flair, Alexa Bliss, etc. Hopefully in a wave 2. All of these actually look really incredible, and I am excited to get my hands on these!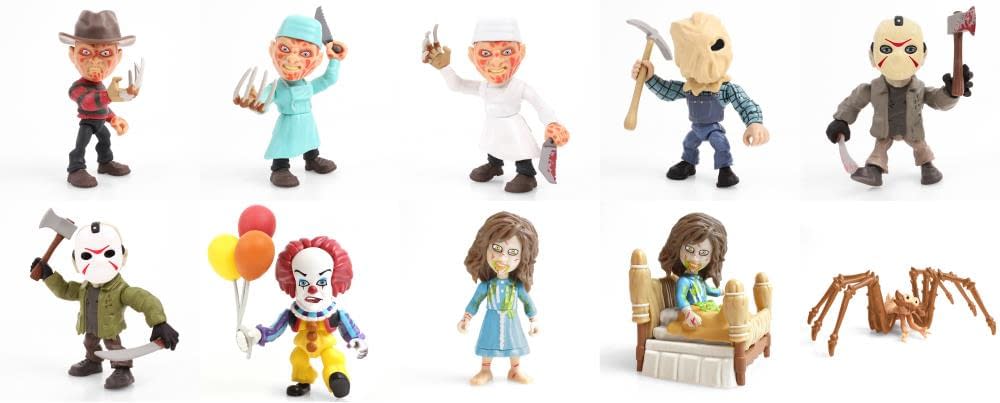 On the Horror Icons side, we have three versions of Freddy Kruger — regular, Nurse Freddy, and Chef Freddy. Three versions of Jason Voorhees — including a version from Friday The 13th Part 2 with the bag over his head. A Tim Curry Pennywise the Dancing Clown and his spider-monster form, and two versions of Regan from The Exorcist — one of her standing and one of her in bed.
Like the WWE (and all Loyal Subjects figures) these are ultra-detailed and feature accessories and more articulation than you would think in figures this size. These figures kick ass as well — I saw these in person at Toy Fair New York and was blown away. So many more icons are needed here — Michael Myers; Pennywise from last year's It film; Pinhead. I can go on and on.
After buying a ton of their Masters of the Universe figures and being impressed with those, I cannot wait to get these. WWE is one of my main collecting focuses, and by throwing support behind those and the horror figures I hope we get even more.
You can preorder these and check out their other lines here.