Nintendo Confirms The Next Smash Bros. Character Is From ARMS
Well, if you ever needed confirmation as to who is being added to Super Smash Bros. Ultimate next, Nintendo did it for you. This morning the company announced that they would in fact be revealing the latest character coming to the name on June 22nd, and confirmed that the character is from the ARMS universe. The live stream will take place on Monday at 7am PT/10am ET and will go about 35 minutes as they showcase the new character addition and go in-depth over all of the moves and what they have to bring to the game. More than likely, this is one of the many announcements Nintendo was going to make during E3 2020 until plans were scrapped due to COVID-19, and now they're slowly releasing these news bits overt the summer, same as they did with Paper Mario.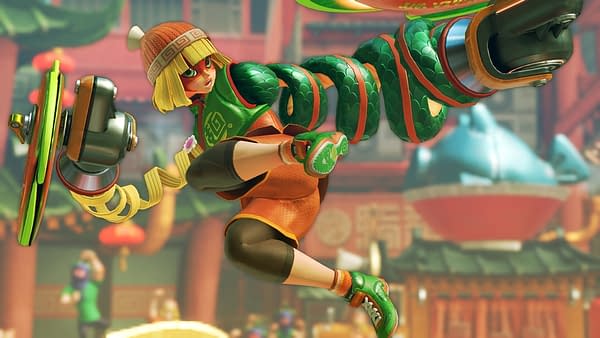 As far as speculation goes, the internet has basically been rampant with ideas. For starters, it's not like ARMS characters aren't already in the game, as Spring Man, Ribbon Girl, Ninjara, Min Min, and Twintelle all appear as collectible stat-boosting Spirits. If you take those out, then the most likely choices on the popularity scale would either be Ramen Girl or While it would be easy to discount them as being possibilities, then the next two that could be added based on popularity and appearance could be Helix or Lola Pop. However, if you recall back to this story we ran about a new Smash Bros. amiibo, if we're going by alphabetical order and not counting characters already in the game, Springtron sounds like a good guess.
In all honesty, if its 35 minutes, our best guess is that it's going to be ALL of the ARMS characters rolled into one character. Much like how they did multiple Hero choices for the addition of the main protagonist from Dragon Quest. We'll reserve judgment about the new character addition on Monday after its revealed, but based on current interest on social media, it sounds like the reaction to their addition is going to be mixed no matter who it is.