Devil May Cry 5 Is Getting It's Own Vinyl Soundtrack
Good news for Devil May Cry 5 fans as Capcom has partnered with Laced Records to release a vinyl edition of the game's soundtrack. There's also a CD version, but let's be honest, talking about the vinyl version is cooler. The deluxe x4LP, x2LP and x5CD box sets are available for pre-order now as they will be released this July. Laces is the same label that recently released the Resident Evil 1 & 2 soundtracks to vinyl as well, so they're in good hands. Here's a little more detail of what they'll include.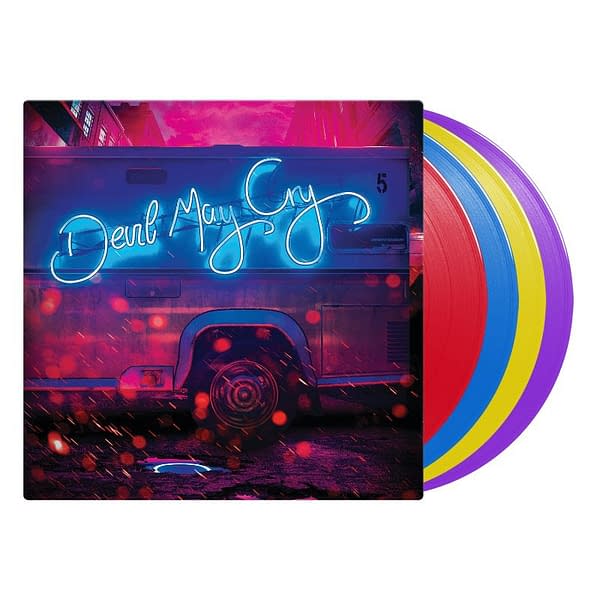 Featuring high octane compositions by a legendary line up of demon hunters, including Casey Edwards, Cody Matthew Johnson, Jeff Rona, John R. Graham, Steven McNair, Kota Suzuki, Hiromitsu Maeba & Yoshiya Terayama, Devil May Cry 5 (Official Soundtrack) has already garnered massive attention, with the official music video for Nero's battle theme "Devil Trigger" racking up over 1.4 million views on YouTube.

An intense, half-demon, half-vinyl hybrid, the Devil May Cry 5 (Official Soundtrack) will be unleashed as two unique collections. The deluxe x4LP box set will summon 51 tracks across 4 180g LPs, while a SSSuper SSStylish x2LP collection will feature 21 tracks handpicked by the composers. The deluxe x5CD features 136 songs from the game. All three versions will be interred in deluxe, demon-proof box sets infused with devils' blood.