Digital Extremes Reveals Details For TennoCon 2021
Digital Extremes took a moment to reveal their plans for TennoCon 2021, or at least what they have in store for Warframe fans. The event will be digital again due to the pandemic, which has especially been hard on the Canadian-based team where people are waiting four months to get a second vaccine dose. Everything will broadcast on multiple streaming platforms on Saturday, July 17th, absolutely free for the public to check out. While nothing has been set in stone just yet, we do know they will be showcasing several reveals, in-game activities, developer panels, the art show, and a special cosplay contest. What's more, the event will also serve as a fundraiser as proceeds from sold merch will be going to benefit Unity Project for Relief of Homelessness. We have more on that below from the annoucnement.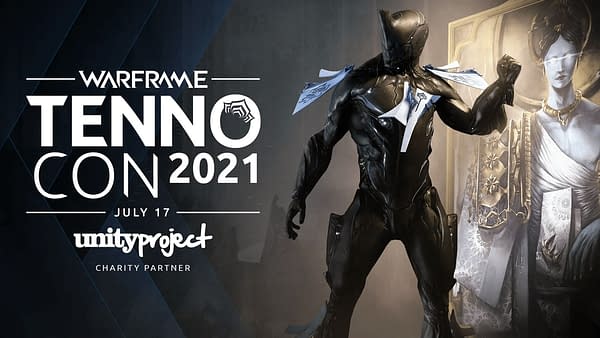 In partnership this year with Unity Project for Relief of Homelessness, Digital Extremes' three TennoCon digital packs give players the chance to jump into the fun for a great cause. The TennoCon Digital Pack ($24.99 USD) is an exclusive collection of in-game cosmetics, items and Baro's Relay; the TennoCon Merchandise Pack ($44.99 USD) includes exclusive physical TennoCon gear (commemorative T-shirt, pin, lanyard and acrylic charm, badge, and more). And the TennoCon Bundle ($64.99 USD) combines both Digital and Merch Packs at a discounted rate. See our website for specific pack details. Digital Extremes is proud to make a donation to the Unity Project for Relief of Homelessness, which provides emergency shelter and supportive housing for adults and youth of all genders aged 18 and over who are struggling to avoid and to escape homelessness.

"Unity Project is excited to partner with Digital Extremes and for the opportunity to engage the gaming industry in solutions to the growing crisis of homelessness in cities and towns everywhere," said Chuck Lazenby, Executive Director, Unity Project for Relief of Homelessness. "The COVID-19 pandemic further exposed system gaps and failures but it also mobilized a system response and an appetite for real change. We are grateful for our partnership with Digital Extremes and for the progress we can make together to ensure that housing, with appropriate supports, is accessible to all as the solution to homelessness."