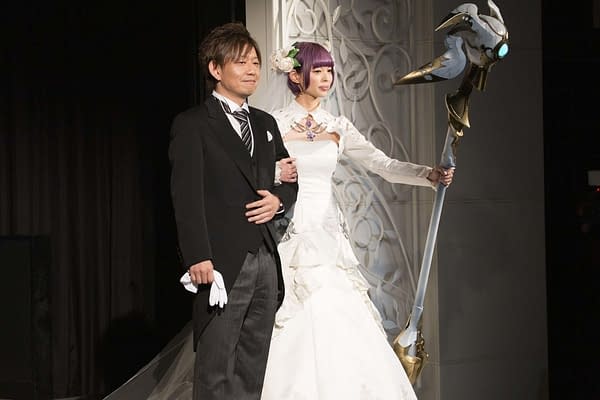 We've talked about the Final Fantasy XIV real-life wedding service before, but we've got some new details to share. Square Enix's partnership with Japanese wedding service Bridal Hearts will let players take part in a real-world simulacrum of the in-game Ceremony of Eternal Bonding. This includes a tux and gown designed to mirror the in-game wedding costumes, FFXIV background music, a themed cake and reception menu, as well as background images and video of in-game assets to really make the ceremony look as authentic as possible.
They even dropped in a screen to feature the officiant moogle, so you can still get married by the adorable series mascot. Although, wow, is that a giant moogle. Pretty sure they're supposed to be smaller in-game.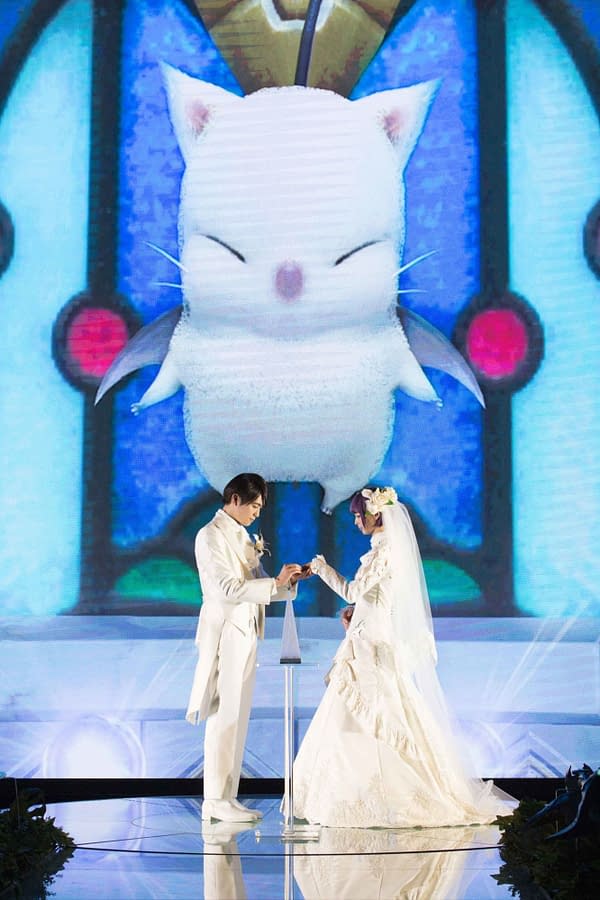 Because its based on an in-game wedding, the bride and groom can choose from a selection of replica weapons to use during the service. The weapons are based on in-game items, so you'll be able to get married as you in-game main, which is a bit adorable.
The standard plan for a wedding service with 70 guests would run about 3.5 million Yen, which translates to about $31,500 USD (with a rough exchange rate).
We've got some fancy photos from a special opening ceremony hosted on Valentines Day which included Final Fantasy XIV's Director and Producer Naoki Yoshida. According to Yoshida, reservations to book a ceremony of your own should open up within the next few weeks.
You can check out the FFXIV themed service in the gallery below.
Enjoyed this article? Share it!