Dr Disrespect Confirms He Will Not Be Returning To Twitch
In what seems to be a story that gets stranger by the day, a new interview with Dr Disrespect confirms he will not be returning to Twitch. In an interview with PC Gamer that went up today, Steven Messner chatted with the man behind the mustache, Guy Beahm, about the whole situation. But the biggest takeaway from the interview, aside from the fact that he's not returning to the social-streaming platform, is that we still have no clue what's going on. In the entire interview, part of which we have a snippet for you below, there's never a reason given as to why he was removed in the first place.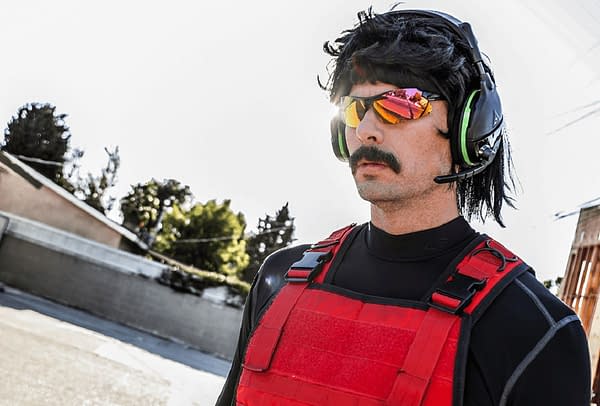 And Twitch has just cut off contact with you? They've never provided you a reason for the ban?

Yeah.

That seems crazy to me. To ban one of its most famous, popular streamers and then to not even tell them what they did wrong?

Yeah, that's the kind of the mind blowing thing about all of this. Obviously, for legal counsel, I have to be careful here. But I can say however, that I will not be returning to Twitch, so, I mean, that's it.

Sure. I'm not a famous streamer, but if I was a famous streamer, and I got banned for no reason, especially considering the Dr Disrespect character and who he is, I think my response would be to get out on social media and shout from the rooftops and be like, hey, this is really unfair. I'm curious why you haven't done that?

Uh, well, I mean, I'm trying to take the best and appropriate steps as possible, and there are things behind the scenes in terms from a legal standpoint that, you know, I can't… that's where it's at. And so, I don't want to go on social media and say the wrong thing or the right thing—or whatever it is—and, like, we made our statement. And that's, you know, that's where things are at now. As we build this game plan to make this Doc comeback, that's still kind of in the works in terms of what the vision looks like. I'm working with my creative team, the graphics, going and taking like the whole Doc 3.0 experience to the next level, and so that's where my focus is now. What's more, the only thing we know about for the future is that he's planning a return in some fashion and that they are contemplating legal action. At one point, they talk about how the Doc shared videos and controversial theories about COVID-19 on his stream, but his publicist cut him off saying they were getting "dangerous territory". There was a point where they asked about if it might have stemmed from any sexual harassment or allegations, which Doc shot down and said he wouldn't engage in crazy speculation. While the interview does make for an interesting read to see where he is at right now, it clearly doesn't answer where he's going, what happened to him in the first place, and ultimately left us with a lot more questions about what's going on with him and Twitch than where we were the day before.