Posted in: Card Games, Dragon Ball Super, Games, Tabletop | Tagged: dragon ball, Dragon Ball Super, Dragon Ball Super Card Game, Dragon Ball Super CG, Mythic Booster
---
Dragon Ball Super Card Game Explains Mythic Booster Reprint Set
The Dragon Ball Super Card Game has announced the contents of its Mythic Booster. This product, announced for release in November 2021, is in fact the reprint set that Bandai has previously confirmed would offer collectors and players the chance to access older, out-of-print, and valuable cards from older sets. This will not be a straight reprint, though, and will instead include different artwork on every single card, making this something of a new set in and of itself. As the Dragon Ball Super Card Game offers new information on the upcoming Mythic Booster, I will break down the news and previews from a collector's perspective.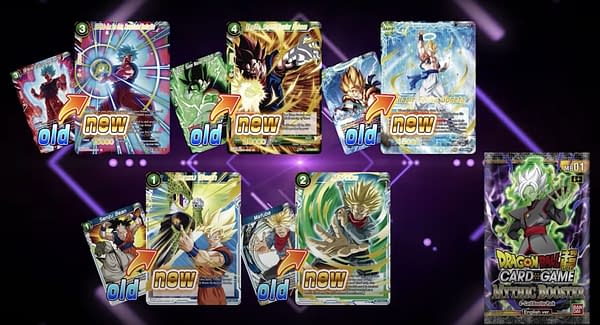 Bandai posted the following information about the Mythic Booster to the official Dragon Ball Super Card Game Facebook page:
The preview video also mentioned the Mythic Booster, scheduled for release this winter. These is our first ever reprint-only booster for DBSCG. We've heard our players loud and clear about certain cards becoming more and more difficult to find, and came up with this product to meet the needs of both tournament players and collectors. In addition to cards featuring their original artwork, every card also has a version featuring brand new alternate art and a gold stamp, making every pack extra exciting to open. Each pack includes 8 cards, with one "reverse" holo similar to the Unison Warrior Series, and one with holo foiling and gold stamp, similar to SRs from the Unison Warrior Series. Ever wanted your Senzu Beans in SR foiling? Then the Mythic Booster is for you!
Upon reading this, I was initially confused as to whether each card would be available to pull with gold foil as with the Anniversary Packs in the Anniversary Set. While it's still not one-hundred percent clear, the Dragon Ball Super Card Game official webpage specifically calls out that there will be seven super rares, which makes me think that the gold foil options may be somewhat limited. This may indeed be an easier set to complete than most, somewhat like last year's Battle Evolution Booster.
Bandai continues:
Additionally, for the first time ever, the packs also include two SCR reprints. Of course, these are also available in an original art "reverse" holo version without any gold stamp, and a new alternate art with gold stamp. We've taken every precaution necessary to assure that these SCRs are more accessible, while allowing the original cards to retain their value.
The Dragon Ball Super Card Game's Mythic Booster reprint set will release in November 2021, the same month as the next main expansion, Unison Warrior Series BOOST: Saiyan Showdown. Stay tuned for more previews of the cards as well as openings and reviews of related products when the Mythic Booster comes out.
---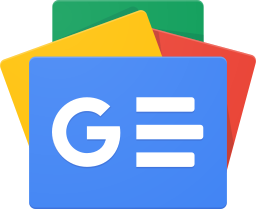 Stay up-to-date and support the site by following Bleeding Cool on Google News today!