I've never personally enjoyed driving wheels because a lot of them feel like gimmicks. We could run down the list from the V-Thunder all the way to the Wii Wheel of products that promised a driving experience and failed to deliver. The reality is if you want a driving wheel for video games, you'll need to pay a little bit more than just snagging a round piece of plastic. Logitech sent us a couple of their to try out, and I managed to get the G29 Driving Force for the PS4 to review.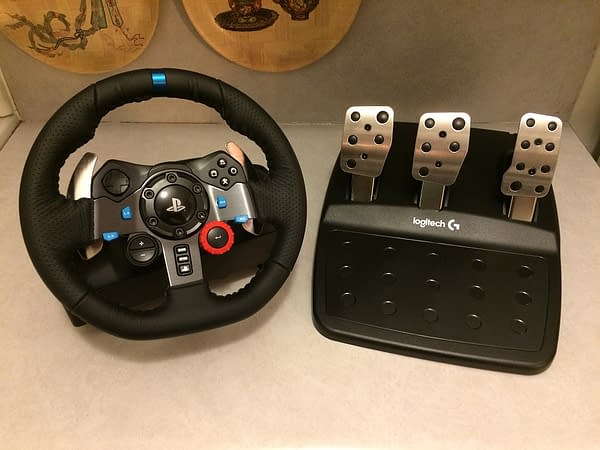 First off, let's get to the meat of the matter, and that is that this feels like a real wheel. The leather, the materials, the contrast, and friction when turning. Everything about this feels like a real wheel taken out of a car and turned into a game controller. When you race with this, even though you're not physically in the car, you will feel like you have actual control over the steering and mobility of where you're headed. I love the attention to detail on the design of the leather cover to make it feel like a car you just bought off the lot.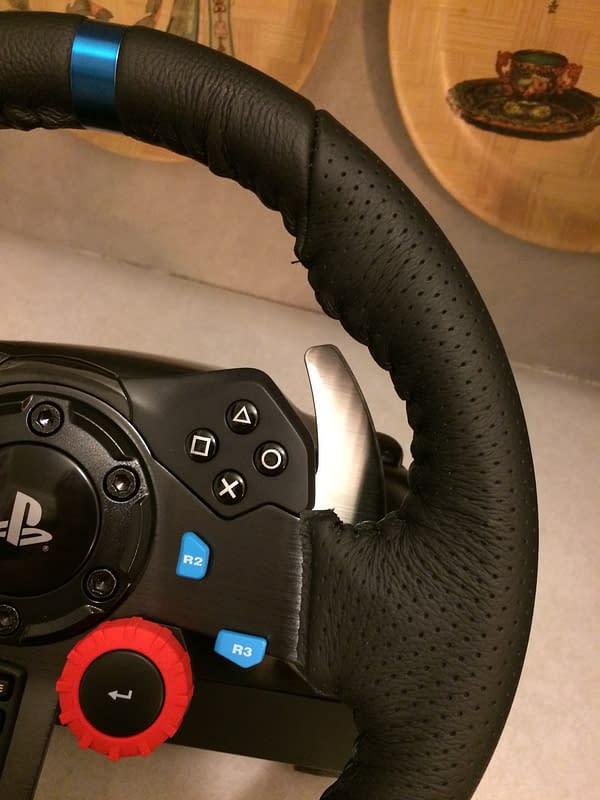 The middle of the wheel is basically an enhanced PS4 controller with everything put into different spots. The controls are the same for the shape buttons, the D-pad is more indented into the wheel but it has a nice balance to it. L1 and R1 are a pair of metal plates that you put your fingers behind and push up on to activate them, while the remaining buttons sit on the wheel for quick access. The added bonuses are a 24-point access dial, a +/- button opposite of that, and the remaining PS4 controller buttons sitting in the middle. Sadly, the PlayStation logo does not honk a horn, it's just here for decoration.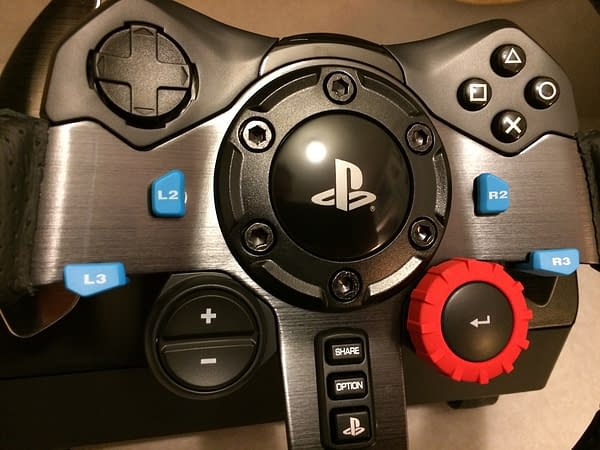 The base of the unit has the option to be raised and lowered, along with the driving pedals which have a quick way to arc them upward so that you can get your foot in a more comfortable position to use them. I found this part to be a hassle because they're all locked into place and you kind of have to force them open and relock them back into the position you want. One of the more challenging points to this was using it without a table. While I do have a coffee table around, not everyone else does, so you have to try using it on your lap. Sadly, because the way the base is designed along with the appropriate cords going out to power it and hook it up to the PS4, sitting on your lap isn't much of an option. However, if you're one of those racing enthusiasts who own a driving chair, this mounts pretty well.
As for the pedals, you have your standard mix of throttle, brake, and clutch pedals. Each one had a little bit of resistance to it, but not enough to make it a challenge to step down on them. While you will find yourself using the throttle for most of the experience, I recommend finding a title that forces you to play with a clutch and see how it reacts. I found the experience to work out great as it didn't take much to start up custom cars with this feature included and find a way to pop it.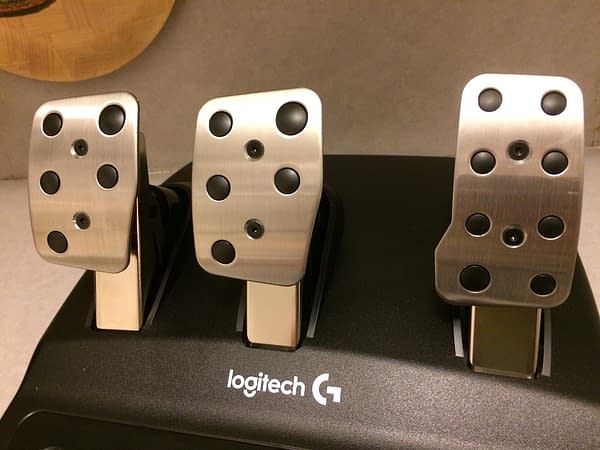 As far as actual racing goes, I didn't have a single problem. Yes, the controls are a bit to get used to at first because we all naturally have a pre-programmed system in our heads of how to use a controller in a racing game. But once you break that system down and apply it to the G29 Driving Force, it becomes a sinch. I was able to control both simple racing titles with make-believe vehicles and complex ones where people obsess about driving a real sports car. This setup is a bit on the pricey side at $400, but it's meant for only the best of the best to race in, which means the most serious of drivers. If you want something a little more affordable, you can try out Madeline's wheel.
Enjoyed this article? Share it!