Finding A JRPG With A Comic: We Review Battle Chasers: Nightwar
It's sometimes hard getting a good JRPG from any company outside Japan. A lot of games have the heart, a lot have the design, a lot of the mechanics, and the rest have the influences, but few manage to marry all of those together to make a really good JRPG. So when Battle Chasers: Nightwar came across my desk, I was a little skeptical as to what kind of game I might get. Battle Chasers: Nightwar plays a lot like an old-school Final Fantasy game, from the traveling to the battles to the interactions with characters. You can see where the designers decided to pay homage to titles of yesteryear while keeping their own take on it. The story plays out like a comic book, much like the Image Comics series it was based on. It focuses on the primary character Gully, who has rounded up a band of misfits and taken a pair of magic gauntlets in search of her missing father. Keeping things spoiler free, the story is pretty straight-forward until you get into the last third, when things get interesting. As you fight you'll be building up "overcharge" which you can spend like magic on skills and abilities on top of whatever else you may be doing with your character. This can lead to devastating combos or a quick escape from a dangerous situation if you save up. The game will force you to think in a tactical manner as to how you'll spend what you have and use it to complete a battle. The downside tot he game is that beyond finding out what happened at the end, I felt nothing for these characters. There are some interactions here and there, but ultimately, these characters don't connect or resonate with me like other characters have in games from the same genre. Even having a bit of knowledge about the series before playing the game didn't improve my feelings toward these people and their missions. I wish the designers had done something more to make me feel like something was at stake beyond the core story or make me adore one of them before we got to the end. The design of this game is fluid and beautiful, with sprites and designs that bring out the artistic love of the genre with a modernized look and feel. Every character, whether they be in your party or just a random AI you need to talk to, come alive in their still-frame form. The music to the game is spot-on for the tone the game sets forth, and there's a good amount of music for you to dig into that won't make you get sick of the game after a few hours of hearing the same tracks repeat over and over.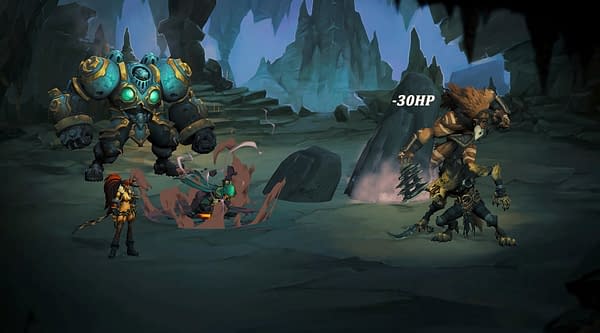 Battle Chasers: Nightwar is a good JRPG that should please fans of the original comic and draw people into the series who probably didn't know it existed. There are bugs here and there that could be fixed with a patch or two, and the story could use a few kicks to the backside to payoff on some of the character's backstories, but overall I enjoyed myself while playing it. As many are finding out, a controller would do you far better than mouse and keyboard in this game, so keep in mind that playing it PC style is going to be a pain.