"Funko Pop! Blitz" Mobile Game To Debut At SDCC 2019
Universal Games and Digital Platforms will be bringing a new mobile game to show off at SDCC 2019 as you'll get a chance to see Funko Pop! Blitz. The game is pretty much like every matching puzzler you've ever played, but with the change that you're playing with Funko Pop! versions fo universal properties. So Back To The Future, Jurassic Park, Kung Fu Panda, Shrek, the Universal Monsters and more. New properties will be revealed during the Funko Funkast panel in Room 6A, at 10am on July 18th. Here's a few words from the developers about the game along with the trailer to show it off.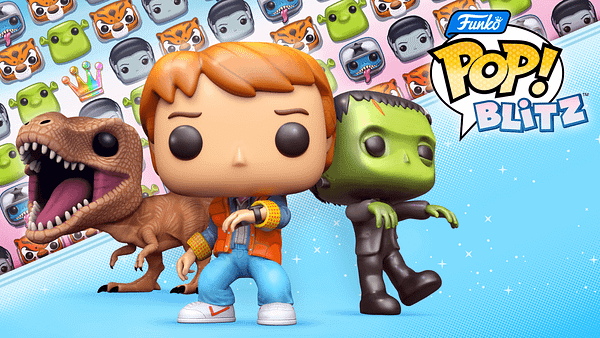 "Funko stands for everything pop culture and seemed to be the perfect way to bring together all of our iconic entertainment franchises, as well as others fans love, into one game," said Chris Heatherly, Executive Vice President of Games and Digital Platforms, Universal Brand Development. "The Pop! style is iconic and unique, and we know that funatics love to collect everything Funko, which sets this up to be the ultimate character-collecting game. We're thrilled to extend our collaboration, which started in toys, to the worlds of digital and gaming."

"Our team at Funko is pleased to be partnering with Universal Games to create the first-ever Funko mobile puzzle game inspired by pop culture," said Brian Mariotti, Chief Executive Officer of Funko. "Fans will soon be able to engage with iconic characters in this immersive, fast-paced mobile gaming experience."