Presents came just a day late for Warhammer fans, with Games Workshop releasing a whole sleigh worth of Grot goodness on the Warhammer Community page on the 26th! We're never ones to complain when Grots are involved, so we're just calling this one a bonus gift and trying not to scream with excitement!
Friends, meet the Gloomspite Gitz, a brand-new faction combining the Moonclan Grots, Spider-fang Grots, Troggoths, and a Gargant or two. And they look fantastic!
First up is Skagrott, the Loon King. That model rolls up just about everything great about Grots and hands it to you in glorious 28mm awesomeness, and tops it with a fungal crescent moon!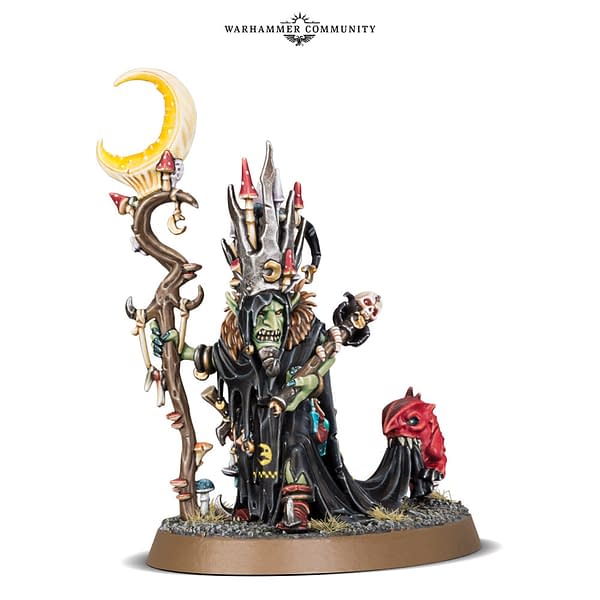 The fate of the Mortal Realms is shaped by heroes and gods. Some, like Archaon, are iconoclastic destroyers of terrifying power. Others, like Morathi, are schemers and plotters who out-think their foes. And then you have Skragrott – who wants to conquer everything he can see because the moon told him to…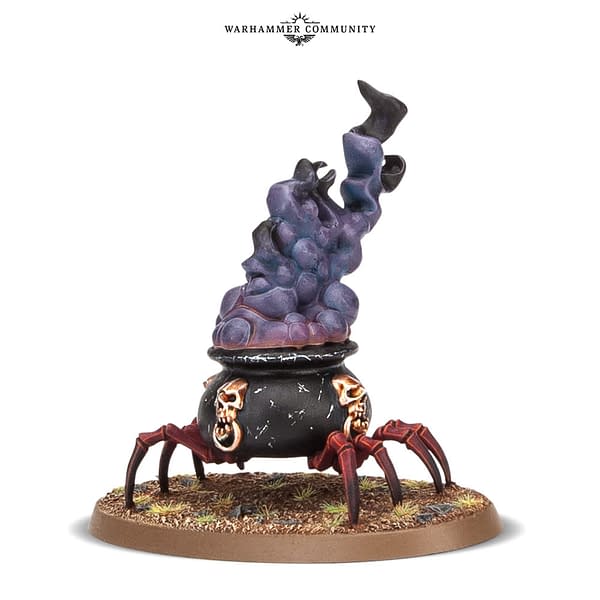 Skagrott is going to need some arcane firepower, and he'll have it with a unique Endless Spells pack for the Gloomspite Gits! That spider-legged cauldron is packed with customization possibilities!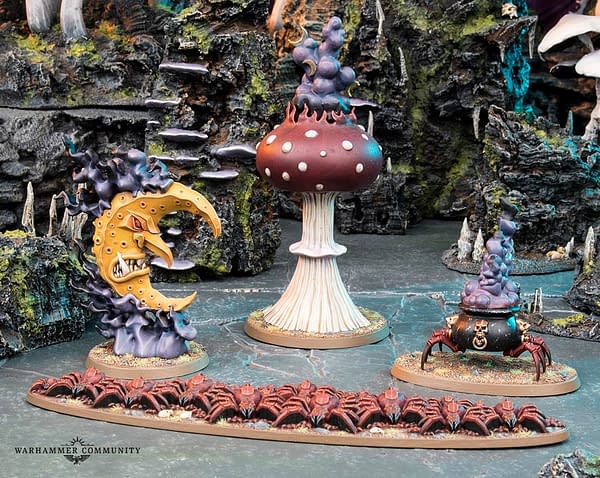 The Gloomspite Gits also get their own special terrain piece, a massive shrine to the Bad Moon. That's a whole lot of mushrooms!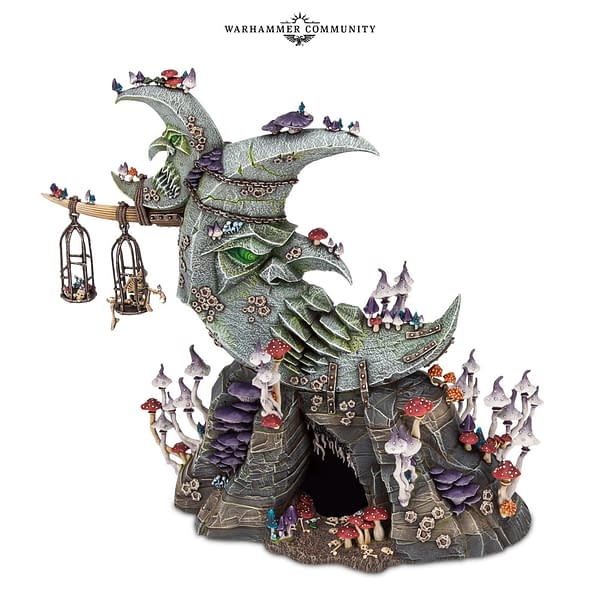 Games Workshop claims that they haven't shown off all of the models, but we did get a peek at brand-new Night Goblin Fanatics! Looks like GW has upped the ante on their 3D renders, since these little maniacs are balanced on really thin bits of plastic. Hopefully, the finished models won't be as fragile as they look, since transportation might be an issue. They look entertaining as hell, though!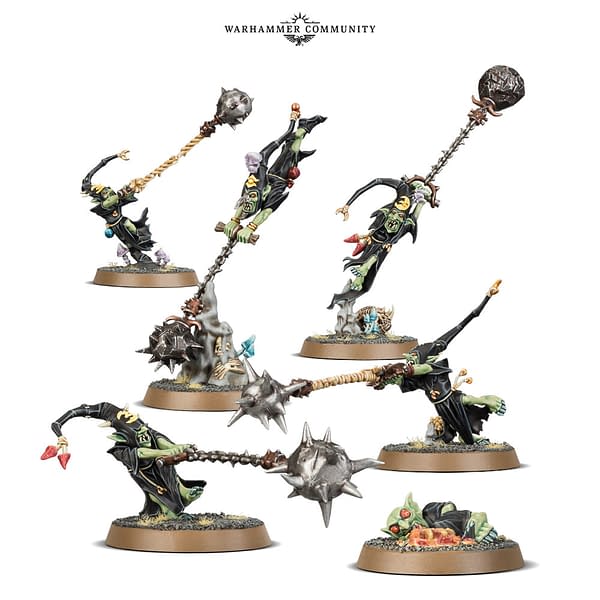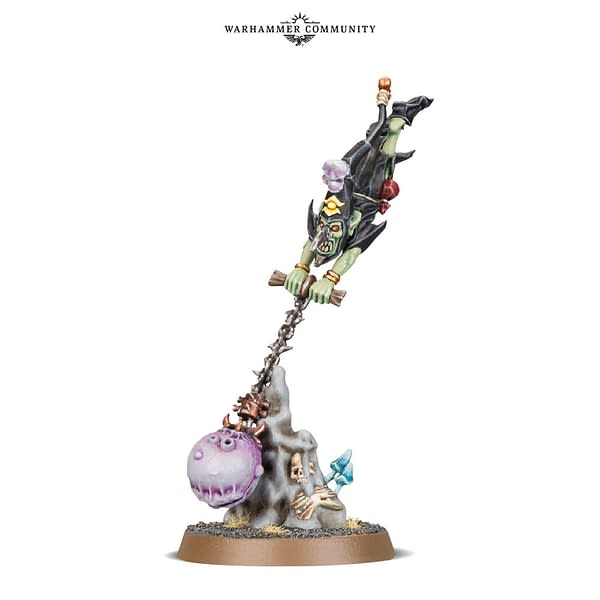 We had to save the best for last, though! Here's the brand spanking new Squig Riders, bouncing into battle on barely controlled bundles of teeth and claws! These guys will be the scourge of every tabletop when they are released.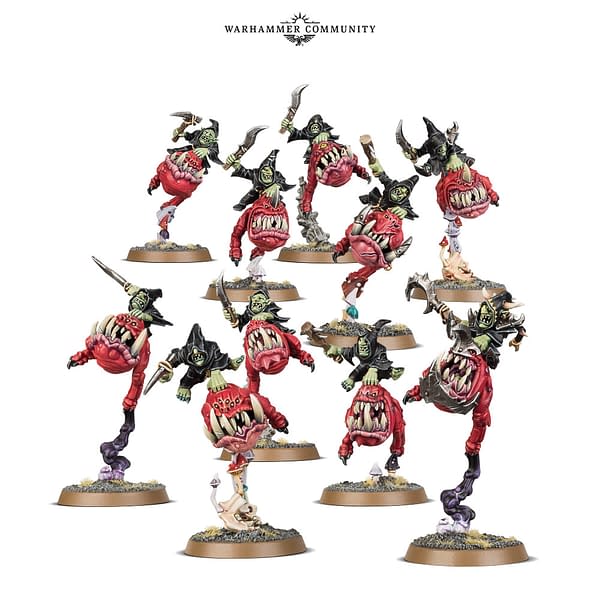 Finally, a new box of plastic squigs is on the horizon! These little fiends will be perfect for games of Age of Sigmar, and will look great with Ork armies in Warhammer 40,000, too. Customizing options that the squigs will bring to Kill Team players is great, too!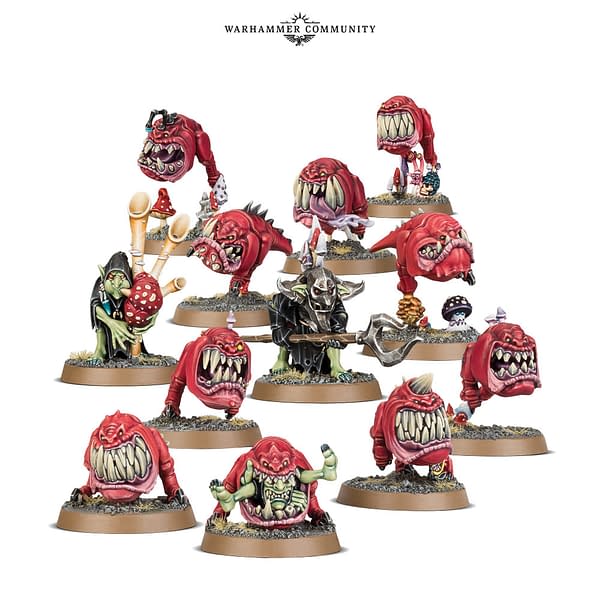 Check with your local Games Workshop stockist for pre-order information!
Enjoyed this article? Share it!